Top Marketing Tactics for Advisors During the Coronavirus Pandemic
Creating a successful marketing plan is challenging at the best of times, and the current pandemic situation is making it even more complex. Financial advisors are finding themselves in a unique position, with COVID-19's negative impact on the world's economy, potential clients are now looking online for financial support and guidance more than ever.
Here are 5 marketing tactics to help financial advisors get on top of their digital marketing during this pandemic. The good news is, there are strategies that can help you optimize your website in order to gain higher visibility, providing a greater value and more personalized experience to your audience online.
1. Organize Your Leads
Cleaning your CRM (Customer Relationship Management) system lead data can be a tedious task, but is worth putting in the effort; especially now as we find more time on our hands. Your database can easily get out of control, and if your business is a bit quiet at the moment, now could be the perfect time to organize your leads and tidy up your database. Here are some areas to focus on:
Name consistency: Ensure all names are entered with correct capitalization. If you're emailing prospects from your CRM system, and personalizing emails with contact data, you may end up sending emails that pull inconsistent capitalization. For example, an email titled "Dear STEPHEN" or "Dear stephen@emailaddress.com". Cleaning your lead data to the correct casing will take care of this.
Contact details: Enter details that are missing, such as birth dates (which can be a great personal touch to send out 'happy birthday' emails), client goals, hobbies, etc. The more contact details you have in your database, the easier it is to create a personalized message.
Consolidate leads: It is common to end up with duplicate contacts. Consolidate lead contact information where you can to avoid sending duplicate emails to the same contact.
If you don't have a CRM system, and you'd like to learn more about how they can help your business. Check out these 6 Popular CRMs For Financial Advisors.
2. Revisit your Niche
Your niche is a vital element to your firm's marketing and should be revisited from time to time. Your niche helps define your target market, which in turn helps with your marketing strategy and key messaging! It all stems from your defined buyer persona(s).
Refine your niche: Your market niche is defined by your firm's ideal buyer. By working backwards and defining your ideal customer(s), you can paint a picture of your niche target market. Check out this article and worksheet to help you Create a Buyer Persona.
Neighbouring niches: Once you have your niche defined, look into neighbouring niches to identify larger opportunities to grow your business.
Survey: The best way to find out what your clients are looking for is to ask them directly. This can help you find your strengths and any opportunities for improvements. It can also help you position your key messaging based on your clients needs and wants.
3. Update your website

Now is the time to ensure that your website is optimized to its full potential! Especially as we continue to practice social distancing, most of us are spending much more time online. Here's a few strategies to transform your website into a powerful marketing tool:
Messaging: Is your website targeted at your niche? Review each page of your site and make sure it is relevant to the people you are wanting to attract to your business. Also make sure your messaging answers the type of questions your target market is likely asking.
Improve the user experience of your website: Your user experience includes optimizing your website for conversion, and making sure your website is visually appealing through layout, aesthetics, and relevant images. Check to make sure your website has proper navigation set up and that all pages are easily found in a logical location. Everything you need to know about improving your website is in this free downloadable ebook.
Website Pop-ups: A great way to capture leads is to utilize pop-ups on your website. This is particularly helpful if you are promoting an event (see marketing tactic #5). Sites built by Advisor Websites are compatible with many third party tools and our Support Team is here to help you set it up! To find a pop-up builder, check out G2.
Forms: Are you using forms on your website? Sites built on the Advisor Websites Force platform include pre-made forms such as 'Send a Message', 'Subscribe to Newsletter', 'Book a Meeting', where any submissions go straight into your Lead Manager. If you're looking for a more complex form, our Support Team can assist with a third party tool.



Review website statistics: To gain insight on what parts of your website you can improve, such as bounce rate, conversion rates or page views, check out your statistics page within your Advisor Websites Dashboard.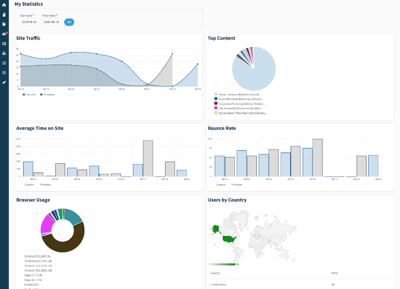 4. Bolster your SEO

Improving your SEO (Search Engine Optimization) strategy is essential to increase the ranking of your website in search engine results. It's even more important during this time when people are spending a lot of time online, as well as thinking about their financial situation. According to Google Trends, the search for 'Financial Advisors Near Me' has increased by 40% in the past 30 days. This is proof that now more than ever, you want your website to be found!
The downside of SEO is that it can take up to 6 months before you start seeing improvements in your rankings. As the popular Chinese Proverb says, "The best time to plant a tree was 20 years ago, the next best time is now." This same principle applies to your SEO efforts and strategy. There is no better time than the present to focus on your website's SEO.
Here are some tips on how to improve your SEO:
Google Trends: Use Google Trends to find relevant keywords to focus on in your website copy and blogging topics.


Build trust and provide value: Search engine bots are very smart these days, so stuffing your website with keywords won't get you anywhere. In fact, it will actually harm your website. Instead, focus on building trust. To do this you need to provide value to your website visitor by providing helpful content. You can find out more about writing content in our previous blog post How to Write a Blog Post that Generates Leads.
Use meta tags and descriptions: This is part of your on-page optimization. Meta tags essentially communicate with search engines letting them know exactly what the core message and contents of a particular page.. It can take a bit of time to set up for each page, but it is definitely worth it, and you'll only have to do it once (unless your messaging changes!).
If you are an existing customer of Advisor Websites, you can easily update the meta tags and descriptions on your website in your Dashboard. Check out our Knowledge Base Article with easy step-by-step instructions.
Build backlinks: Building backlinks is important for SEO as it improves credibility of your site. You can do this by:

Inbound links: These are links to your website from an external site. This can include a post from your LinkedIn page which directs traffic to your website (commonly done by sharing a blog post).
Outbound links: These are links from your website to other pages. This could include an external page, or simply it could link to other pages within your website.
To learn more about SEO, check out our ebook All You Need to Know About SEO, or by watching our webinar replay How Important is SEO Really. Also, check out our new SEO Video Course HERE.
5. Host a virtual seminar

When you're not able to meet face-to-face and more people are interested in learning about the services provided by a financial advisor, hosting a virtual seminar is a great way to spend your time.
Here are some event tips to help you get started:
Don't do it alone: You can partner with another business relevant to your topic, i.e. accountant or lawyer.
Choose the technology type: There are several options available, including Zoom, GoToMeeting, Demio, WebinarNinja, and many more.
Choose a topic: You can repurpose popular blog articles into a seminar topic. Use your website statistics to assist with this. Similarly, if you're receiving a lot of the same questions you can use that as a guide for a topic.
Host a Q&A panel: This can be amongst your team members, clients, or other industry professionals that complement your services. . You can also consider compiling all the recent questions you've received from your clients and prospects and host a Q&A panel, either in written form or via video conferencing.
If you decide to do a virtual event, follow some of these tips to ensure you look and sound your best:
Choose a quiet place to host the seminar/webinar.
Dress professionally.
Ensure you have good lighting.
Support the presentation with a great slide deck.
Take into consideration timing, including different time zones of attendees.
Do a practice run. This helps you iron out the kinks with technology, and in particular gives you the opportunity to test your audio.
Consider your background; make it neat, tidy and professional.
We hope our top 5 marketing tactics listed here will help you with your marketing efforts throughout this pandemic. Stay safe & well!
---
WHO ARE WE?
At Advisor Websites we help financial advisors grow their business and enhance their digital marketing strategies with their own personalized website. Our platform offers a selection of effective and proven frameworks that are personalized to reflect your business and brand.
For a personalized one:one demo & to see our platform in action: