A Financial Advisors Guide:
How to Write a Blog Post that Generates Leads!
Intro

Blogging can be one of the most effective lead generation tools for your website. However, it can be a time consuming and tedious task without a plan in place and the right tools for efficiency and organization. Blogging is also only helpful to your website's SEO if it's continuously updated with fresh content.

Here are a few key tactics that every great blogger should know, and we're here to help you apply them to your financial advisory business! Here's what we'll cover:

How to Write an Engaging Blog Post Title
Incorporate Keywords
Writing Tips: Essentials First
Sharing your Blog on Social Media
How We Can help!
Write an Engaging Blog Post Title
First up is understanding the power your title has on the post's effectiveness. You only have two seconds to hook the reader's attention, so make sure the title is captivating. According to marketing guru Neil Patel, the headline accounts for up to 50% of your blog post's effectiveness.

There are many approaches you can take with your blog titles. Including, How-to's, expert's guide, 'the best of' titles, etc. Here is a great guide from Hubspot if you're struggling for ideas!

Overall, titles that include numbers are preferred most by readers, followed by reader addressing and how-to titles. For example:
'5 investment strategies you should know'
'Ways you can conquer debt'
'How to create an early retirement plan'


Incorporate Keywords

Make the most out of your titles by incorporating keywords! One of the main objectives for blogging by most advisors is to increase their website traffic, and including the right keywords within your title can help you raise your search ranking to do just that.

Here are a few keyword tools to help you with your research:



Tip: Check Google Autocomplete!

Type in one of the keywords for your business and analyze Google's Autocomplete options that pop up below the search bar. This will give you an idea of what your audience is searching for related to your business!



Tip: No one likes clickbait!

It's great to write a title that provides shock value, but be sure that you're not misleading readers about the actual topic of your article. Even if a shocking title is increasing your click-through rate, if your audience deems your content misleading or worse, invaluable, you could potentially be breaking trust which is doing more damage in the long run.


Writing Tips: Essentials First
Writing a blog is a different process than writing an eBook or a longer content piece. Most readers will scan the article first before they decide it's valuable enough to thoroughly read them.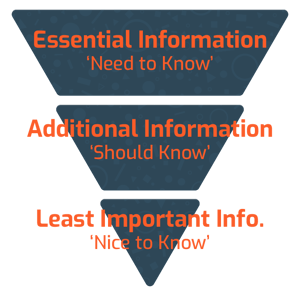 Tip: Write by applying The Inverted Pyramid method!
The inverted pyramid is a journalism tactic. This strategy is designed to help you structure your articles starting with the most engaging and imperative information at the beginning of your piece.


Tip: Make your blog easy to scan!
We know readers scan most online content so, use it to your advantage! Write your blogs with the intent of making it easy to scan by including a lot of space, illustrations, subtitles and a brief outline of what to expect in the intro of your post (similar to what we've done in the introduction of this post).
Share your Blog Post on Social Media

For most advisors, one of the goals of blogging is to drive more traffic to their website. Blogging can help do this by boosting your ranking on Google search results, therefore contributing to your overall SEO. Secondly, blogs can help drive more traffic to your website as it creates sharing opportunities with your audience. One of the best ways to do that is through social media!

For the financial services industry, LinkedIn, Facebook, and Twitter are your best bet for reaching your target audience:

62% of Financial Advisors use LinkedIn to find new prospects and customers.
74% of Facebook users use the platform to gain traction and visibility for their businesses.
Twitter is a great space to review your demographic, have an instant connection/conversation with your followers.



Tip: Always include a Clear CTA!

We've said before that forgetting to share your content is like doing your homework and forgetting to hand it in; you've done the work but you're missing out on the rewards! This is also the case if you forget to include a CTA (Call to Action) directing your prospects to your website! Ask them to "click the link" or "Check out my latest blog" to let them know clearly what action you'd like them to take.


How we can help:
Our Platform provides financial advisors access to over 300 pre-written articles, infographics, and videos to choose for their blog via the Content Library feature. All the articles are industry-specific and written by financial experts.

Whether you want to write your own content or leverage the articles from the library, it's easy to keep your website content fresh! Go a step further, and take advantage of the Auto-Publishing and Automated Social Media Sharing tools that give you the freedom to schedule your content in advance and automatically post to your preferred social media platforms!

To learn more about the tools on our platform, request a live demonstration with one of our Account Executives!


Conclusion

We hope that you're able to take away these tips to get you started on your own blog. Remember, your title has a significant impact on your post's performance, to include the most important information at the beginning of your article, and consistency is key when it comes to increasing your traffic and lead generation!

If you're interested in more writing and content tips, download our free Ebook:
The Complete Guide for Creating a Content Marketing Strategy for Financial Advisors

---
WHO ARE WE?
At Advisor Websites we help financial advisors grow their business and enhance their digital marketing strategies with their own personalized website. Our platform offers a selection of effective and proven frameworks that are personalized to reflect your business and brand.

To see our platform in action today: