WEBSITE EXAMPLES: How These Advisors Are Utilizing Their Website To Stay Connected During COVID-19
The key to communicating successfully with your audience during a crisis is to be agile with your business practices and messaging. COVID-19 is challenging our regular business practices, and it's the organizations that can respond and adjust quickly that will find success through these times.

Turn our current challenges into opportunities by finding unique ways to stay connected and support your clients and your community right now. One of the biggest obstacles across all industries is continuing to operate your business remotely while adhering to social distancing recommendations.
We've seen many advisors rise to the occasion and be there for their clients through this time by providing extra support and resources online. Here are some great examples and inspiration from Advisor Website clients:
Napolitano [VISIT WEBSITE]
US Wealth Management
Napolitano, affiliated with US Wealth Management, also presents a great example of how to incorporate an empathetic message on your homepage. The statement focuses on three significant takeaways; how they're delivering support through this time, why it's essential to take care of your finances now more than ever, and their commitment to their clients. Napolitano's message expresses empathy, responsibility, and support, ending tastefully with: "We are always here for you."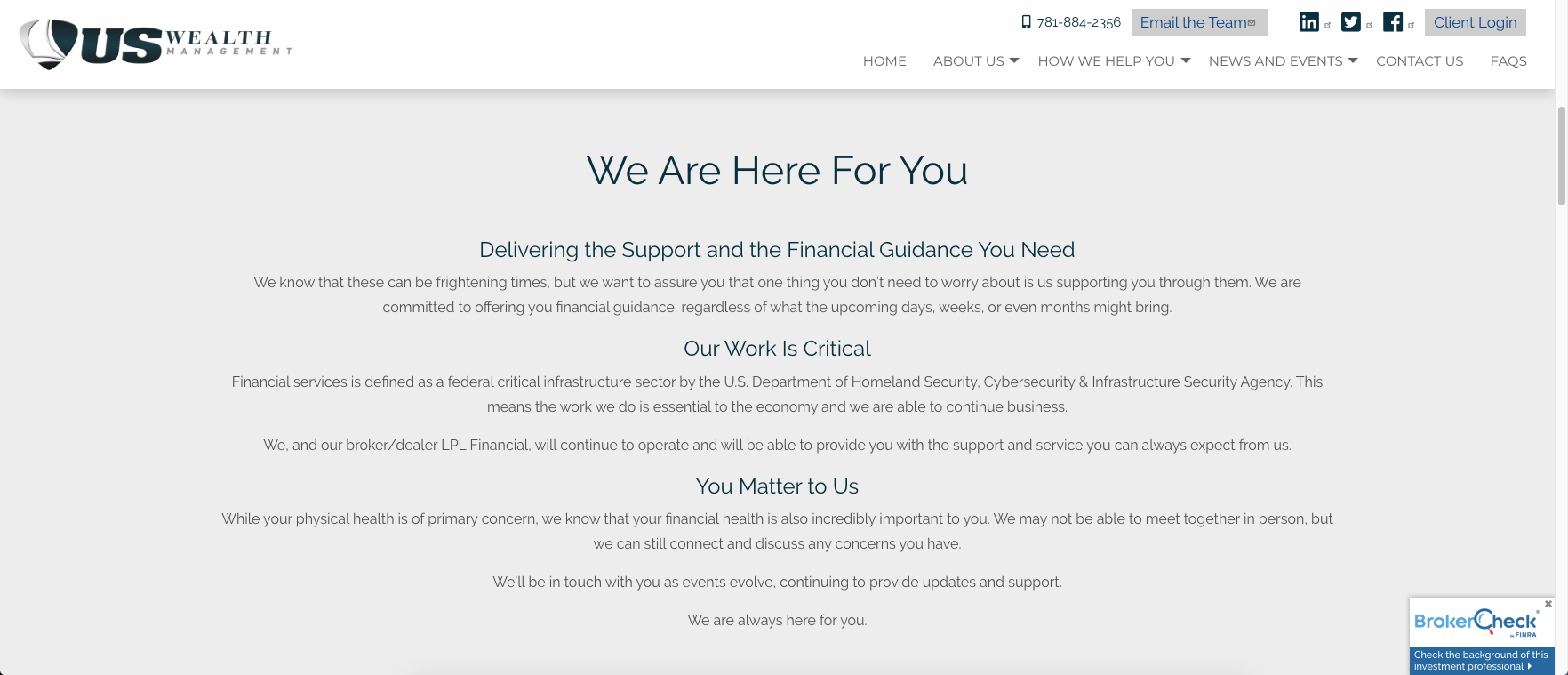 More information is available as you scroll down and within the 'News & Events' tab. Napolitano's team continuously updates its available resources to address concerns around COVID-19 and the changing market conditions. Their articles are personable, relevant, and timely!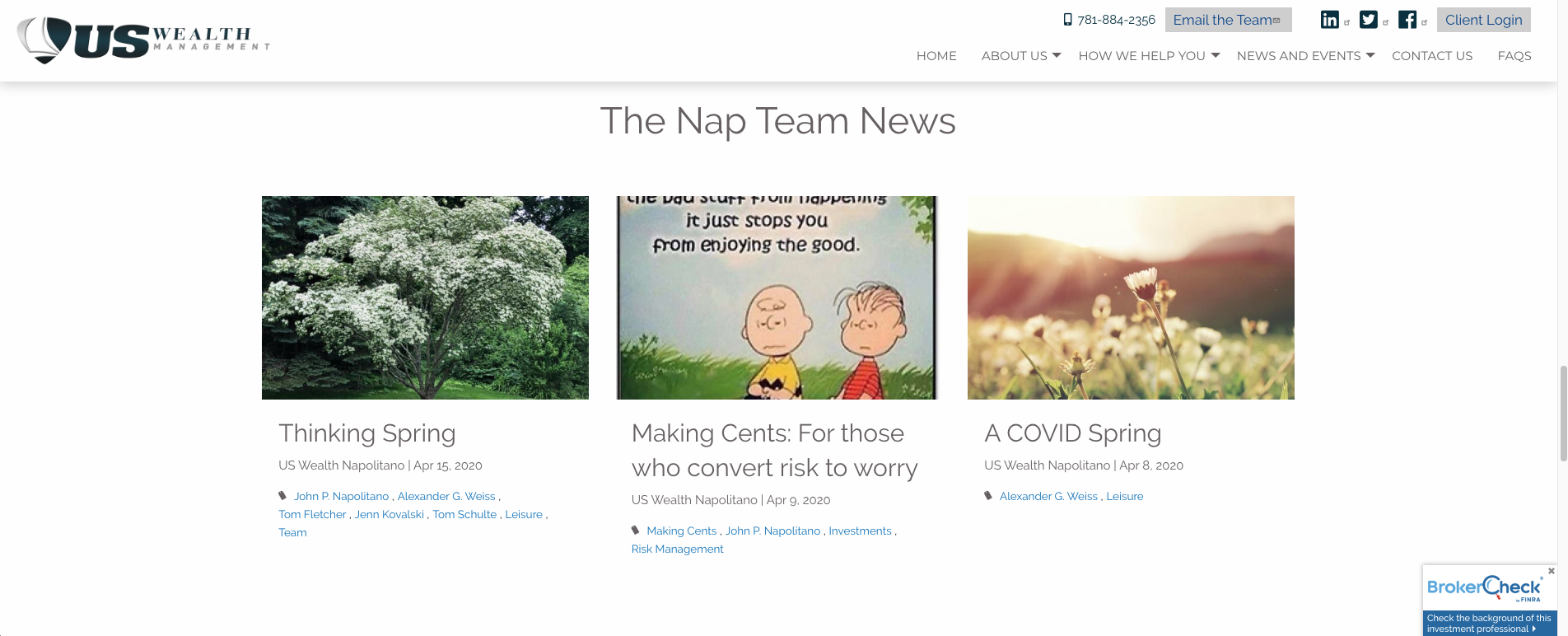 Rose Point Capital Advisors [VISIT WEBSITE]
In a similar style, Rose Point Capital Advisors added a message on their homepage and gone a step further by linking their contact information front and center. Especially since many offices have been forced to close and work remotely, updating contact information to be easily accessible, without the visitor having to search for it, is a great strategy!



Village Wealth Advisors [VISIT WEBSITE]
Village Wealth Advisors provides an example of a banner message across the top of a homepage. Staying on brand, the orange banner standouts as the first element on the page to catch your attention. In a brief message, Village Wealth Advisors address COVID-19, their offices operative status, and how to reach their team.
Something unique that Village Wealth Advisors has done to keep their clients engaged and up-to-date on the state of the market, is hosting a zoom meeting! This is an excellent engagement strategy as it adds a personal and real-time element to the firm's message. There are circumstances when clients prefer to receive information directly from their advisor, rather than an email or newsletter. A bonus of hosting a virtual meeting or webinar is that you're able to make the sessions interactive for live questions or comments and record the conversations to share with a broader audience afterward.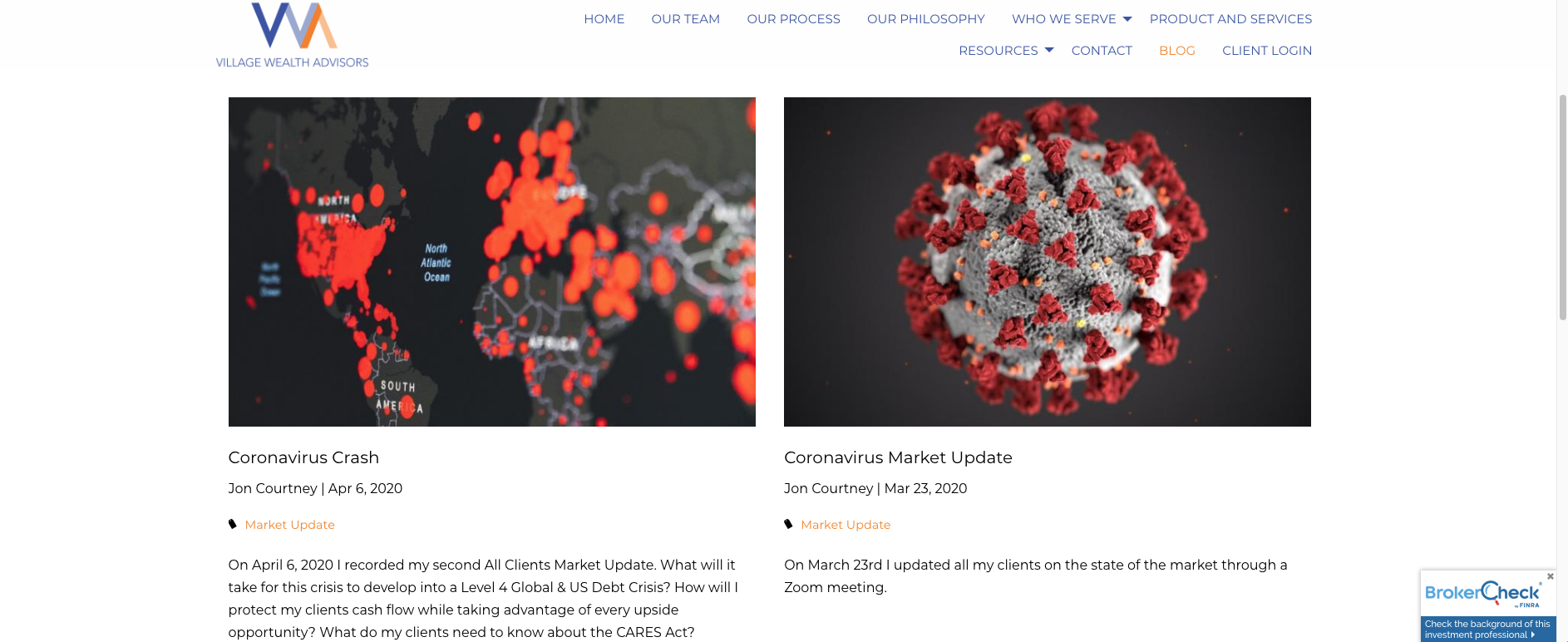 IMG Financial Group, Inc [VISIT WEBSITE]
IMG Financial Group, Inc has taken a slightly different approach by adding a pop-up on their homepage. The message pops up within seconds of landing on the homepage, informing visitors the steps they've taken to help in stopping the spread of the coronavirus and how to get in touch with their team during this time.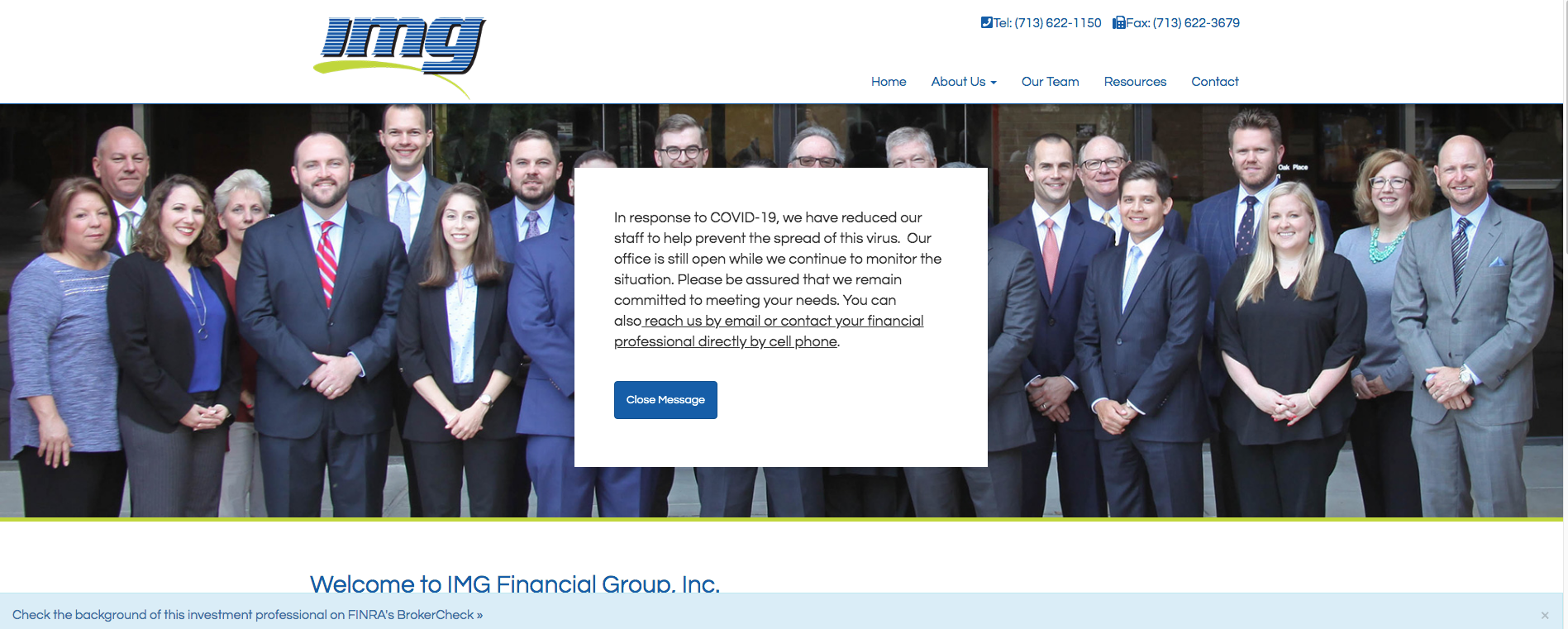 If you're a client of ours and would like help updating or editing your website with updates, give us a call at 1-866-638-0273 or schedule a time here! Our Support Team is available to help Monday to Friday 10:30 am to 8 pm EST.
Please don't hesitate to let us know how we can help you through this time, reach out at anytime to marketing@advisorwebsites.com. We hope to hear from you!
We are in this together, stay safe and social(ly distant).
---
WHO ARE WE?
At Advisor Websites we help financial advisors grow their business and enhance their digital marketing strategies with their own personalized website. Our platform offers a selection of effective and proven frameworks that are personalized to reflect your business and brand.
For a personalized one:one demo & to see our platform in action: