Your Content Strategy:
Questions Only A Financial Advisor Can Answer During This COVID-19 Pandemic

Through all the uncertainty that COVID-19 has brought on, there is an opportunity for financial advisors to create content for their clients and prospects helping them ease their mind about the future. This is not the first time our economy has faced challenges, and it won't be the last. Now is the time as an expert in the financial industry to be a source of information and guidance for your clients.


Being proactive during this time means being prepared with resources and relevant content for your clients to reference on your website. Even if your firm hasn't been taking on many new clients in recent weeks, right now is the best time to be active online and easily accessible for prospects that may be searching for more financial guidance through COVID-19.


Here's why your online presence matters more now than ever, how to structure your content, and some topic ideas/questions that you can help answer now!
Your Online Presence Matters Now More Than Ever

The coronavirus pandemic has created a lot of financial stress, and will continue to do so as more and more of the population is unable to work. Followed by the health and safety of loved ones, is the concern for current and ongoing financial security.
A telltale sign that the population is concerned about and looking for more financial support is Google's recent search trends. The search query "financial market crash" increased by 70% in the past 30 days, which shows that a growing population in the US is already thinking about their financial future and how to prepare themselves better - making this an important time for financial advisors to be visible online!
Prospecting online and building trust with your audience is a time consuming effort. But now is the best time to invest energy into it and plant the seeds for future growth!
Start by creating a well-rounded online presence. This includes an updated website with fresh, relevant content that you're able to share with your database and social media followers. In the next few sections, we'll share how you can structure your content during COVID-19 and topic ideas that you can get started on right now!


If you're just getting started and could use a jumpstart on new content, here are 7 FREE BLOG ARTICLE TEMPLATES you can leverage! Make them your own by revising to fit your audience and geographical area.
Creating Relevant Content During COVID-19
There are two main considerations you should take into account when structuring your content through this pandemic.
What are your clients asking you right now? How has this changed in the recent weeks? If even 1 or 2 clients have asked similar questions, the chances are that others are wondering the same thing. Be proactive and provide the answers to your audience before they ask!


What are your prospects searching for online? Google Trends is a great free tool you can use to determine this.

To use Google Trends, you can refine your search by relevant terms, industry, geographical location and time. For example, let's search '401k' within the USA over the past 30 days. Here's what this search will look like: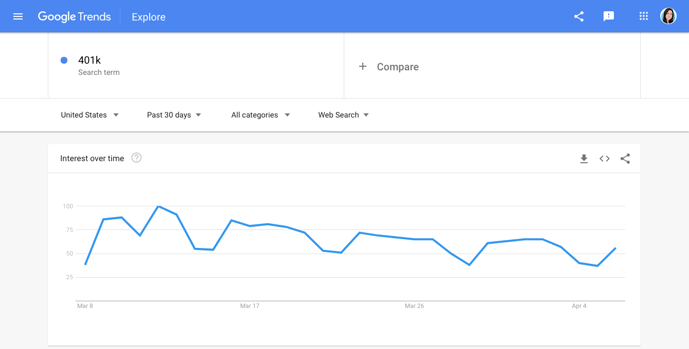 From here, scroll to the bottom of the screen to view related searches and breakout topics. Related searches are your insight for further developing your content topics, as users searching for the original term also searched for these topics. You can toggle the results by 'top' or 'rising'. Here's Google's definition of these metrics:
* Top - The most popular topics. Scoring is on a relative scale where a value of 100 is the most commonly searched topic and a value of 50 is a topic searched half as often as the most popular term, and so on.
* Rising - Related topics with the biggest increase in search frequency since the last time period. Results marked "Breakout" had a tremendous increase, probably because these topics are new and had few (if any) prior searches.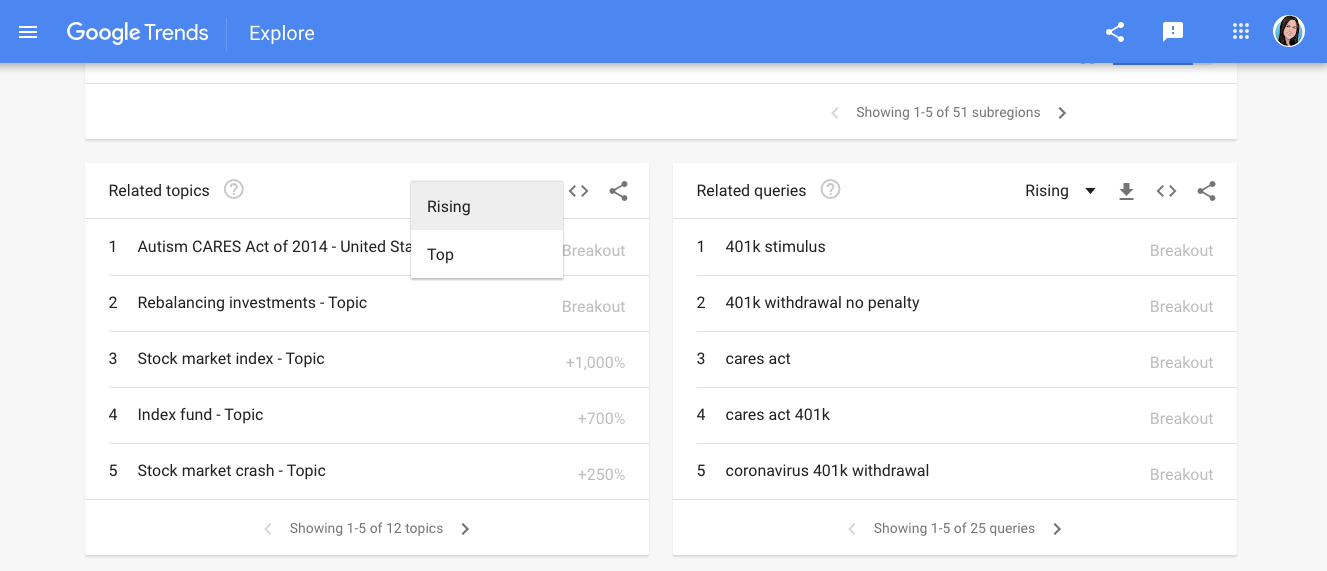 Google ranks for both 'freshness of content' and 'relevance to search queries'. By updating your website with content related to trending searches, you are helping increase your website's visibility online. In fact, the Google search for, 'Financial Advisors Near Me' has increased by 40% in the past 30 days!
If you do not have a Google My Business account set up, we highly recommend you take the steps to do so right now! Registering your business with Google will significantly boost your SEO, particularly your local SEO. This is because when you register your business with Google, your site will also appear on Google Maps which helps users searching for businesses in their local area.
If you're a client of ours and would like to know more about SEO or need help, give us a call at 1-866-638-0273 or schedule a time here! Our Support Team is available to help Monday to Friday 10:30am to 8pm EST.
Questions You Can Help Answer Right Now:
Here are the financial topics and questions that are trending in the US right now! Take advantage of these insights by answering these questions on your website and sharing it with your audience through social media and email. *Always remember to check with your Broker-Dealer's Compliance Team if necessary before using online communication tools.
'Coronavirus Financial Help' has increased in search by 3650% in the past 30 days.
Breakout Topics Include:
Is the economy going to crash?
What happens if the stock market crashes?
Has the stock market crashed?
Is the housing market going to crash in 2020?
What is a bear market in the stock market?
Is now a good time to invest?
Coronavirus Stimulus Packages is currently one of the top trending searches in the US.
Breakout Topics Include:
How to qualify for coronavirus stimulus cheques?
What is the coronavirus stimulus bill and how does it affect you?
Coronavirus financial relief/advice?
When will stimulus checks be deposited?
Related search queries for 401k:
Why has my 401k dropped?
Is there a plan for 401k stimulus?
Can I withdraw from my 401k without any penalties?
Should I take out my 401k?
Should I stop my 401k contribution?
What is the Cares Act?
Related search queries for Small Business Financial Advice:
Is there a stimulus plan for small businesses?
What is the unemployment rate for small businesses?
Does the Cares Act cover small businesses?
Can I get a Small Business Disaster Lone?
What relief is the government offering small businesses?
Other finance related search topics:
Is now a good time to get a financial advisor?
More on the 2008 Financial Crisis
The Great Depression - Economic Depression
What is the difference between a financial recession and depression?
We want to hear from you! How has COVID-19 affected your practice and day-to-day activities? What resources do you need right now? Let us know at marketing@advisorwebsites.com.
We are in this together, stay safe and social(ly distant)!
---
WHO ARE WE?
At Advisor Websites we help financial advisors grow their business and enhance their digital marketing strategies with their own personalized website. Our platform offers a selection of effective and proven frameworks that are personalized to reflect your business and brand.
For a personalized one:one demo & to see our platform in action: