Your financial planning website is one of the most important lead generation tools available to you. Website traffic can convert into leads, leads turn into interested prospects and eventually into clients. But your website can also be your downfall when it comes to converting those leads into clients.
Here are some ways that your financial planning website may be lacking and changes you can make to avoid losing your leads.
Keep Your Website Up to Date
When was the last time you really took a hard look at your own website? You should be doing this regularly to make sure that the information is current. Most importantly, double-check that your contact information, including email and phone number, is correct. Update other details on your website including:
Team members, job titles and bios
Product and service offerings
Newsworthy updates and awards
Office locations and hours
It's also essential to focus on user experience on your website. Don't make it too difficult for visitors to find the information they're looking for. Put essential information, lead generation forms and call-to-action buttons above the fold—that essential real estate at the top of your website that visitors can see without scrolling. Be sure your navigation menu contains between five and nine items, your pages load quickly and your visitors can find what they need in three clicks or less.
Collect Customer Information
The most important aspect of retaining and converting leads is collecting them in the first place. If you don't have any lead generation forms on your website, you won't be able to collect the right visitor information to follow up and nurture your leads. Those visitors will stay anonymous and you may never know who was interested in your services.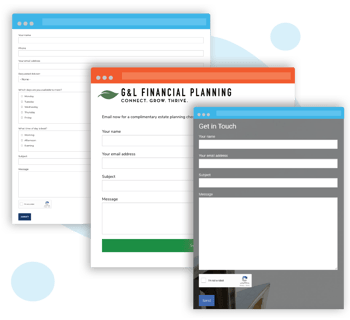 There are a few different types of lead generation forms that you can use, including:
Inquiry, for visitors who want to reach out to you to ask a question, schedule an appointment or learn more about your services.
Newsletter sign-up, for those who may want to get updates from your financial planning company via email.
Gated content access, which will allow visitors to access a valuable piece of content in exchange for their contact information.
You can use one of these forms or all three, but be sure to ask visitors for as little information as possible; you just want enough so you can stay in touch with them, such as name, email address and phone number. Too many fields in your form may lead to lowered conversion rates.
Invest in Your Leads
To get value out of potential clients, you need to invest in your leads. Provide website visitors with valuable information and resources first instead of trying to sell to them right away. According to HubSpot, a nurtured lead yields a 20% increase in sales over a lead that isn't nurtured. If you try to immediately sell to website visitors, your leads and potential leads may lose interest and respect for your brand.
Creating quality content for your website can demonstrate your value and expertise. If you provide your website visitors with valuable information through your blog, ebooks, webinars and other available content, you can build trust and generate more leads.
Don't Overpromise and Underdeliver
While creating content is a great way to generate and keep more of your leads, pay close attention to what you're promising website visitors. Be transparent with your service offerings and honest with your potential customers. Don't promise a valuable resource and then deliver a sales pitch. And don't exaggerate your capabilities. This will only lead to unhappy short-term customers instead of loyal lifetime clients.
Reevaluate Often
Digital marketing and website best practices can change from year-to-year, as can your sales and revenue needs, so be sure to keep reevaluating your website often. Using these tips to keep your financial planning website up to date can help you gain and retain more leads and even convert them to customers.
When you follow these 5 tips, your financial planning website will be primed to attract and convert leads.
---
WHO ARE WE?



At Advisor Websites we help financial advisors grow their business and enhance their digital marketing strategies with their own personalized website. Our platform offers a selection of effective and proven frameworks that are personalized to reflect your business and brand.