Expert Advice on How to Grow Your Client Base on LinkedIn:
An Interview with Social Advisors
You asked the questions, we asked the experts! We've collected 8 of the most commonly asked questions our team receives about LinkedIn prospecting and asked one of our industry partners for their insights.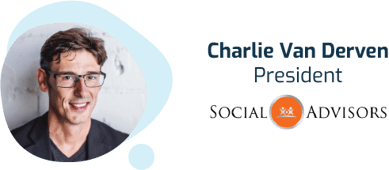 Charlie Van Derven is an expert in growing financial advisors' network and lead development through LinkedIn. His team at Social Advisors develop direct messaging strategies designed to create steady network growth for financial advisory businesses.
We asked Charlie 8 questions on how to grow your client base on LinkedIn, here's his expert advice!
---
Question #1: Is LinkedIn a more effective tool than other social networks for Financial Advisors?
LinkedIn may not be the best platform for every advisor, but for the overwhelming majority of advisors, it is where their target audience spends time.
LinkedIn is responsible for 80% of the business-to-business leads sourced from the Internet. While most advisors will see their business development efforts as Business-to-Consumer, the consumers they want to meet are often professionals.
If an advisor's services are focused on business owners, 401Ks, corporate executives, attorneys, engineers, doctors, etc.…. LinkedIn creates, without doubt, their best prospecting opportunities.
Question #2: What elements of LinkedIn are most helpful for gaining new clients?
The most significant tool that Microsoft made available following their purchase of LinkedIn in 2016 is Sales Navigator.
Sales Navigator is a paid premium service provided by LinkedIn. At the core of it, Sales Navigator is a query tool that allows its users to search all of the profiles on LinkedIn. With 25+ query options, Sales Navigator makes it easy to find and engage with the professionals that you may want to meet for business purposes.
If you live in Seattle, WA and want to find business owners with more than 10 years of experience and more than 50 employees, a simple query on Sales Navigator will help you identify more than 3,000 people that fit your requirements.
In addition to Sales Navigator, the direct message function of LinkedIn makes it easy to engage with the professionals you want to know. Also, the content newsfeed helps any advisor grow their influence with timely and thoughtful content marketing.
Question #3: What is the best way to build a network on LinkedIn?
The first step an advisor must take before building their network is to have a full understanding of who they want to meet. Who is their ideal prospect or COI? Get as narrow as you identify the niche.
When I coach an advisor to build their network without my team's help, I recommend finding 20 professionals the fit the target criteria every business day and sending them each an invitation to connect. At the end of the month, this will lead to about 100 new connections that fit an exact niche.
Our service helps advisors narrow down their search criteria to find the exact professional they want to prospect. Typically, the advisors that work with Social Advisors will add 250-350 niche connections each month.
Question #4: How often should advisors engage with their audience and prospects on LinkedIn?
The simple answer to this one…. advisors should engage with their target prospects DAILY. I recommend starting with 30 minutes each day. This is a simple activity to incorporate into a morning routine of coffee, news, and email review.

I've spoken to many advisors over the years who are worried about LinkedIn taking up too much of their time. If the platform is consistently helping an advisor to grow their business, I am not sure how much time is too much time.

For the advisors that stick with the routine, their commitment is likely to exceed 30 minutes very quickly. If it is working, keep putting more resources into LinkedIn.


Question #5: What is the mistake you most often see advisors make on LinkedIn?
Unfortunately for LinkedIn, salespeople are abusing the platform. The biggest mistake I see advisors make is connecting with a person who fits their target and then instantly blasting that new connection with a sales message.
This is a relationship-based business. People are unlikely to do business with you until they KNOW YOU, LIKE YOU, and TRUST YOU. If you try to transition to a sales-pitch without having a bit of trust in place, you will quickly alienate your network.

Don't kill opportunity by being short-sighted. Nurturing new connections takes time and strategy. Play the long game. Know that a connection today, if nurtured correctly, may not be ready to talk business for a couple of months.
Question #6: How often should advisors be posting to their accounts, and what is the most impactful content they should share?
We recommend posting on LinkedIn 2-3 times per week. Avoid the weekends as LinkedIn users are most active during business hours.

One thing that I like most about content marketing on LinkedIn is the shelf life that LinkedIn tends to give good content. When I make a post that gains some early attention, you can bet I am still receiving interaction with that post 2 weeks later.

We recommend that advisors STOP sharing third party links. If you think about the way that LinkedIn creates revenue, it is through premium services like Sales Navigator and advertising sales. LinkedIn's retention of users has a direct correlation to ad sales. If you share a third party link, you are actively working against LinkedIn by driving traffic away from the platform. LinkedIn will, therefore, show your post to less people.

Instead, advisors should share custom native (keeping traffic on LinkedIn) content. This could be as simple as an inspirational quote with an image or a short video. Talk about financial concepts, but don't be afraid to share a bit about yourself. Remember, unless they KNOW you, LIKE you, and TRUST you, they're unlikely to do business with you. Share a bit about who you are outside the office.

Another recommendation is to think about the content that matters to your audience, not the content that matters to you. What is your network likely to respond to? What matters to them? Let the answers to these questions drive your content strategy.

Firm approved content is simple; I understand that, but it is not typically effective. Stay away from content shared by many advisors, stay away from third party links. Focus on personalized native content that keeps the viewer on LinkedIn.

With almost 25 years of working with advisors, I am well aware of the constrictions caused by compliance. Start to think about content a couple of weeks ahead of time, so you will have time to work through the compliance processes.
Question #7: Do likes and comments matter on an advisor's LinkedIn?
Likes, comments, and shares ABSOLUTELY matter to advisors on LinkedIn. Unfortunately, most financial content does not get a lot of attention or interaction.

The LinkedIn content algorithm, in part, relies on the interaction of others to identify strong content vs. weak content. Early interaction with your post is one of the key drivers that gets your content in front of a growing audience. The more likes, comments, and shares your content receives the greater your content's audience.
Question #8: Can advisors nurture prospects on LinkedIn?
In short, ABSOLUTELY!!

It doesn't matter how you meet someone. It is your ability to turn an initial introduction into a relationship that will determine your business development success.

As you grow your network, continue to interact with your new connections:
Read their profiles.
Find out what is important to them.
Find ways to add value consistently.
Interact with their posts.
Ask them intelligent questions about their expertise.
All of this interaction makes it much more likely that your connection will see the content you post. You will have to put a bit of effort into creating interaction and relationships before starting to transition the conversation to business.

---
WHO ARE WE?



At Advisor Websites we help financial advisors grow their business and enhance their digital marketing strategies with their own personalized website. Our platform offers a selection of effective and proven frameworks that are personalized to reflect your business and brand.