Client meetings are an important component of success for every financial advisor business. One-on-one time with your clients allows you to hear their financial concerns and goals, discuss strategy and investing methodology and get to know them on a deeper level. But many financial advisors fail to take proper notes during their client meetings, which can lead to forgotten details and possibly even legal ramifications.
Here are the most important things to know about keeping up with financial advisor compliance and taking proper notes during your client meetings.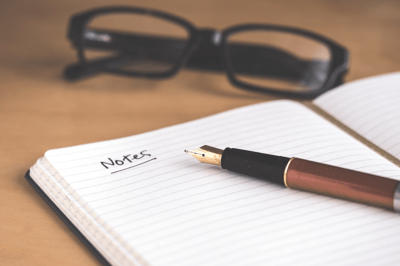 The Importance of Note Taking
Note-taking during client meetings is essential for a number of reasons:
Taking proper notes will ensure that you remember everything you discussed with your client. This allows you to create an action plan and make sure follow-ups are completed when they need to be—whether it's your responsibility or your client's.
Notes can help if your client reaches out with a question or concern when you're away on vacation or otherwise unreachable. If you're unavailable to talk with your client, it's important that your support staff or team members are in the loop with their financial history and the services that you provide for them.
Notes are important to build rapport between you and your clients. If you're taking notes during a client meeting it will allow you to remember details of their life, such as children's names and life events.
Lastly, notes are important from a compliance and legal perspective. Notes of what you discussed in each meeting can be useful if you receive inquiries from regulators or formal complaints from clients. An accurate record of your client meetings can be critical in any potential legal cases brought against you.
Note Taking Tips
Everyone has different methods for taking notes, so you may want to consider trying a few different methods to determine what works best for you.
It's important that you're efficient in taking notes so you can keep them as detailed as possible. Once you figure out the method that works best for you, sticking with it can help your records stay consistent, easy-to-read and organized.
Here are a few note-taking tips to consider:
Hand-writing notes makes them more memorable, but typing is usually faster—choose the one that works best for you.
Write notes in hierarchical order with major topics as headings and details as bullet points below.
Use familiar shorthand and abbreviations where you can—if you're typing you can always spell them out later.
Read over your notes and summarize the action points immediately after your client meeting—or at least on the same day.
Once you've nailed down a consistent note-taking format, try using a template with pre-loaded headings to make your notes easier, more readable and more efficient.
Financial Advisor Compliance Success
The only way to get better at note-taking is to practice as much as you can—which means it's time to start scheduling some client meetings. Thankfully, we have the tools to make it easy for both you and your clients to schedule a time to chat. MeetingMaker is the only compliance-approved meeting scheduling tool built specifically for financial advisors. This tool can embed directly into your website and has two-way integration for all major calendar platforms, so your clients can see your availability and schedule a meeting with you quickly and easily.
Spending less time scheduling and more time documenting your meetings will put you well on your way to compliance success.
If you're interested in integrating MeetingMaker into your financial advisor marketing plan, reach out for more information.
---
WHO ARE WE?



At Advisor Websites we help financial advisors grow their business and enhance their digital marketing strategies with their own personalized website. Our platform offers a selection of effective and proven frameworks that are personalized to reflect your business and brand.