Advisor Websites announces the launch of MeetingMaker, an online scheduling tool that allows financial advisors to simply and easily book meetings with prospects and clients.
MeetingMaker helps financial advisors grow their business and save valuable time by eliminating the back and forth in scheduling meetings. The recent transition to working remotely and the increase in virtual practices has everyone searching for tools and processes to help. This is the type of tool financial advisors need right now. Key features include 2-way calendar sync, plus Zoom and GoToMeeting video conferencing integrations. More about MeetingMaker's features here.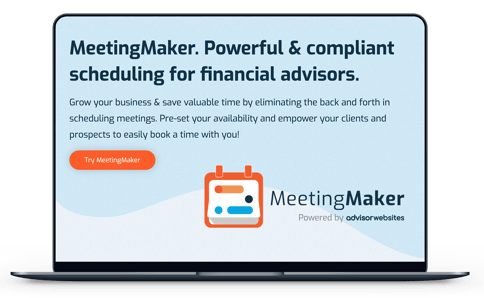 The online scheduling tool provides financial advisors ability to pre-set their availability and limit how far in the future meetings can be booked, so they're always in full control of their calendar. Never having to worry about overbooking, or meetings being scheduled without their pre-approval. The tool works seamlessly with their website as it can be embedded on a contact page or as a pop-up.
"Financial advisors today need an easy online scheduling solution that saves time booking meetings with clients and prospects, integrates with their website, and meets compliance requirements. And that's what we're doing, which ultimately makes it as easy as possible for our clients to manage and grow their business.
No tool currently exists in the industry that allows advisors to efficiently schedule meetings, which is the gap MeetingMaker fills. By directly integrating with your website and working seamlessly with compliance, MeetingMaker is made specifically for financial advisors."
– Graham Turner, COO, Advisor Websites.
The decision to add the scheduling tool to the Advisor Websites Platform was in response to industry feedback demanding an easy way to schedule meetings with limited time and resources. While there are other online scheduling tools out there, MeetingMaker is the only one from a provider dedicated to working with financial advisors and their Broker Dealers directly, ensuring strict compliance requirements are met.
MeetingMaker is available on the Advisor Websites platform for $12/month, paid annually. For more information and to find out whether your Broker Dealer has approved it, apply HERE.
---
ABOUT ADVISOR WEBSITES - A digital marketing platform designed for Financial Advisors, helping them grow their business through a series of marketing tools and services while seamlessly meeting compliance requirements. In addition, the Advisor Websites platform offers a selection of effective and proven website frameworks that are personalized to reflect individual businesses and brands.