Welcome to the first showcasing of our amazing Advisor Websites series! For each month, we'll be highlighting the top 3 websites that are amazing!
Okay, so what constitutes as "amazing" you might ask? Let me break it down for you.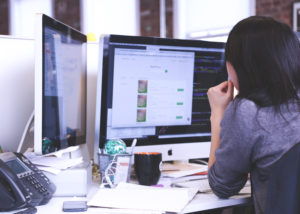 More often than not, people acquire a website for the sake of boosting their online presence and gaining credibility in their industry. A website is your personal marketing assistant, working around the clock for you 24/7, 365. But simply having a website is different than consistently maintaining and equipping it.
That being said, it's not enough to just have a website. A website that continually draws in traffic and grows your business is one that is equipped with the right content, design, functionality and marketing strategy. It's one that keeps current, in trend and possibly outshines it's competition. Websites that go above and beyond that are deemed amazing.
If you need a little inspiration or would like to check out what other advisors are doing right, we have it all for you. Here are the top 3 amazing Advisor Websites in no particular order...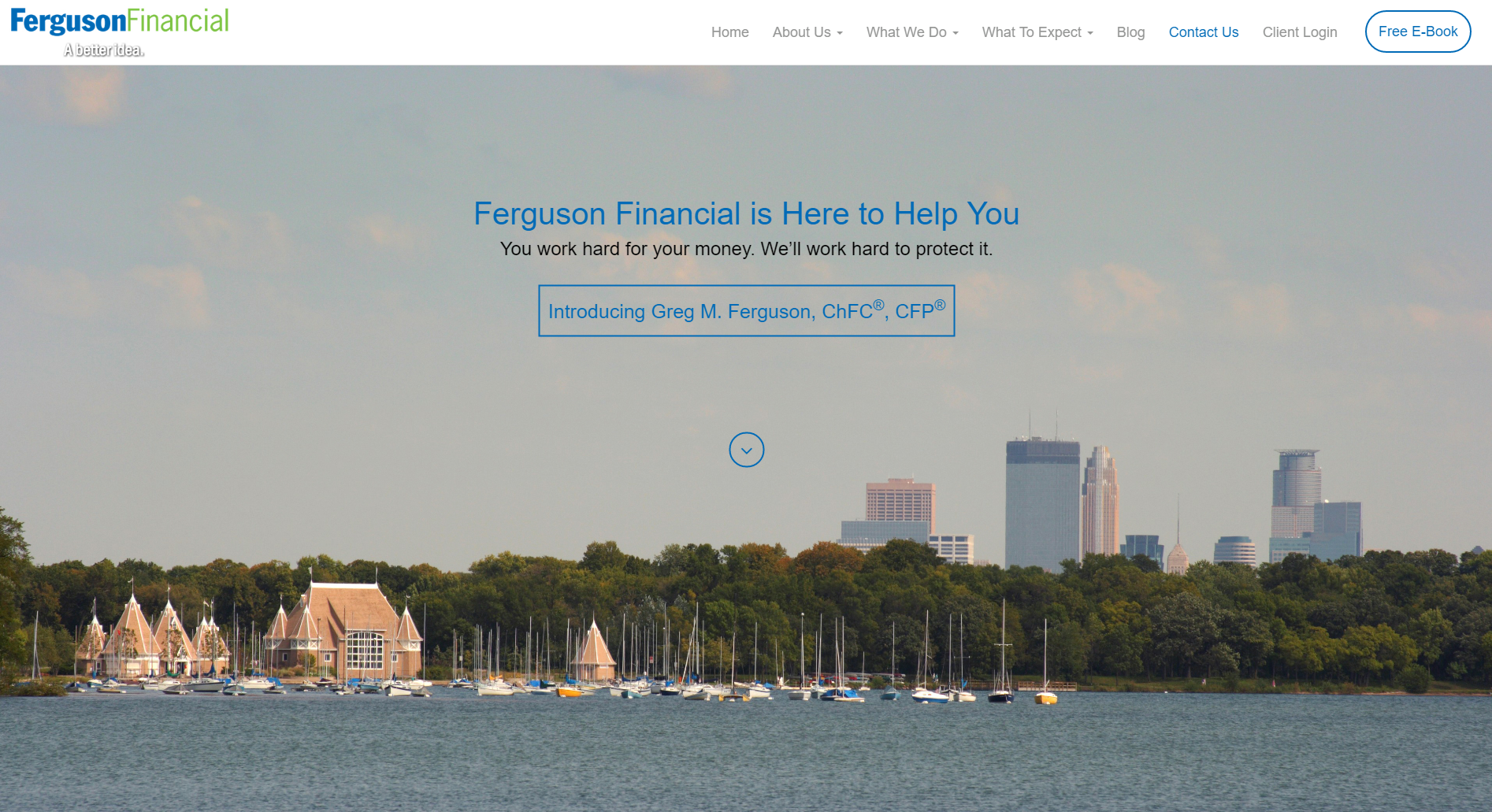 Design: Responsive // Shift Light
It's design is kept simplistic yet logical. By using its logo colors in certain elements of the site such as links, titles and CTAs, their brand is reinforced throughout.
The organization of content from introducing their financial advisor, their services and blog articles to their contact form, allows for visitors to navigate around the site effortlessly. Not to mention, this content structure helps create a seamless sales funnel. Well done Ferguson!
Content: As an active blogger and user of our Marketing Pro and Hootsuite integration, Ferguson Financial has proven to be fairly successful with it, gaining a total of 72 unique visitors in the last 7 days and 30 leads in the past year.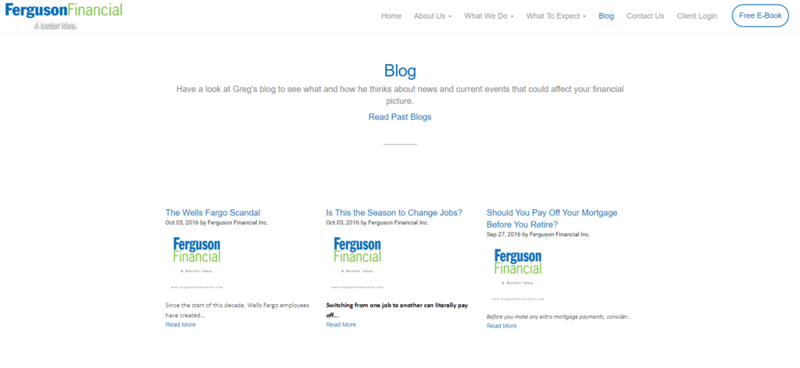 By continually posting fresh, quality content via Marketing Pro and then promoting it on their Twitter and Facebook with the help of Hootsuite, Ferguson Financial does a great job at driving traffic and generating leads throughout the year. To add to their strong content marketing strategy, they also offer FREE eBooks to their visitors.
Website: https://www.fergusonfinancialinc.com/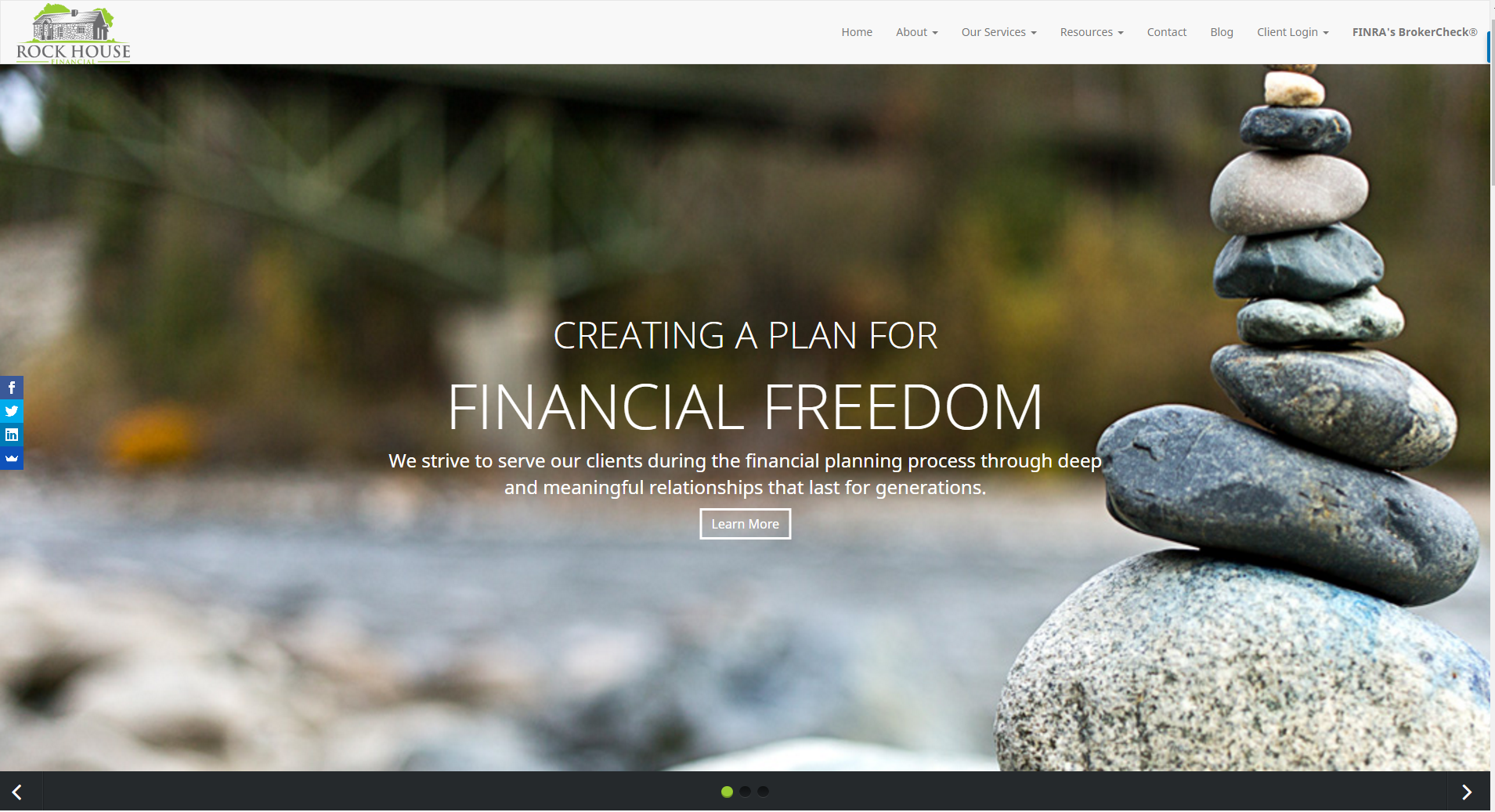 Design: Responsive // Shift LeadGen
Similar to Ferguson Financial, Rock House's design is kept minimal by using its logo's green as a highlighting color throughout its site. They also use captivating imagery in their scrolling banner to draw attention to their CTAs.
Content: Rock House regularly publishes articles from the periodical content library to their blog page as well as automatically share these to their company Facebook, Linkedin and Twitter pages.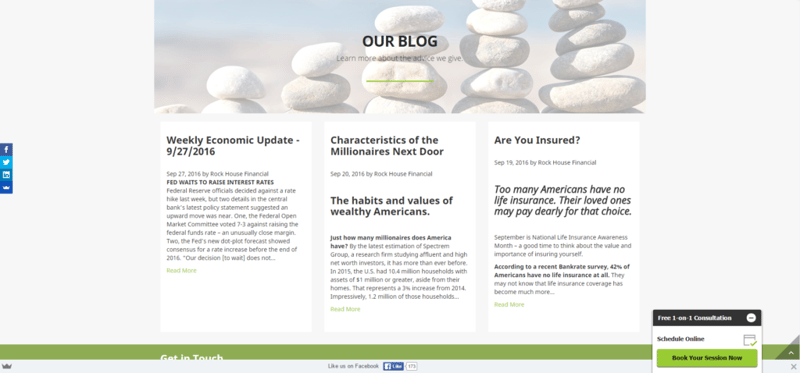 Other elements of the site that work very well include their "Join Our Email List" webform created from SumoMe. Located in the left corner of the site, the webform acts as a pop-up to help generate leads and keep in contact with prospects. Their social media links in the left sidebar also reinforces this action.
Website: http://www.rockhousefinancial.com/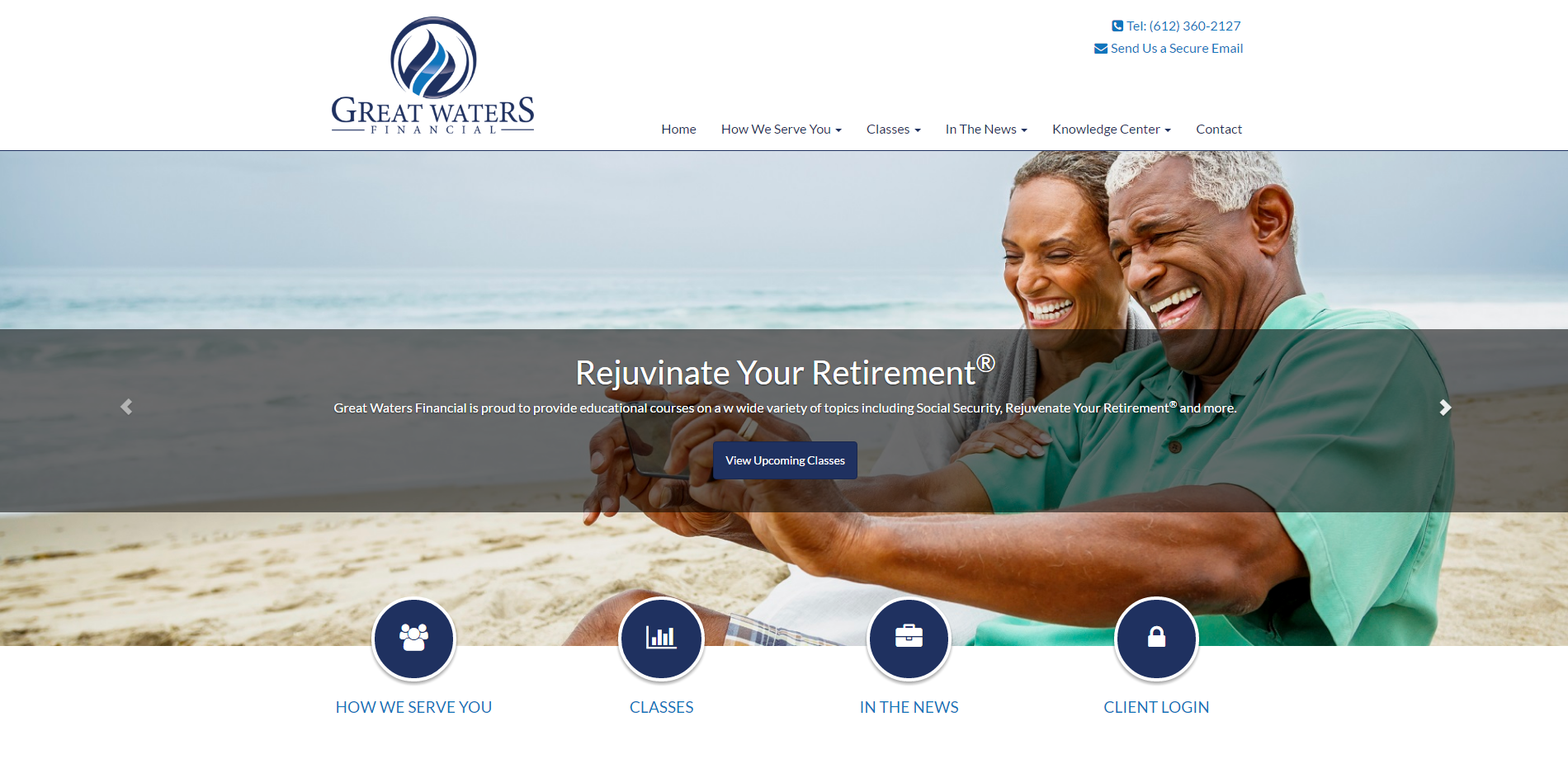 Design: Responsive // Jericho
One of Great Waters strongest design elements is their scrolling banner located on their homepage. Containing 5 different slides, each one concisely outlining a service and following it up with a CTA button, makes for a very strong marketing strategy. To further lock in their prospects, the last slide simply displays a "contact us today" button.
Content: Great Waters has a very complete marketing strategy where not only do they continually publish blog content from our periodical content library but they also offer a diverse range of educational material from hosting classes to radio shows and television appearances.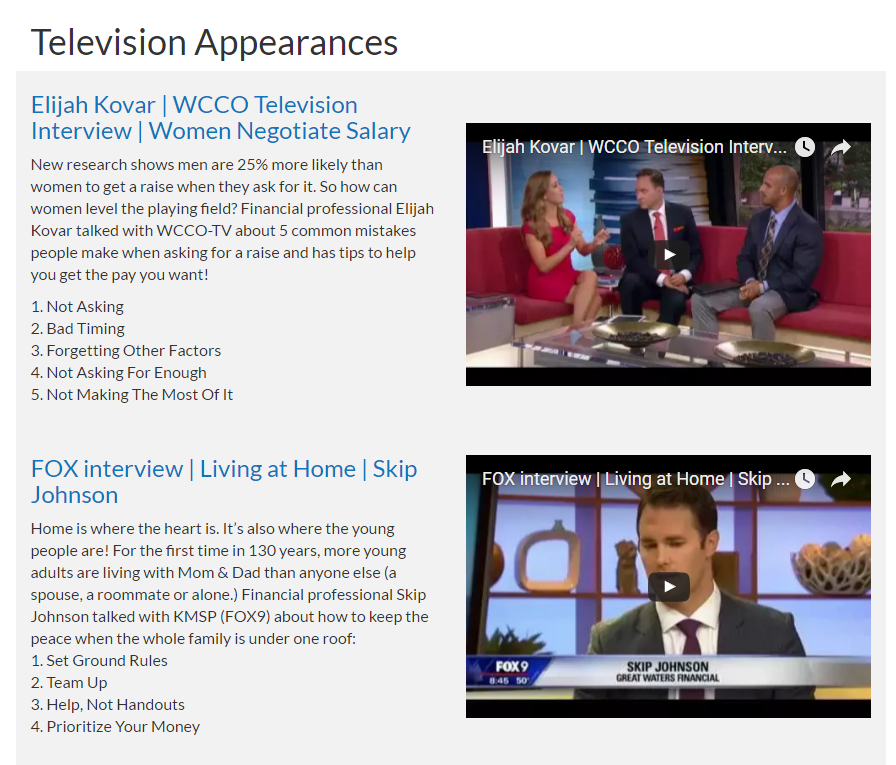 Their success from a powerful marketing strategy can be proven by their site statistics. 38% of Greatwaters' traffic comes from search engine results while the remainder are from direct traffic alone. This means that visitors would type in the actual domain or have it booked marked on their browsers. That being said, they have only a small percentage of referrals sites - less than 7% to be exact.
Website: http://www.greatwatersfinancial.net/