Are you new to the financial advisor marketing game or just started to utilize digital marketing strategies? One of the best ways to succeed online is through establishing credibility through your online presence.
Easy enough right? Well, we're in a world where anyone can post online, and if I'm honest, a lot of the information has no credible sources to back it up!
So how can you be seen as an expert in your financial niche? Today we'll look into why you need to establish yourself as a credible financial professional online, and the three steps to take to do so.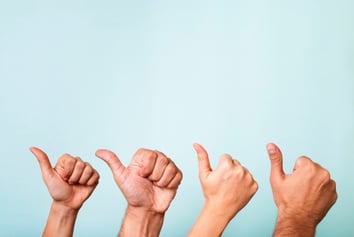 Why you should use your website to establish credibility
Your website is the best channel to prove your credibility. Starting with a clean, well functioning site is a great platform for your professional image. Did you know that over 40% of web traffic view a bad website as a reflection of your business. I.e. associating your web presence with your business practices is commonplace.
Limitations faced by financial advisors
If I were to give advice to someone in another industry, the first thing I would suggest would be to collect client testimonials. Because isn't it true that we trust the word of a peer the most. However, to stay on the safe side of compliance air on the side of caution and do without testimonials.
Here are the top 3 (compliant) steps you can take to be seen as a credible financial professional online.
Add Publications you've been Featured in
From your local paper to an online blog, if you've been asked to contribute to any sort of publication, chances are you were seen as a reliable source. Link to the article on your site or just having the publications logo featured on a section of your website. Although potential clients may not take the time to read your contributions, having them available on your website shows that your take on an issue is valid.
Add Certifications
Like featured publications, showcasing certifications is a great way to demonstrate your qualifications. If you are part of a BD, chances are in their web policies you will be required to have some sort of company logo showcased. If you are a CFA or a member of FINRA then show your potential clients this. Chances are they might not know what all these certifications actually entail, but the right audience will at least recognize their value.
Create Valuable Content for Your Targeted Clients
Do you specialize in retirement planning? How about financial planning for a specific community, such as doctors, or lawyers? I hope by now you understand your client persona. If not reach out to us and we can send you a handy worksheet! But basically a client persona is what you perceive as your ideal client. When your content is curated towards a particular client persona, your authority comes through the tone of your content. You will often speak from experiences instead of just researched information from the internet. Web traffic are more savvy than we often give them credit for, and authenticity is translated through your content more often than not!
Overall your website is a great place to showcase your skills and talents! You provide such valuable services as a financial advisor, this is not the place to be modest about it!