When it comes to designing or re-designing your firm's website, it's possible that there may be a bit of a language barrier between you and the design team. That is why we put together this financial advisors glossary of web design terms. Many advisors feel overwhelmed when they first begin looking into creating a new website - you're not alone! And, let's be honest - web development and technology is constantly changing. It can be hard to keep up.
Don't worry - it's your job to be a great advisor, not develop a website! (If it makes you feel any better, we would be looking for help if we had to make investment decisions...) To help smooth over the learning curve, here is a go-to glossary of terms that you'll likely be seeing and/or hearing when you're on the phone with your web builder.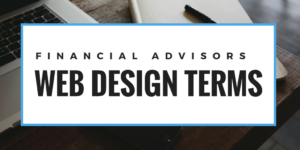 Above the Fold: This design term is a comes from the days of printed newspaper . "Above the fold" refers to the section of a webpage that's visible before any scrolling takes place. Note: this is the most important real estate to any advisor's website because it's the first thing visitors see as soon as they arrive to your site.
Bounce Rate: We define a website's bounce rate as the percentage of web visitors who leave your advisor website after viewing only one page of content. For example, if a web visitor arrives on your page from Google but leaves your page without viewing another page of content.
What does a high bounce rate mean? A page with a high bounce rate is performing poorly. A high bounce rate indicates that your website does not provide visitors with the information they are looking for. Comparing your high bounce pages to your low bounce pages is a great way to find out what's working for your visitors and what isn't.
Call-to-Action (CTA): A call-to-action is a text link, button, image, or some other type of web link that encourages a website visitor to take an action on that website, such as visiting a landing page to download a piece of content. These little buttons direct your audience towards taking the next logical step.
Some popular CTAs we find on financial advisor websites are "Schedule a Meeting," or "Subscribe to My Newsletter," but when it comes down to it, you can ask your visitors to do anything. The bottom line is that you want to make it really, really easy for your web visitors to do whatever it is you want them to do.
A great CTA enhances your website in a couple of tremendous ways. First, it makes your website interactive for users. It gets your audience involved. In addition, CTAs often result in alot of great information about who's visiting your website. Here's an example of a CTA: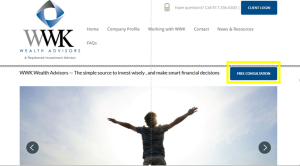 Clickthrough Rate (CTR): The clickthrough rate is the percentage of your web visitors that advance (or, clicks through) from one part of your website to the next step of your marketing campaign. For instance, if you sent an email with a link to your website to 100 prospects and 40 people ended up on your website as a result, the clickthrough rate of the email is 40%.
Content Marketing: An inbound marketing strategy is centered around content creation. Content marketing is any marketing format that involves the creation and sharing of media and publishing content in order to acquire new clients. Financial blogging is one example of content marketing. For more info on creating excellent content, check out our ebook, "How to Create Content that Rocks & Converts."
Conversion/Rate: A conversion happens when your site visitor completes the goal of your individual page, such as clicking a CTA button or booking a meeting. A conversion could be anything from filling out a lead form to downloading an ebook to becoming a client.
Form: A form is usually found on a landing page (see below!). It's where an exchange of information takes place between you and your web visitors. Usually, web visitors will provide some information about themselves in exchange for your offer.
Often, website visitors are converted into prospects once they fill out a form on your website. The less fields on a given form usually results in higher conversion rates.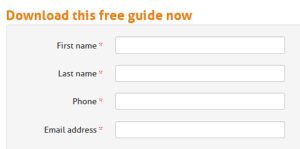 Homepage: The homepage of your advisor website acts as a your firm's online ambassador. It's the first thing visitors see when arrive to your site and results in your website's bounce rate and, more often than not, the success of your website as a whole. Defining the purpose of your firm's homepage is critical to the site's performance.
Landing Page: This is the section of a website that's accessed by clicking a hyperlink on another web page. Oftentimes, people use landing pages as the destinationfor PPCs (pay per click advertisements). Want to learn how to make a great landing page for your advisor website? Click here.
A landing page is a great place to put a form in order to collect visitor's contact information.
Lead: A lead is a person who has indicated interest in your advisor firm, otherwise known as a prospect.
Long tail keyword: When marketers refer to the term "long tail keywords" we are talking about a very targeted search phrase that contains at least three words. Long tail keywords are what searchers usually search for. Here's an example:
Keyword: advisor
Long tail keywords: how to find a financial advisor; financial advisors in Atlanta, GA; tips from a financial advisor
Here's an article on why keywords are important and how to use them.
Mobile Optimization: Mobile optimization is developing your site to be mobile friendly. Important factors for mobile optimization are ensuring the content is easy to read and, most importantly, easy to navigate.
Pay-per-click (PPC): Unlike organic results, PPC links are paid advertisements that appear at the top of search engine results. PPC advertisements are used to generate traffic.
Responsive Website: A responsive website adjusts its usability based on the device from which the website is being viewed. In layman terms, this means a website is easy-to-use (optimized) no matter how the user accesses it from including smart phones, iPads and other mobile devices.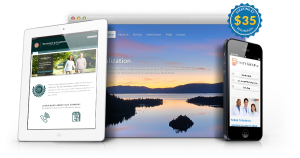 As we all know, it's not always easy to navigate a complicated website when you're working with four inches of space and a two thumbs. A responsive website makes it as easy as possible for web users to access and utilize even the most complex sites.
Search engine optimization (SEO): Optimizing a website for search engines is a way to increase traffic to your advisor website. Important factors are fresh content, using relevant keywords and inbound links.
Nearly 80% of people use the internet to research products and services; SEO is vital to increasing traffic to your site.
Website Optimization: Website Optimization is the process of improving a website to make it as effective as possible. From a website's design to it's messaging, optimization is performed by trial and error and experimentation.