How to turn web traffic into referrals. That is the big question faced today for many financial advisors as they take their businesses online. This process used to answer this question is called 'inbound marketing.' The general overview goal of strategic inbound marketing is to convert strangers into customers.
But it doesn't have to end there.
Imagine going even one step further in developing you online community. Imagine changing strangers into advocates for your business. For years financial advisors have heavily relied on referrals to grow their client base, however the platform to harness and display this positive feedback is now online.
But how do you harness the power of the web? Well today, we'll be looking at the Inbound Marketing Methodology created by Hubspot, which breaks down step by step successful inbound marketing strategies - with the ultimate potential of turning strangers into referrals!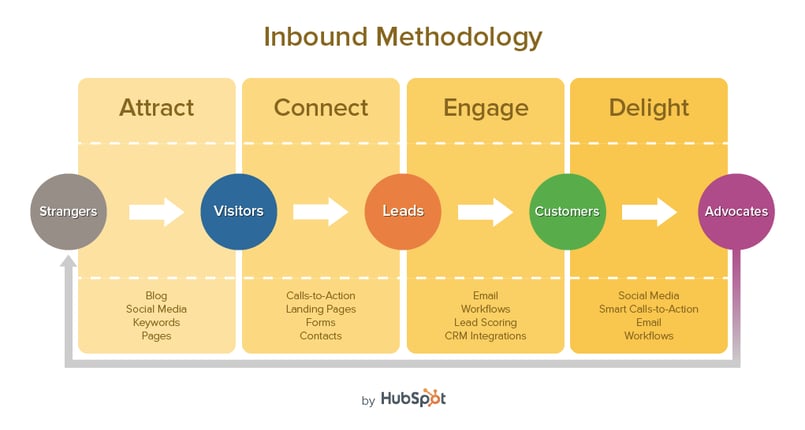 Are you happy with your website service? Book a demo with us today.
How to Turn Web Traffic Into Referrals - 4 Steps to Conversion
1. Attract Web Traffic - Bring strangers to your site.

Blog, blog, blog! We can't stress enough the ROI to blogging. Blogging attracts visitors, provides fresh content, and helps your overall SEO ranking.
Social Media - Although compliance has often been an issue in establishing a strong social media presence in the financial industry, as social media grows, compliance has opened up to include, but is not limited to, twitter and linkedin. Share your knowledge with valuable, strategic content.
Keywords - The key to creating effective keywords is understanding your brand and who your ideal audience is. Integrate these keywords for higher organic ranking in SEO.
Pages - Finally, make sure your pages are optimized and visually appealing to keep strangers on your page.
2. Connect - Convert visitors into leads.

Calls-to-Action - CTA's are buttons or links which prompt your visitor to take action with your website. For example a call to action we like to use on our blog is to include a link to the free e-books we have created which take our visitors to our landing page.
Landing Pages & Forms - Landing pages are where the visitor is redirected to and where the CTA is fulfilled. There is usually a form which accompanies this page in order for you to generate your contact list. The form is where visitors become leads, where you can collect information and begin to generate a contact list.
Contacts - Finally, keep track of all the contact information to be used in the next step of conversion.
3. Engage - Transform your leads into clients.

Email & Workflows - Don't let your CTA's go to waste! Create a email strategy where you can nurture these leads and convert them into clients with your sales team.
CRM integration - Monitor your marketing efforts and make note of the the more successful strategies. Compare sales and marketing efforts to make sure that once you attract these leads the sales team are successful in closing the leads.
4. Delight - Wow your clients so they can't help but recommend your services

With all your marketing endeavors, make sure you put your best foot forward with targeted content, optimized websites, and engaging calls to action.
Social Media - Connect with your clients to build a stronger relationship.
Email - Keep in contact with your client and continue providing the best educational content to build trust between you and your client
A referral isn't the only thing you should worry about when it comes to marketing yourself though! Take a look here and see what else should be on your menu.
We've created this extensive marketing manual for financial advisors willing to stay on top of their game in a highly competitive environment. You'll find a ton of information, tips and tricks to help you throughout your efforts to maximize ROI through sound marketing.