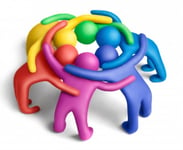 62% of financial advisors agree that social networking is here to say, saying that social media will have a lasting impact on the financial services industry," Rydex Advisor Benchmarking, 2010.
Our recent blog post, "Creating a Social Media Policy for Your Organization",received a lot of positive feedback–and more than a few questions. In response, we have put together a more in-depth overview of social media compliance guidelines for financial advisors based on FINRA's Regulatory Notice 10-06.
In the most basic sense, FINRA has determined that any registered representative who participates in a social media networking platform are subject to the same regulations that would govern an in-person presentation or public appearance. In other words, Internet-based social media communications must be viewed and monitored in the very same way as in-person conversations and written communications.
Social networks provide firms the opportunity to engage with and provide value to their clients and prospects. However, they are not a place to advertise and push products and/or services. They act as an arena to connect with and educate clients and prospects, thus positioning yourself as an expert. The same rules for suitability apply online as they do in-person. If a product is not suitable for your entire network (and it probably never will be) don't post it.
There are two main types of content regulation: static and interactive. Static content includes website content, social network profiles and background images. Static content is considered to be the same as an advertisement and requires pre-approval from an agency principal. Appropriate records need to be kept of all content and changes made. The other type of content regulation is interactive. The majority of social media usage will fall under interactive content as participation in social media is a continual dialog and is first listening then contributing to the conversation. Examples of interactive content include blog posts, tweets, Facebook status updates, LinkedIn updates, comments, instant messaging and webinars. Download our Social Media Compliance Guide (orange box to the right) for a more detailed breakdown of "static" vs. "interactive" content.
Although pre-approval is not necessary for interactive content, archiving is. It allows the firm to not only keep a record of popular posts, content and information, but also keeps a record of suitable content and possible inappropriate usage. There are several software programs out there that can monitor and record all social media usage stemming from your firm and its employees. Arkovi is one of the leading social middleware programs that focuses on social networking policy management.
Bottomline: Use common sense. If you wouldn't say it offline, don't say on the Internet. Are you securities licensed? If so, it is crucial that you and your organization are aware of the current regulations set forth by FINRA and how to implement these systems effectively. Consult your broker/dealer for their current social media policy. Some broker/dealers have a blanket NO policy in regards to social media usage while many others realize the importance and are starting to embrace the benefits. If you are an RIA or life/health licensed there are not as many hoops to jump through in regards to compliance, however we recommend following the guidelines set forth by FINRA. Please contact Financial Social Media if you have questions or comments, and be sure to download our FREE SOCIAL MEDIA COMPLIANCE GUIDE: Guidance for Financial Industry Professionals Engaging in Social Networking Sites.