An effective website is something that when executed properly, can have a significant impact on your marketing initiatives, and the overall success of your practise. Sure, a lot of advisors have a website, but do all advisors believe in the benefits of having a website? Likely not.
Judging by the number of old and outdated websites that our clients have come to us with, we have no other choice but to come to one conclusion: the importance of keeping a current website has been lost on advisors, somewhere between the excuses of I don't know how, my brother-in-law takes care of it, and I'm too busy.
Keeping a website relevant with up to date content is one of the keys to a successful web presence, unfortunately far too many advisors overlook the importance of maintaining their website. We have identified three instances that will show you why having an outdated website can be harmful to your business.
1. Lose Your Credibility in 15 Seconds or Less
As you are hopefully aware, your potential clients are researching your name online before they decide to do business with you. A recently published study from the Pew Research Institute shows that 78% of internet users research a product or service online, and yes, this includes financial services.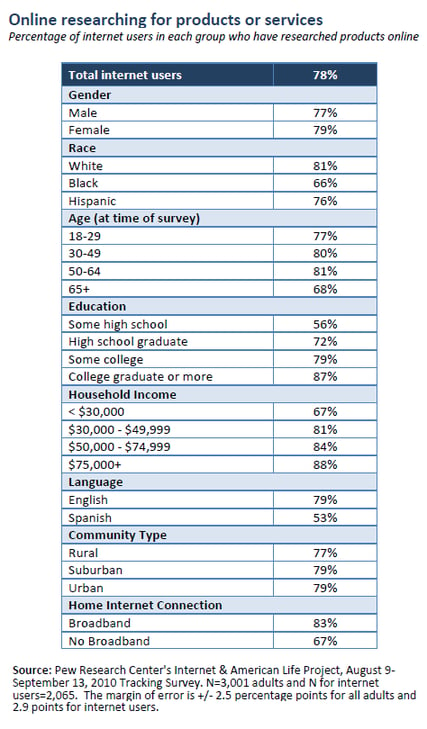 As the chart shows, as income and education increase, so does the likelihood of online research, with 87% of college educated internet users doing online research about products and services that they're interested in.
If one of your existing clients mentions your name as a good financial advisor, and the potential client finds your old, outdated website, he or she may think twice about doing business with you. Having a website that is showcasing events from a year or two ago looks sloppy and disorganized. Potential clients are interested in what you're doing right now, not in the past. If your website is full of outdated information, you may come across as someone who is losing their touch, and can no longer keep up with the ever-changing ways of doing business. If your website doesn't have recent, relevant information, it is likely hurting you more than you realize.
We've seen some websites that have a copyright date of 2002, making us believe that the website hasn't been touched for the better part of a decade. Imagine what your potential client will think when they arrive on your website. In case you're wondering, I'll fill you in.
The client will think you are no longer in business
The client will have a poor opinion of how you run your business
The client will be worried about your commitment
The client will be wondering why your picture looks like it's from the 80's
The client will move on to the next advisor
2. Miss Out On The Benefits of New Website Technology
By not adopting new technologies that are available, you may be falling behind. Websites made today allow for a wealth of content to be located in one place, and look good while doing it. If you aren't taking advantage of all the tools below that can easily be implemented on your website, you may want to consider some of these options.
SEO features like Title Tags and Meta Tags,
Client Login for them to view their portfolio
Article or Resource Database for your clients
Web-based insurance/quote forms
Google Analytics to to track visits
Video/Blog Integration
Intuitive user dashboard with WYSIWYG editors
Social Media Integration
Recent Newsletters
Is your website ready for mobile devices? Did you know that approximately 20% of all web traffic comes from a mobile device? (iPad, iPhone, Blackberry, Android)
Are you on social media? Did you know that over 140 million Americans are on Facebook? How about the fact that 71% of your peers are currently using social media on a regular basis. If you aren't, think of all the opportunities you could be missing out on.
3. Get in Trouble With The Regulators
Are you familiar with the guidelines in place for your firm? Most companies require archiving and approval for all static content displayed on your website. FINRA and the SEC requires archiving for 6 years, and IIROCK is designing similar guidelines for the Canadian market.
I'm not even talking about the amount of new rules and regulations that are posted every year... nor the number of firms getting fined for infringing the set rules that are in place. Getting fined can be as easy as displaying old, inaccurate information about the market on your website, or promoting a service that may have been good 5 years ago, but today is viewed as a hoax.
To solve the compliance problems, you can take an active approach of maintaining your website, which is easy enough to do with most current financial website providers and associated compliance firms like Arkovi and Actiance.
What are your next steps?
Take a good look at your current website, and ask your friends and family members for some honest feedback.
Research local advisory firms and see how your website compares with theirs.
Take a look at your analytics to see if you are getting the most out of your current website (check average time on site, pageviews, bounce rates, etc.
If you aren't satisfied with your findings, consider reading some materials about what you can do with your website, attend some seminars or webinars to see how you can incorporate the latest tools, and talk to some financial website experts, to see how they can best accommodate your current needs.