Well, we're down to the final 2 weeks of 2013! Time sure does fly by these days.
It's been an especially exciting year in the Advisor Websites' Marketing department. We've created a bunch of new resources specifically tailored to the financial marketing needs! So far they have been received great, but just in case you've missed any of the exciting new e-books or white papers, here my top 5 favorites from 2013!
1. How to Create Content that Rocks and Converts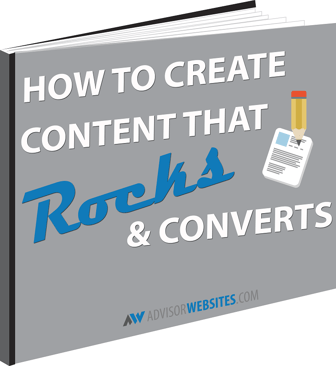 In a world where content is king, but time is a premium, this e-book gives advisors the tools they need to succeed online!
What you'll learn:
An in depth look at the importance of content in today's financial market and provides advisors with every resource needed to create content that converts.
2. An Introduction to Successful Financial Blogging
We've talked alot about why blogging is an important part of any advisor's web marketing strategy. This ebook takes a step back and starts from the beginning: we answer all of the most frequently asked questions financial planners have on blogging. Learn how to blog and learn how to do it right!
What you will learn from this ebook:
Why blogging works

What to blog about

How starting a blog led one another to success

How to promote your financial blog
This guide is designed to help give financial advisors a road map to better SEO success, gaining you more local attention and, eventually, customers.
Learn:
Why building a search engine friendly site is important
The importance of written content
Why keeping an active blog/journal is critical
What to look for in your Google Analytics report
4. 10 things to do BEFORE your Financial Web Project
In this new resource we've compiled a list of the most important things to consider as a financial professional when undertaking a web design or web redesign project! Download a free copy today and create the foundation needed for a successful web design.
What you'll learn:
How to prepare for your next financial web design check list
Best practices for creating an effective website
How to build credibility online and establish a powerful web strategy
Tips for winning a great first impression online
Finally, my baby for the last month: 5. Top 3 New Year's Resolutions For Financial Broker Dealers – Infographic
Back in August, we surveyed professionals from 13 Broker Dealers to find out exactly how they approach digital marketing. The results revealed a couple of interesting trends:
1. The overall attitude towards digital marketing in the financial industry
2. There is a large opportunity for Broker Dealers to support their advisors digital marketing initiatives
What you will learn from this summary:
A breakdown of some of the most interesting findings
Pain points surrounding digital marketing
Steps to success
And for your viewing pleasure, here is the infographic!