Creating a well rounded digital presence is crucial for financial professionals today. This is especially true as more advisors realize the potential of growing their business online. Not only can your digital presence open up new revenue opportunities but it can also improve your efficiency, and showcase your firm's commitment and agility through changing times.

The key is having the right array of digital tools setting you up to maximize your online presence ROI. One of those key digital tools for client-facing businesses is an online scheduling tool.

Scheduling tools save you valuable time by eliminating the back and forth in scheduling meetings and empower your clients and prospects to contact you directly.
Why an Online Scheduling Tool?
Efficient & Timesaving.
Save Time & Increase Efficiency.
Easily have your clients schedule check-in calls and meetings - without the back and forth!

Virtual & Flexible.
Stay connected virtually.
Offer more meeting options to clients through phone calls, video chat, and virtual meetings.

Professional Communication:
Automatically send custom and professional meeting confirmations & reminders.
Works for You around the Clock:
Your virtual 24/hr assistant
Pre-set your availability in advance and allow your prospects to book at the very moment their interest is piqued. No need to be online to confirm!

Your Digital Marketing & Lead Capture Tool
Capture leads' information from all meetings automatically for future follow-ups and marketing efforts.
Promote discovery calls for new prospects by creating CTA links within various marketing channels (emails, webinars, blog posts, social media, etc.)
Here are a few best practices for utilizing an online scheduling tool to grow your business!
Sync with Your Existing Calendars
Include a Video Call Option
Sync with Other Digital Tools
Customize Meeting Types
Don't Lose Your Personal Touch
Always get Approval by Your Broker-Dealer's Compliance
Sync with Your Existing Calendars
The first thing to consider when setting up your scheduling tool is whether it seamlessly integrates with your existing calendars. Here are a few elements you should consider when getting started:
1. Set Up 2-way Sync & Meeting Buffer Times
The only way for your calendar tool to work efficiently is if it communicates with the various calendars you currently use either through email, CRM, or other client relationship tools. Without syncing all of your current calendars, you may experience double-booked meetings or worse, missing client meetings all together! To avoid this from happening, take inventory of all the digital tools you currently use that need to communicate with your calendar.

An easy mistake to make is forgetting to allow buffer times between meetings. Especially if your calendar is open for scheduling via your website, you want to avoid potential back to back meetings that require a hard cutoff time with clients. Allowing 10-15 min buffers between meetings will allow you to transition from one client meeting to another without ending a meeting abruptly or entering the next one unprepared.
New!

Introducing:

Powerful & compliant scheduling for financial advisors.
When setting up your MeetingMaker account, you'll have 1:1 support to help get you started!

2. Set Up Custom Confirmations & Reminders
Confirmation emails notify your clients and prospects that the meeting has been accepted and provide a quick and easy way for them to save it in their calendar as well.

If your clients are booking meetings with you far in advance, it's important for your calendar tool to include an option for reminder emails. This will send a simple reminder message to your client at a scheduled time before your meeting - allowing them to reschedule if needed.

Customizing both confirmation and reminder emails provides a personal touch to the otherwise automated communication (more on this below!).

3. Consider Time Zone Differences
This is a simple detail, yet easily forgotten. Don't forget about the time zone differences! Your calendar tool should automatically adjust to the local time zone of each person scheduling a meeting.

Include another form of contact in addition to your calendar for clients who reside in different time zones (an email or phone number). Your scheduling tool is built to enable your clients to get a hold of you, not constrict your availability to them! Communicate that on your website, either on your 'Contact' page or included in a note directly on your calendar.
4. Include Group Meeting Options on Your Calendar
If your calendar tool allows it, utilize the 'group meeting' option for when you want to invite multiple clients, and/or prospects. Your calendar tool should simplify the process of coordinating multiple calendars by putting the control in your clients hands. It allows the primary contact to invite other team members to the meeting in one swift step.

Your calendar tool is built to enable you to grow your business by offering better ways of connecting with clients and prospects! All of these calendar features come together to create a better user experience for both you and your prospects.
MeetingMaker includes 2-way sync with the following calendars:





MeetingMaker has Unlimited Custom Meeting Types for Advisors*
Include a Video Call Option
In today's times, virtually everyone has access to video conference apps either on their smartphones and laptops. It's become an expectation of most clients to have the option to meet face to face with their advisor, even if it's through a screen. It can be more comforting for clients to speak directly to the person they're entrusting their financial investments with, rather than speaking transactionally via phone or email.

Our Director of Growth, Nitesh Verma, recently had a candid conversation with Derek Notman CFP® about how he turned his traditional firm into an entirely virtual practice. Watch the video here!
Sync to Other Digital Tools
If you use a CRM (customer relationship management system) like Redtail Technology, then ideally your scheduling tool will capture your lead data as your calendar is filled out. Saving you time from having to manually import prospect information afterward.

When used correctly, your scheduling tool can help you get the most out of your website by capturing leads. How can a calendar help capture leads? By embedding your calendar directly onto your website home page (or any other page you prefer) or have it pop-up on your website after a few seconds of your visitor's arrival. This encourages your website visitors to ask questions and start a conversation.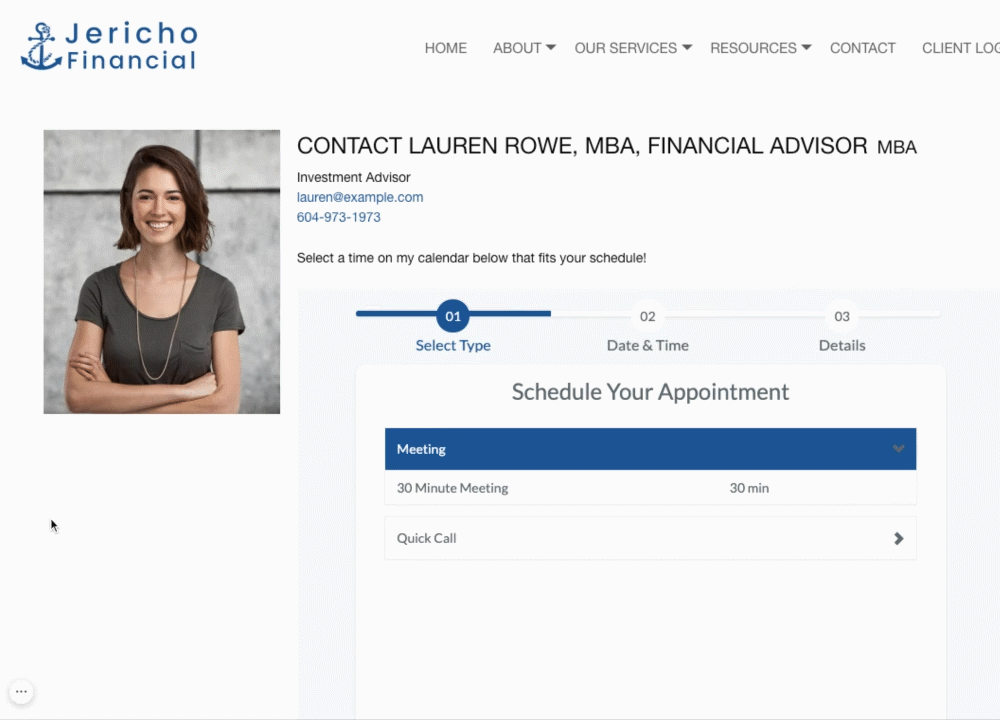 TIP: For sharing your calendar with clients through email, customize your calendar URL for a more professional appearance. For example, https://JohnSmith.meetingmaker.co/

Or, you have a second option of embedding your calendar onto your website and customizing your landing page URL to look similar to: www.freedomfinancial.com/meet/JohnSmith
MeetingMaker & Advisor Websites sync with CRM tools, including Redtail CRM.


Worried about setting your calendar up?
No worries, with MeetingMaker you'll have access to over-the-phone support & training.
Customize Meeting Types
Online calendar tools should give you the ability to offer different types of meetings and duration times that suit both clients and prospects. Utilize this feature by offering, for example, a 15-minute introduction call and a 30-minute check-in/Q&A. Consider the types of meetings you most often have with your clients and prospects and offer those as standard options. By limiting the time for each type of meeting you also give the attendee an idea of how long each type of meeting will take.
Don't Lose Your Personal Touch
Your scheduling tool doesn't have to be a boring and impersonal calendar. You can add your personal touch by customizing the colors and font of your calendar to match your business's brand. To avoid your reminder emails sounding robotic and 'automated', customize both your confirmation and reminder emails in your own voice to add a personal tone and message.

Another great tip is to add a small note above or below your calendar directly to your clients and prospects. For Example:
Please feel free to book a 1:1 meeting with me directly anytime on my calendar below! My hours of operation are Monday - Friday 8:00 AM - 6:30 PM PST.

If our schedules collide, I am happy to arrange a meeting outside of my regular work hours email me through John@freedomfinancial.com or you can reach me at 123-456-7810.

I look forward to speaking with you!
Within email communication with your clients, you can also share your unique meeting link and let them know that they're able to see your availability through your shared link. For example:
I'm trying out a new online appointment scheduler to make it easier for both you and me to find a time that works. Try it out here: Insert Link.

OR

Yes, I'm available tomorrow at 2 pm PST or Friday at 10 am PST. If neither of these times work, it might be easier for you to pick a time on my online calendar here: Insert Link.

Talk soon!
MeetingMaker allows you to easily set custom colors & fonts to match your branding!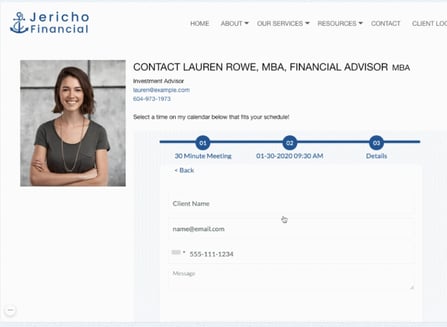 For more on what you should consider while setting up your scheduling tool, check out our blog "4 Things to Know Before Opening Up Your Calendar to the World"
Always Get Approved by Your Broker-Dealer's Compliance
If you're associated with a Broker-Dealer, check with your compliance team beforehand to ensure that your scheduling tool meets all compliance and archiving requirements.
MeetingMaker helps financial advisors grow their business and save valuable time by eliminating the back and forth in scheduling meetings. Key features include 2-way calendar sync, plus Zoom and GoToMeeting video conferencing integrations. More about MeetingMaker's features here.
The online scheduling tool provides financial advisors the ability to pre-set their availability and limit how far in the future meetings can be booked, so they're always in full control of their calendar. Never having to worry about overbooking, or meetings being scheduled without their pre-approval. The tool works seamlessly with their website as it can be embedded on a contact page or as a pop-up.
---
ABOUT ADVISOR WEBSITES - A digital marketing platform designed for Financial Advisors, helping them grow their business through a series of marketing tools and services while seamlessly meeting compliance requirements. In addition, the Advisor Websites platform offers a selection of effective and proven website frameworks that are personalized to reflect individual businesses and brands.