Advisor Websites' new and improved dashboard allows for greater visibility into the online aspect of the financial professional's business. While we are aware that most advisors are not data analysts by trade, we also identified a frequently demanded feature through our surveys and the feedback we received; more clarity regarding key metrics.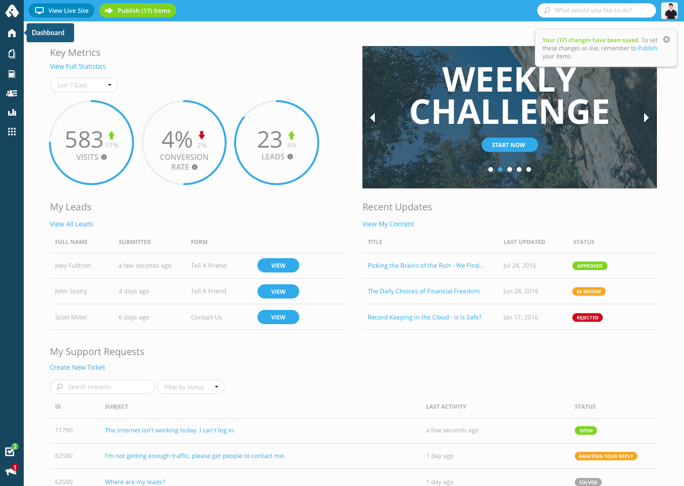 Website Statistics:
Advisors will be able to switch between views covering the last 7 days or the last month, allowing them a better look at the bigger picture. Creating a custom range to view will also be possible, helping advisors track the results of the campaigns or activities they've been running within the specified period. The accuracy of these statistics are extremely precise since the widget draws the results from Google Analytics. You can always talk to one of our experts and schedule a consultation to find more about how you can leverage data to boost your online presence.
Leads:
What is a website if it doesn't generate any leads, right? The new Advisor Websites dashboard will give advisors a chance to track their overall lead generation performance. Based on user feedback, we've identified an issue stemming from lack of clarity when it comes to the lead source. For example, an advisor might have difficulties determining where the leads are coming from unless he/she asks specifically, on the phone. Did this lead see your phone number on yellow pages or just happen to stumble upon your site? The leads widget on the dashboard lets advisors see when they were created, which form they submitted and more so that you can create a custom approach when nurturing them into becoming paying clients. Oh, and it's linked to the Lead Manager, which we will explain in a separate article soon.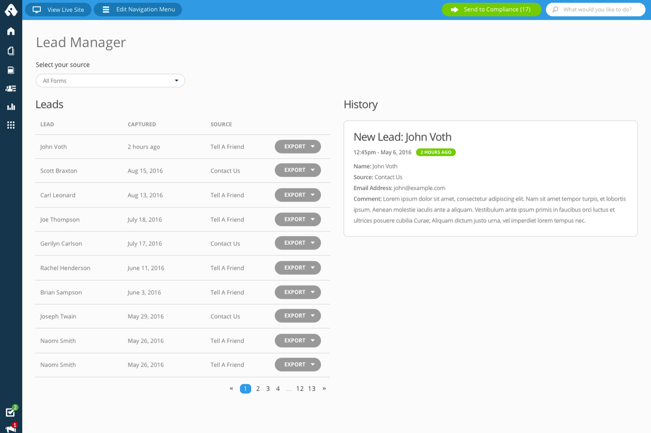 Support Requests:
We understand things can happen and advisors might need to submit tickets from time to time. What is frustrating though, is not being able to track them. The new support requests section will show you the status of your tickets; when they've last been updated and what stage they're at. It's a small thing that gave rise to a lot of blurriness when it came to support-related issues, and we made it a priority to make your experience as smooth as possible.
Recent Updates:
This section of the dashboard keeps advisors updated on the latest activities concerning the website. These could include articles published, pages created, team members added and much more. Plus, it also serves as a reminder for advisors to be more active on their website and keep it up-to-date. You'll know it's time to publish a blog when it's been more than 30 days since your last activity.
Next Steps:
The new Dashboard is just a couple weeks away, and will be available for all Advisor Websites customers. Want to take a more in-depth look? Book your demo now: