Panel Discussion Topic: "The Business of Financial Advisors During COVID-19 & Future Opportunities"

In case you missed the live event, here are the highlights and key takeaways from the virtual panel discussion. We've summarized the panelists' answers to the six big questions we had on the current state of business and future opportunities for financial advisors, and included some of the most memorable quotes. *(Please see the panelist's disclaimers below)
ABOUT THE PANELISTS: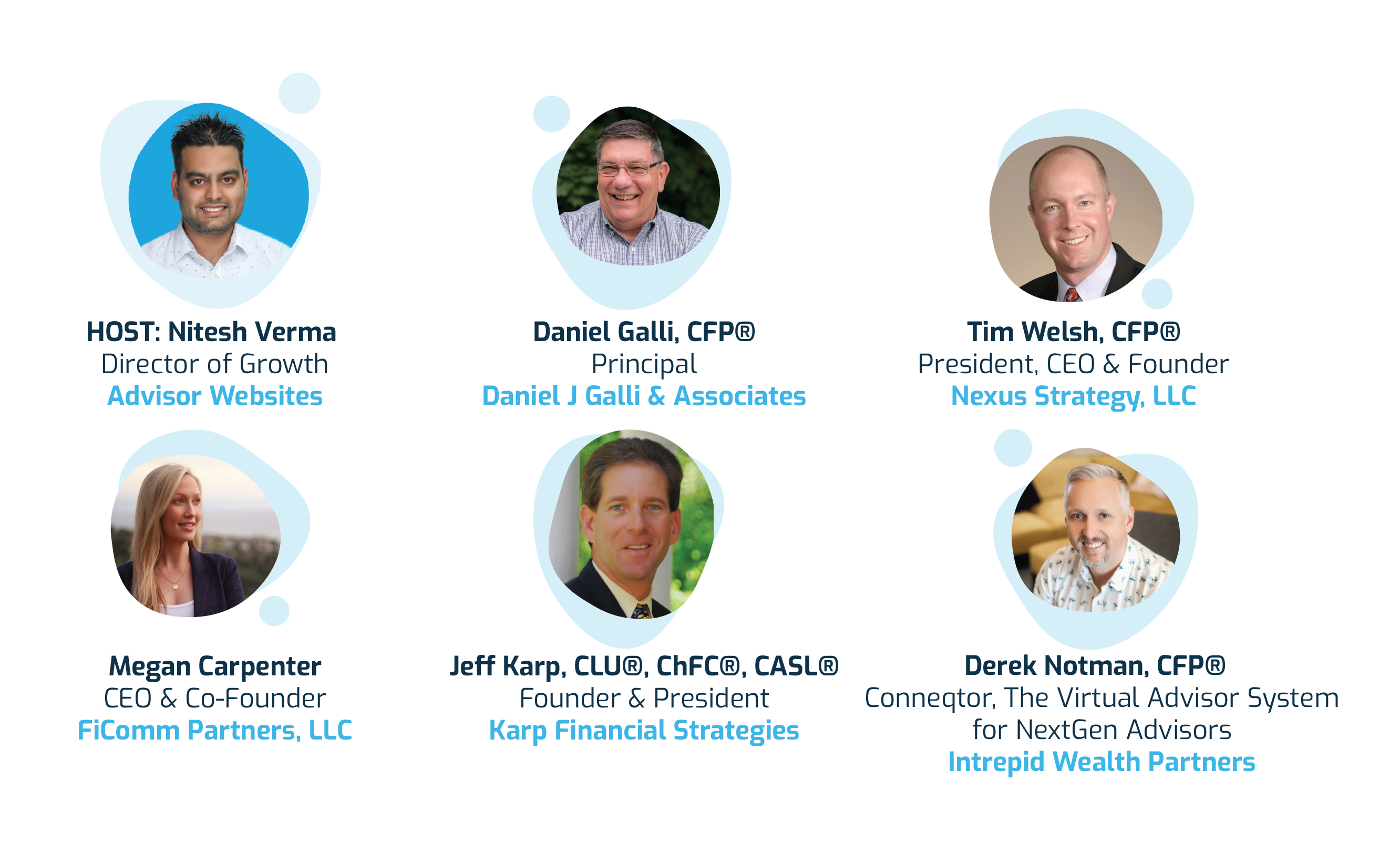 Question #1: What are some of the biggest challenges that advisors are facing when it comes to working remotely and the increasingly virtual environment?

Evident challenges our panelists and their clients have experienced throughout this pandemic is communicating with their staff and clients effectively while working remotely.

For many firms, the transition from in-office to remote work was abrupt, leaving little to no time for adjustment or training. For firms that did not have the technological infrastructure set up before the pandemic, such as video conferencing and other virtual communication channels, found this adjustment much more difficult than those virtual tools early on.

The second and most pressing challenge for most advisors has been maintaining consistent and effective communication with clients amidst market volatility. Most advisors have had to manage their clients' increased concerns and anxiousness as a result of the rapid market changes. Putting advisors on their feet and testing their ability to communicating relevant and timely information in a personal way, without face-to-face meetings.
"This is a relationship business, it's always been a relationship business, and that's what we all love about it. So how can you continue to maintain the same level of human authentic meaningful connections with the people who matter most? I think that what we are learning through this environment is that it's got to be through all means digital. Whereas many people thought that it was just not going to be possible, this has forced us as an industry to see and believe that it's not just possible but that we can actually thrive in this environment."
- Megan Carpenter, CEO, FiComm Partners, LLC
Questions #2: What new opportunities have advisors identified during COVID-19?

It was a consensus during the live discussion that there is an opportunity within this pandemic for advisors who look for it!

Financial technology has come a long way in the past decade, and by adopting FinTech tools and virtual technologies into their advisory practices, firms can prospect to and serve a much larger audience! It was also confirmed that all the technology needed for advisors to thrive through these times already exists! It's up to each firm to take advantage of software and cloud applications to optimize their workflows and communication with clients.

Furthermore, by taking advantage of the right technology and building a robust online presence, there is an opportunity in simply being available for clients and prospects. What the panelists meant by this is that investors are more nervous than ever, and if their current advisor is not offering the support they need through this time, they will start to look for an advisor who will. By providing value online, either through your website, email, or other online platforms, you are showing prospects that you are available for the support they need.
"This is going to open broad new channels for us. People are going to be much more comfortable with the distance relationship. We are going to have to adjust our technology in order to maximize what is said in terms of our relationships. We are in a profession that is based on those personal connections." *
- Dan Galli, CFP®, Daniel J Galli & Associates
"The technology exists, and advisors just need to take advantage of it to optimize their workflow.... [A lot of] industries may be in for a structural change, as people just become more used to this. It's not any kind of stigma to be broadcasting live from your living room or from your kitchen or from outside on your back deck."
- Tim Welsh, CFP®, Nexus Strategy, LLC
Question #3: How are you going about generating new business?

Panelists agree that now is not the time to be prospecting in the traditional way, but is the time to focus on current clients and to provide value digitally. Especially as COVID-19 has caused many countries to enact 'stay at home' and social distancing orders, prospects are turning online to seek financial advice.

Megan Carpenter, CEO of FiComm Partners, LLC, provided a great discussion point that people need to know that you're open for business and ready to help them! The best way to do that is to provide value through content that asks for nothing in return. Social media is a great place to start; utilize the knowledge you already have, and make it available to the masses. Part of your inbound marketing strategy, this can increase engagement among your existing clientele and drive referrals.

Derek Notman, CFP®, CEO, and creator of Conneqtor, The Virtual Advisor System, shared that he's experienced success with this marketing strategy as well. Providing value in the digital spaces his audience already frequents (i.e. LinkedIn), prospects are going straight to him! A far cry from cold calling.

Last but not least, leveraging video for prospecting and client communication was a hot topic during this webinar!
"Don't try to create your own audience, go find where people are and then be present there, engage there, drive value, things of that nature. Well, where is everybody? We've all been online since before the pandemic, and even more now. Video is just one of those ways of doing it. I will send a little personal 30 second videos to current clients or potential clients just introducing myself - to have that personal touch. The medium has changed, but we can still have that personal connection". *
- Derek Notman, CFP®, Intrepid Wealth Partners, Conneqtor, The Virtual Advisor System
"I knew the first thing I needed to do is reach out to clients. Now I can sit down and call every single one of them, but over the years I've got a lot of them - I needed to do something quickly. I had no experience whatsoever [with video] but I just simply talked to clients into [my] iPhone. I said 'look, here's what's going on, I don't know what's coming, we are here for you, we're on top of it, we've been planning for this, you're okay, hang in there, don't panic'. We sent that to 1000 emails, and we got all kinds of emails back from clients saying thank you, that's great we appreciate it. The #1 reason clients leave us, is because they don't hear from us and they really need to hear from us in times like this". *
- Dan Galli, CFP®, Daniel J Galli & Associates
Question #4: Have you found it challenging to build rapport online, in comparison to having face-to-face client meetings?

Similar to earlier conversations, panelists circled back to the power that video has when it comes to building relationships online. All of the panelists on our webinar utilize video as a tool to build rapport and maintain ongoing client relationships.

Derek Notman, CFP®, who's been using virtual advising practices for years, provided an example of his current clients that have expressed feeling as though they've known him for years, yet they've never met in person. He says the combination of video, social media, and his website helps him add the personal touch and build strong client relationships.
"By having video, being extremely transparent on your websites and social media profiles, by doing the one-to-one video messaging just like we are doing right now, I have built up really strong relationships with clients coast to coast that I've never met in person but have done all of their business with them. I have literally have had people tell me they feel that they've known me for years, yet we've never met in person" *
- Derek Notman, CFP®, Intrepid Wealth Partners, Conneqtor, The Virtual Advisor System
"Seeing someone makes a huge difference rather than just reading an email, and that's something that you as an advisor can execute on today! There are free resources, free tools, you do not need a webcam; I have shot all the video that's out on my social this past month on my laptop. You can do it today, it's just those little switches make a huge difference in breaking down the barriers and I think it's just a misperception that you can't develop relationships virtually. "
- Megan Carpenter, CEO, FiComm Partners, LLC
Question #5: How are you using your website currently to communicate with your clients and prospects?

Advisors agree that your website is the central hub of your online presence and prospecting activities. It's a centralized place for the content and resources you share online through your social media, email, and other digital outlets. Most importantly, the advisors on the panel expressed that their websites are focused on communicating their value to clients and prospects' needs. Here are the main ways our panelists and their clients leverage their website:
Client Communication (e.g. newsletter, COVID-19 updates, client portal logins, ect.)
Centralized location for educational content and resources
Lead generation tool - driving all online activity back to your website
Confirming they are OPEN FOR BUSINESS by providing contact information, calendar tools (including virtual meetings)
A dynamic platform that advisors are able to build their online presence around

"About a year ago we realized that we really didn't like our website, it was great and we had a great platform that we were using, but the website was all about us and we realized that was wrong. And so we revamped our website and [Advisor Websites] you guys were so helpful in this, we changed our website so that its a place that people can come to find out how we can help them. Rather than, I have this degree and that degree, I teach here, I do that; people don't want to hear about me, they want to know what we can do for them. So our website has become a magnet for people to find out what we can deliver to them. And then we've made it very simple on our website for people to connect and communicate with us." *
- Dan Galli, CFP®, Daniel J Galli & Associates
Question #6: How do you think business will change in the post-COVID-19 world?

COVID-19 is accelerating digital acceptance for both advisors and their clients. It's shown a lot of firms that the office isn't necessary for their business to function and that technology is available to develop their business functions and grow their audience. Here's more on the panelist's thoughts of a post-COVID world:


"People still want expert human advice, that's never going to change. Everybody's situation is different, there's not a one size fits all solution for what the markets are doing. There's much more in this shift in acceptance to virtual now. If [advisors] aren't there, they're going to find the people that are!"
- Derek Notman, CFP®, Intrepid Wealth Partners, Conneqtor, The Virtual Advisor System
"...digital transformation now extends beyond you know what we normally do and how advisors look at their business. I love the comment about how we've been out of the filing cabinet business for fifteen years, that was a digital process. Now that you have the records digital, how do you now take that to the next level and actually make it viable towards a workflow that you implement in your business to streamline what you're doing? This COVID insanity that we are in is only going to accelerate it by requirement and necessity."
- Tim Welsh, CFP®, Nexus Strategy, LLC
"We are going to pick up clients from advisors who are not paying attention, who are not communicating, who are not staying in touch during these times. We are going to reinforce the relationship we currently have with our clients; why are they paying us? My clients know that now because we're there for them, we're staying in touch, we're counselling them. That's been solidified and they're going to be telling their friends, we are all going to prosper. It's a tremendous opportunity for us right now." *
- Dan Galli, CFP®, Daniel J Galli & Associates
" I think that this COVID experience is going to be a business boom for advisors like the ones on this panel, that are able to provide a personalized service, that are able to connect with clients on common core values, that are able to extend the impact because they are focused on the entirety of the client and not just the investments. Be prepared to go digital with your communications, be out there, be present, be sharing that valued-added content because this moment in time has required all of us to really rethink our priorities and to really centre in on our values. That extends to advisor-client relationships. So get your business prepped for what should be a really really big opportunity."
- Megan Carpenter, CEO, FiComm Partners, LLC
DISCLAIMERS FROM THE PANELISTS:
*Daniel Galli DISCLAIMER: Daniel J. Galli, CFP® offers services and products using the following business names: Daniel J. Galli & Associates – financial services and insurance/Ameritas Investment Company, LLC (AIC) Member FINRA/SIPC – securities and investments/Ameritas Advisory Services (AAS) – financial planning and investment advisory services. AIC and AAS are not affiliated with Daniel J. Galli & Associates or Advisors Websites.
*Derek Notman DISCLAIMER: Derek Notman, CFP® is registered as an Investment Adviser Representative, under Eagle Strategies LLC, a Registered Investment Adviser. Derek Notman, CFP® is the founder of Intrepid Wealth Partners, located at 999 Fourier Drive, Madison, WI 53717. Intrepid Wealth Partners is not owned or operated by Eagle Strategies LLC and its affiliates.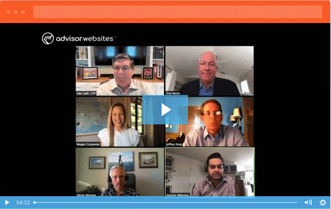 ---
WHO ARE WE?
At Advisor Websites we help financial advisors grow their business and enhance their digital marketing strategies with their own personalized website. Our platform offers a selection of effective and proven frameworks that are personalized to reflect your business and brand.
For a personalized one:one demo & to see our platform in action: