There has been quite a bit of discussion about the emergence of automated financial planning and wealth management platforms (aka robo-visors). These includes platforms like Betterment, Wealthfront among several others.
I've been involved in discussions on social networks regarding this topic, along with a productive Q & A at a recent national conference I spoke at in June 2015. Based on those conversations, I set out to put some additional thoughts down on this topic and hopefully continue the evolving conversation about where our industry is and could be headed in the digital age.
Trends That Queued This Up
Let's begin with a quasi history note as a reminder to how we got to smart systems of convenience. These two technology memes reflect how our evolution in technology created an environment that demands automated solutions.
Major themes disrupting centralized business
The shift from manpower to computing power — seen in multiple variations
from mainframe to widespread personal computing in the 1990s, changing how we work and meet
from PC to tablet in the current decade (much more rapid than the previous shift, a decade versus 50 years), further detaching us from desks
the emergence of the smartphone as primary device (extraordinary adoption rates worldwide), impacting everything from meetings to offices and even channels we communicate through
lastly, the beginning disruption of traditional distribution systems for consumers still underway — starting with retail, then music and now television and movies.
Our own whims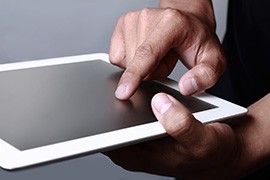 Second there is the most recent (since 2000) surging demand for institutional and enterprise tools to provide the same simplicity, portability and user experience as consumer tools. I.e. we want corporate enterprise applications to be as easy to use as Dropbox and Evernote. Thus today we have one-click, one-touch and live tiles versus cascading drop down menus and hundreds of screens to navigate through. We sacrifice expansive function for a rich user experience layered over key features.
The broad theme we've traveled from mainframe to iPhone needs no explanation. What it has done is change how we perceive communicating effectively and how we interact with products and services. Consumer (I.e.investor) preferences for text and social media; and visually engaging apps for retrieving data prevail over email or long form data sets.
An anecdote as warning
Let's explore one of the most telling examples of how those themes disheveled the world for two companies.
Research in Motion (RIM), surprising for some to discover, was founded in 1984 focusing on wireless technology for point of sale systems and even PC hardware. However, in a legendary pivot in the late 1990s, they began beta testing the Interactive Pager, which became the Blackberry we know today. (I was a beta participant in 1999 in Atlanta).
Very quickly, in business terms, they became the de facto standard for wireless communications and email, later getting the moniker smart phone. While the term predates the Blackberry (seehttps://en.wikipedia.org/wiki/Smartphone), RIM's device certainly embodied the phrase.
In fact it changed how business was done in many cases. Thus meetings became virtual, systems extended to our mobile phones and the office could be in Starbucks and home as well as at the office.
Along comes Apple, who prior to the 2000s was written off as a has been. Being dismissed from any business conversation, even with Steve Jobs return in the late 1990s, gave them camouflage to experiment play the futurist role. In market share terms, 5% didn't mean a lot so we didn't pay attention.
However much to your dislike of some less than savory traits Jobs exhibited, he had a peculiar accuracy in foreseeing possibilities.
A quick observation seems pertinent here:
He (Steve Jobs) saw the extraordinary reaction to Napster by individuals, and the millions of downloads and envisioned a legit music device. The iPod and iTunes have clearly redefined the music industry in totality. More importantly, in this topic, it was how every demographic of individuals responded to and embraced a self-provisioned and systematic way to solve what they saw as a problem in getting something digitally.
The domination of the Blackberry didn't seem to scare Jobs off as he, in my words, created the iPhone to serve as the Mac in the Mac vs PC scenario, with the Blackberry serving as PC. Thus he used the assumptions from his iPod experience (and experiments) to develop the phone that everyone always wanted and didn't know it. A beautiful and functional computer in your hand, Apple intended to make your existing smart phones suddenly look terribly clunky and industrial — as many did when comparing a PC and a Mac.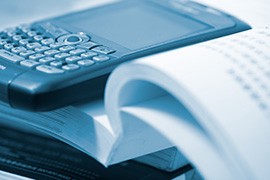 Blackberry required enterprise controls, hardware, infrastructure and policy. These were seen as extraordinary values and the reason for their ascent to dominance. However in a masterful marketing stroke both for the Mac and the later mobile devices, Apple and Jobs managed to turn those benefits into obstacles to getting things done and the overall user experience.
The sub-plot? Let's return to our desires for the consumer experience in our business tools. Jobs capitalized on the trend and, with extraordinary timing, we as consumers and professionals fell into step and suddenly saw the Blackberry as that clunky tool that couldn't run the apps we needed.
Apple created a phone that was just easy to use and ultimately now serves as a computing experience, no computer required.
RIM sat back and considered their global domination and did not see a threat. What they missed was that underlying sentiment for consumer-like user experience for productivity. That was not technology, it was the desire by those using devices in their business roles to have simplicity.
Even while there was absolute certainty in the security and stability of the Blackberry infrastructure, bring your own device (BYOD) took root and now is pervasive across many of the largest enterprises. In short, the worm turned and RIM was left hanging onto fragments and a ghost of what they once were.
Thus by missing those emotional headwinds from their customers, and as Apple stealthily added support for business-specific infrastructure, RIM also could not quell the transition. They are now an afterthought, even as many still consider it superior technology (better security, stability, user experience with physical keyboard and more).
FinTech Element
Specific to our industry, financial services has mirrored the earlier movement of manufacturing and to some extent retail (think Amazon and eBay) in finding workflows and output to 'commoditize' - to discover new paths to profitability, through automation and moving to paperless environments.
The automated financial planning and investing solutions really serve as a successful evolution of the decade-long push for efficient, integrated and scalable technology. That has been a particularly strong target for the independent segment of the industry going head to head with Wall Street and wirehouses.
As those technologies became fine tuned for our vertical, naturally business and technology thinkers began the hunt for ways to wholly automate certain functions of the advisor-client service relationship.
There are many common threads in these headwinds that do not pertain to technology but to picking up on underlying sentiment when evaluating strategy. Certainly the mob does not rule, as a business cannot govern from polls. However, the sometime subtle trends matter, and occasionally these shifts move from fad and bubble to reality. That was a key error on RIM's part. That is a risk for industry firms that dismiss the likely attraction of these automated platforms to monied investors.
When I consider the distinction between automated financial planning or investment management platforms and the (modern) traditional financial advisor, it boils down to governing emotions, which bits and bytes cannot do. Thus when a client with a complex portfolio is irritated or alarmed by economic and market activities, their professional advisors help them stay the course and make appropriate maneuvers, not ones driven by emotion.
A very close second is of course the human reasoning that focuses on helping clients achieve milestone goals (funding retirement, college, charitable giving, et al) and a lifestyle (the vacation home, children's trusts, a second career) versus focus on performance and returns only. The relationship matters for those advisors who build this into their way of doing business.
So why the anecdote and analysis? I hear a couple variations of responses when the automated platforms surface in a discussion.
"A machine cannot replace me". Machines are beginning to replace incredibly sophisticated human procedures from automobiles to healthcare and with the longest history, in manufacturing. I would not settle for this argument. After all, we know the tired analogy, that an iPhone has more power than the Apollo space craft did that landed on the Moon.
"It's a fad, and they cannot make enough money to justify the venture capital investments". In the Facebook era, I would not bet against major investments, as they are not done lightly. Moreover there is a reason why an industry sector often gets wide funding at the outset — to tune the models and find a successor that will win. This will be the model to watch for (again think RIM and Apple).
"You cannot replace the human element in the financial relationship with investors". This I largely agree with. However, it must be with the caveat of our industry making the investment in education and training to embrace the modern, digital business model. The wealth transfer coming to successor generations over the next 50 years is astronomical and will require modern, digital literacy. Don't wait until you are in emergency mode, like RIM, to try and retrofit your business model. The shift is happening now.
An aside, but also interesting to consider is the potential for those automated platforms to serve as training grounds for young, new investors. These are folks who traditionally did not have exposure to the guidance of financial advisors or the ability to cultivate financial disciplines. These platforms reaching out to the wider population of investors, supporting very small accounts and offering framework Financial planning tools means a slightly more educated set of investors. When their needs grow complex, where the advice of live financial counseling arises, advisors can step in where (for the time being) automated solutions cannot.
However, this does mean those who are not prepared to deliver services in as elegant and digital manner as these platforms do, may not win the opportunity to bring their human expertise to the fore. If these more educated and aware investors don't find you compelling as they perform due diligence in their effort to graduate from an automated platform to live, professional advice, they'll pass you by and find someone who appears ready for them.
- - -
This post was authored by Blane Warren and originally appears here on Medium.
- - -