I have just attended a personal online demonstration of Arkovi's latest platform. My first impression is that their technology has been built to help advisors archive and monitor everything that is happening on their Twitter, Facebook, LinkedIn, Blog and other social sites. This can prove really helpful for companies that need to provide a history of their social activities to the SEC or FINRA.
Arkovi's approach to social media is to deliver a conduit to capturing your social media footprint while enabling unique groups with your business to find useful tools.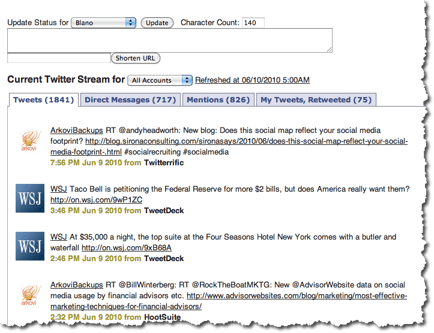 Arkovi allows financial advisors to:
Archive public communications & mentions
Capture their corporate and users social media footprint
Address regulatory and governance requirements
Create a platform for content analysis, compliance and monitoring
Social media is impacting marketing, discovery, innovation and more for both individuals and business," said Blane Warrene, CEO and co-founder of BMRW & Associates, Inc. "Our goal with Arkovi is to make archiving, interacting and monitoring these conversations and connections easy."
One of my favorite new feature has to be the automated lexicon which allows full control over content being posted on social networks. For example, an organization could easily upload a list of "sensitive" keywords and phrases on the platform. Once the list in the system, they would be noticed every time an advisor try to post an update using one of these words. At this point, the organization could decide to approve or reject the update and explain their decision to the advisor. This could become the favorite tool for broker/dealers' compliance department.
For more information, visit Arkovi online or follow the Arkovi blog