We are pleased to showcase another great website for a team of Investment Advisor with Canaccord Wealth Management. Christian Jarvis, Michael Rogers and Larry Thal asked us to update their old website with a fresh look and content approved by compliance. the team at advisorwebsites.com has designed an engaging site with features such as real time market snapshots, events and newsletter uploads and the ability to generate leads right from the website using a tell-a-friend form.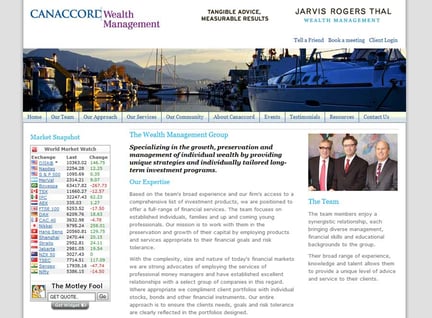 You can view their new website here: www.managed-wealth.com
The team members enjoy a synergistic relationship, each bringing diverse management, financial skills and educational backgrounds to the group. Their broad range of experience, knowledge and talent allows them to provide a unique level of advice and service to their clients.