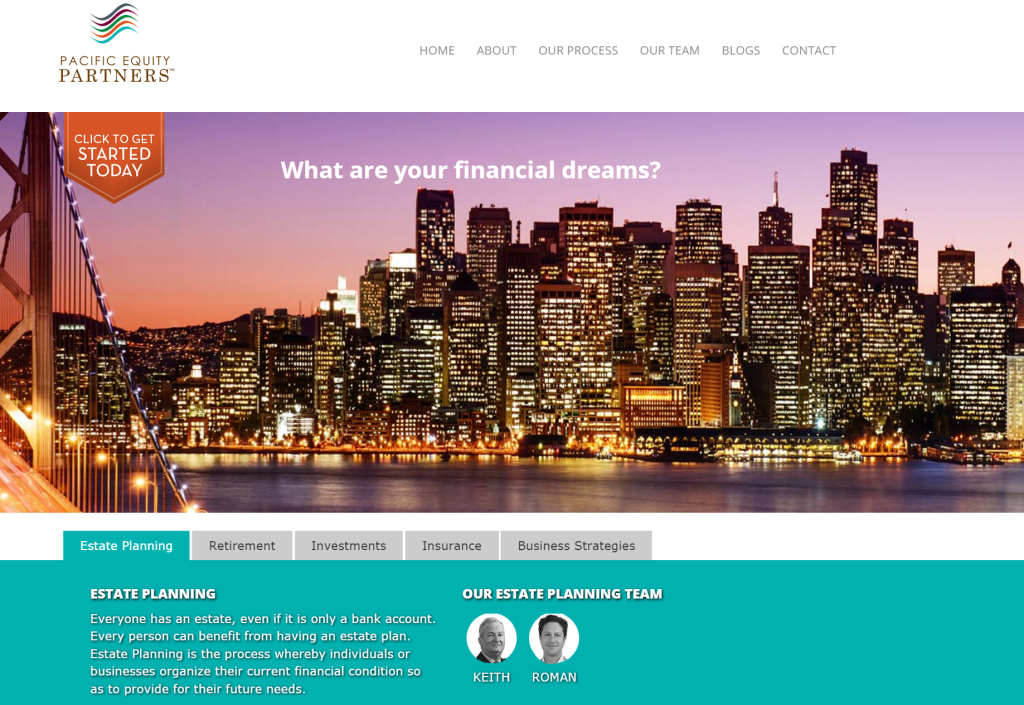 One of our top traffic-driving financial website is Pacific Equity Partners, a firm that specializes in estate planning, retirement, investments, insurance, and business strategies. In order to get to the bottom of what makes it so successful, I interviewed Keith Woodcock, their Principal and Managing Director and Senior Portfolio Manager.
When I asked Keith what he thought was generating the website so much traffic he replied, "Oh I definitely think it's our photos." All joking aside, indeed ­ part of what makes Pacific Equity Partners' website so great is how immediately approachable the firm appears simply by including photos of themselves throughout, whether it's the excellent group shot on the homepage or the striking black and white photographs of each firm member on the Team Page.

On top of all that, Pacific Equity Partners maintain an informative and entertaining blog, written by several of the firm's members. And according to Keith, all of their hard work with the blog is only the beginning, "We'll be doing new things with the blog ­ it's going to be very exciting for us. It'll actually become fun. I can't say that interfacing with a website is fun at this time, but I think ours will become fun based on what we'll be doing."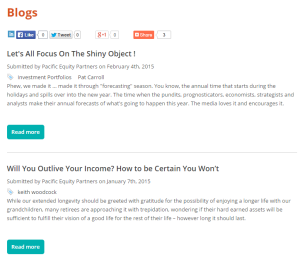 Not only does the firm add new content through blog posts and even videos, but they're always making edits and updates to the website; "It's so easy. I could do it blindfolded," said Woodcock. By making updates the firm avoids a stagnant site ­ a sure way to stifle the flow of traffic. Of this Keith said, "the problem there I see is that people go to your website a couple of times and if they don't see any difference at all, they never go back. There's no reason to go back."
Asked whether he's happy with the website, "Oh yes. Especially for ease of operation and speed - ­I just don't have a lot of time to monkey around on a website trying to figure things out. It's very easy for me to go in and do what I need to do, and if there's something I can't, I call you guys, we get it done, and I move on. And it looks really nice. You can go onto the net and get these templates and just sort of fill in the blanks, but this is a step above that, this has more of a fully customized look and feel. It's exactly what I was looking for."