This week's showcase is a website we built for Eric Richards, an Investment Advisor with Canaccord Wealth Management. With over 27 years experience providing financial advise to Canadians, Eric has gained the knowledge and expertise needed to provide a high caliber of service that clients should expect from their advisor.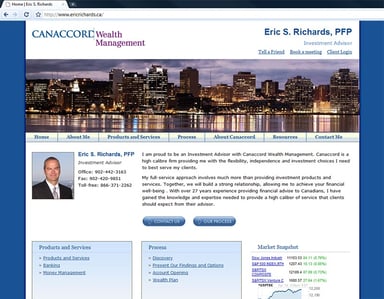 Here is a comment Eric received recently about his website:
I just returned from a Nissan dealer here in Halifax, the sales guy told me he had goggled my name before I came in and was very impressed with my website. He read everything as he commented on various things on the site. I receive client enquiries from time to time and have had referrals from existing clients through the site.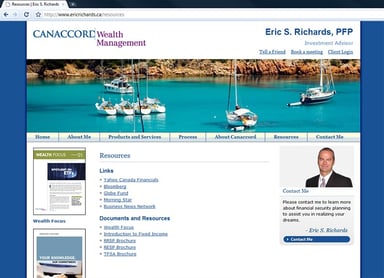 Finally, here is what Eric had to say about the process of getting his site up and running:
Like anything new, at first you think it is a big deal, complicated etc....however, once you start by simply putting the information that you want on your site in an e-mail, you guys take this information and transform it into something that looks good, sounds good and that works. I had a great experience in the process, it was really not that difficult. The hardest part for me was finding the right photos!
You can view Eric's website at www.ericrichards.ca