Six months after launching, I talked with Mike Stewart, perhaps better known as 'Advisor Mike,' of Wealth Management Services, LLC to discuss his new website and how he's leveraging it to grow his business.
When it comes to his reasons for having a website in the first place, Mike understands the integral role it plays in today's internet-obsessed, online world saying, "It's impossible to have a business today without a website - you can't function in this society without one. And it has to be a website that looks good on a mobile phone, a tablet, and a computer. Without that, you're just dead in the water."
As for why he enlisted the help of Advisor Websites? "I had a website that I made myself, but it wasn't as nice as I would have liked it, which is why I came to you guys - to get the professionalism."
Many times when designing their websites, financial firms use generic images, missing out on an excellent opportunity to connect with clients on a visual level. During production, Stewart capitalized on such an opportunity, "I wanted something representative of the area that I live in," he said, "the background picture is the Lake Pontchartrain Causeway, recognizable to people that live here." The evocative image that Mike has on his website also has a neat story: taken by Stewart's long-time friend Darryl Lodato, it just so happened the violinist and little boy were there as he passed.

Personal branding down pat, Stewart also has an interesting, and effective, marketing strategy in place: "I use Riskalyze as a focal point to all the marketing I do." Placing ads in local magazines that entice readers to find out how 'risky' they are, Mike directs those readers to his website for an answer, where the Riskalyze questionnaire sits front and centre, waiting for their arrival.
"The idea is to have a reason for people to read my ad. Not many advisors pose that kind of question and then have a way to actually get an answer in five minutes without having to talk to a human being," said Stewart. "I don't get a lot of clicks on the Riskalyze survey but I do get a lot of comments. Every time I run an ad I see my website traffic increase, so I know that people are going there to look at it - they're just a little timid to push the button, which is fine with me. As long as they're there and looking at any content, then I'm getting accomplished what I want to accomplish."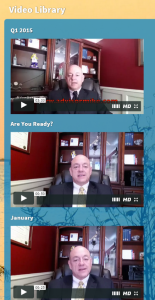 But beyond a catchy Riskalyze tactic, Stewart employs a relationship approach to his online marketing. "I have videos and blog posts on my website as a way for people to get used to me, get comfortable with me - that way when they meet with me, they already feel like they know me. I think that's where it really helps," he said, "I'm not into the transactional relationship, I'm into the relationship-relationship - the people relationship - and that takes time to build. It's why the website is essential. It's necessary for them to be able to go in and learn about me and about what I'm doing."