Recently, we've received an influx of questions from advisors about how to improve their search engine ranking.
For example...
Hello, I'm interested in your ideas on how best to utilize and promote my website. When someone searches my name, it doesn't appear. I have great news feeds updated regularly on my home page that no one sees because there is no traffic. It's a great website with lots of educational material for those interested. The idea behind the new website was to make it more live and interactive. But that won't happen unless I have traffic. Any help would be appreciated.
Because the questions are still coming, we put together a little library of the many SEO articles, tools and resources we supply advisors with regularly. If you have questions about SEO for your advisor website, you're in the right place.
At AdvisorWebsites.com we publish a lot of content to help advisors maintain a successful web strategy. In fact, we are thrilled that thousands of advisors use our blog as a go-to resource to stay updated on advisor marketing ideas, technology trends and general industry news.
As you probably know, you can work on improving your websites SEO (search engine optimization) by taking some simple measures. But, keep in mind that SEO is not necessarily a quick-fix - once you make these changes, expect to see a gradual rise in your web traffic within 3-6 months.
Below, we've listed a few article about SEO that we have published recently or, click here to see all of the articles we've published about SEO.
3 Steps to Improving Your Advisor Websites SEO Strategy
Top 5 Search Engine Optimization Don'ts for Advisor Websites
SEO Strategy for Financial Advisors: 5 Must-Haves
Advisors seem to have trouble with one concept in particular when it comes to improving their sites SEO: meta-tags. If that's your best excuse to avoid optimizing your advisor website for search engines, let's go ahead and put it to rest.
Meta-tags are elements that help search engines identify what type of content is on any given website.
Some web platforms allow users to quickly and easily assign meta-tag identifiers. If you use Advisor Websites platform, follow these steps to easily update your meta-descriptions.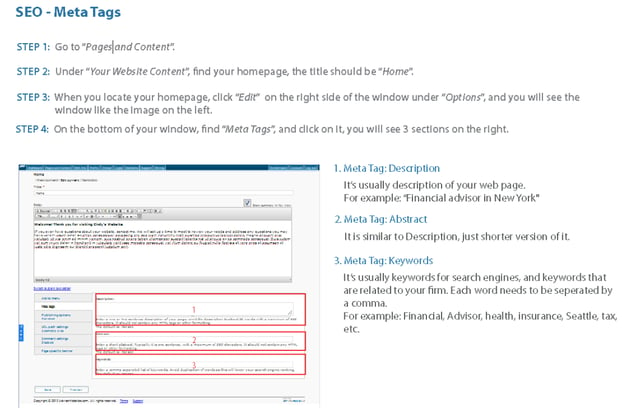 If you really want to see a growth in your web traffic, start blogging. Although it can seem like a daunting challenge at first, starting a blog is an opportunity for your firm to see many benefits. To get started, we recommend these articles:
How to Create a Perfect Advisor Blog Post
5 Things Financial Advisors Should be Doing to Gain Followers and Enhance Audience Engagment
9 Blogging Mistakes that Make You Look Dumb
To view all of the articles we've published about blogging for advisor websites, click here.
We regularly publish ebooks and guides chock-full of informaiton on how to maintain a successful web presence. For SEO specifically, check out "Maximize Your Websites Potential." There's a lot of info in here, especially on blogging best practices and SEO.
Here's a complete list of all of our upcoming webinars (but stay tuned because we are always updating the list!).
If you still have questions about SEO after you review these resources let us know in the comments below! We take your web strategy very seriously so we promise to do our very best to answer each and every question.