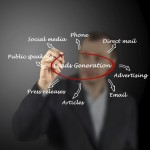 Smart financial advisors know that ongoing success depends on proactively developing leads and cultivating client relationships.
Thanks to social media, new database information services, and Internet search capabilities, there is no reason to cold call anyone ever again. Once a financial advisor has developed an ideal client profile, today's technology allows the advisor to quickly develop "warm" leads that open doors directly or through a trusted network of professionals, family members and colleagues.
Here are six tips for using technology and social media to generate new business:
1. Uncover Relationships with LinkedIn
Social networking sites such as LinkedIn give new power to financial advisors who looking for an entrée and a warm first contact in cultivating new business.
Financial advisors can increase their networks by clicking on "Add Connections" and giving LinkedIn temporary access to their email system or by uploading or pasting in select email addresses. This will increase the number of first-degree connections or "nodes" through which the advisor can search for other good business connections.
The warmer one's first-degree connections are, the more an individual can do with them. Joining relevant groups and becoming a helpful expert is a great way to demonstrate expertise and become more visible. Connecting and interacting with high value targets is a winning formula, but it is important to be "a giver" first and foremost.
Once first-degree connections have been warmed up, the advisor can ask for introductions to second-degree connections. A great time to ask for introductions is when a first-degree connection has just made a new connection (that way the nature of the connection is top of mind). Watching one's newsfeed is the best way to see when first-degree connections have made new connections.
Use the "advanced" feature to look for people by keywords, profession and/or geographic areas.
2. Build a List of Leads through Speciality Providers
Services such as Pursway, Zoominfo, Data.com and SalesGenie allow financial advisors to customize information sets such as relationships and "trigger events" based on target demographics, target market, etc. Once a list of leads has been built, the advisor can look up the prospects on LinkedIn, Google around a bit, and try to ascertain a common connection.
Depending on the intelligence gathered, an email, letter or phone call might be used to initiate a personal conversation.
3. Use Marketing Automation to Keep in Touch
If no common connection can be found, the advisor might send something in the mail or via email (e.g., an invitation to a workshop or webinar; a special report, CD, video or book). Marketing automation services such as Hubspot, Act-On, SilverPop, AWeber and NurtureMyLeads make multi-touch campaigns easier to implement, manage and measure (most of these provide visitor tracking, lead scoring and CRM integration).
4. Consider a Social CRM Solution
New customer relationship management (CRM) systems such as WealthBox integrate with social networking sites and can be helpful in keeping a finger on the pulse of clients and prospective clients that are already a part of the CRM database. Advisors who watch the social media feeds on the WealthBox console can quickly map relationships within the their current database of contacts.
5. Dig Deeper with Custodians' Help
In addition, custodians such as Fidelity Institutional Wealth Services and TD Ameritrade Institutional offer web-based research tools designed to help advisors find prospective clients and networking opportunities.
For example, Fidelity's Referral-Edge, which is at no cost to advisors who custody assets with Fidelity IWS, can point advisors to high net worth individuals and/or retirement plan sponsors with whom they may have a mutual relationship, like an existing client who sits on the board of directors of a company with plan administration needs or the potential for other financial advisory services. Referral-Edge can synch up its database results with the advisors LinkedIn connections and quickly reveal the best way to ask for an introduction or make an approach.
6. Keep Up the Pace: Be Tenacious
Because referrals are a primary way to generate new business, successful financial advisors continue to ask clients and their trusted network of professionals to refer prospects to them. The stronger client relationships lead to more qualified and productive referrals. Today's technology and social media sites can help.
This article was authored by Marie Swift and originally appeared here on GuideVine.