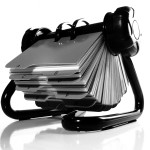 For advisors of a certain age, networking likely conjures up an image of flipping through a Rolodex, while others might envision spending time looking for connections on LinkedIn. Often, the primary goal in these endeavors is to come away with a list of names of friends and colleagues who might be good clients.
Susan RoAne, author of How to Work a Room, suggests deviating from this approach and working to make new connections without the hope of gaining new business. "Don't treat people as prospects," she insists. "Treat all people as interesting people. Rather than trying to accumulate contacts, focus on making connections between your contacts."
RoAne says this approach also pays personal dividends. She explains, "In his research for The Millionaire Next Door, Thomas Stanley found that most millionaires had huge personal rolodexes that they willingly used for the benefit of others. Consumers want to do business with people they know and trust, and we trust those who we see as working selflessly for the benefit of others."
Here are three top networking tips all financial advisors should have in place:
1. Being Personable is a Must
RoAne urges readers to enhance their image by "reclaiming the personal touch in a digital world." She explains, "Establish a face-to face presence in your community by becoming involved with local organizations and associations such as the Rotary Club, Chamber of Commerce, and local charities.
Remember, however, that when you show up at community events and work rooms to build connections you must be genuinely interested in the people you meet and share yourself as well."
In fact, RoAne suggests developing a short self-introduction tied to each event to give context for your presence while remembering to follow segues of conversations rather than tying yourself to a script.
"Giving advance thought to your introduction will help others to converse with you," she says. "Conversation is a mix of observations, asking questions and revelations (of stories, anecdotes, thoughts, ideas, opinions). [It's] not a barrage of questions that sound like an interrogation. Therefore, share support, offer information, ideas, leads and an ear. Let people know what you do and the type of referrals you are interested in so they can return the support you've already shared."
Advisors who have mastered personal interaction will understand immediately the benefits of using the "be interested in others" approach. Instead of trying so hard to be interesting to others, try focusing solely on them.
2. Polish Up Your Positioning Statement
Having your "client centered" positioning statement memorized and then being able to articulate it with fresh authenticity in the moment is a given.
Feeling a little rusty? Take a couple hours, away from the office if possible. Challenge yourself:
How can you stand out in the sea of sameness?
What is your distinct personality?
What makes you different from all the others?
What statements can only you make in your promotions and marketing communications?
What statements do competitors not say in their promotions and marketing communications?
What ideas, images and motivations can you use that will distinguish you from all others? If fiduciary becomes a standard, you will have lost a qualifier … now what?
Don't rely on industry jargon or buzz words. How else can you communicate in layman's terms concepts such as "fee-only" and "fiduciary"? Repeat, rephrase, refocus. Make sure your parents would be able to easily understand what you're saying.
You'll also want to have a couple variations rehearsed and internalized so that you can adapt and adjust your key words and delivery depending on whom you're speaking with and what you perceive as pain points and interests.
Kirk Hulett, one of Securities America's practice management experts, offers additional insights and advice on how to create what he calls a 3-3-3 or elevator speech so you can always answer with confidence when asked, "So what do you do for work?"
He steers advisors to Harvard Business School's free Elevator Pitch Builder, which breaks down the process into five easy steps, provides sample wording, and even provides an evaluation of your pitch at the end.
3. Host a Non-Traditional Event
Event planning has changed dramatically in recent years, requiring advisors to develop more sophisticated content and unique ways to connect with their target audiences.
Seminars and Event Marketing: Creative Ideas to Build and Enhance Relationships, a guidebook written by Impact Communications and published by Lockwood Advisors, Inc., an affiliate of Pershing LLC, a BNY Mellon company, provides advisors with detailed information for developing successful events to deepen relationships with current clients, attract qualified prospects and build mutually beneficial relationships with important centers of influence.
In addition to creative suggestions and step-by-step instructions for planning and hosting non-traditional events, the guidebook provides case studies that illustrate advisors' recent success with a variety of educational, social and community-based events that incorporated a unique theme and/or creative content delivered in an engaging, dynamic way.
In some instances, these events can be interesting twists on old standards. For example, rather than host the industry's standard educational seminar, why not try a more non-traditional event such as Town Hall Meeting? Instead of one or two presenters in a formal seminar setting, a Town Hall Meeting typically leverages a panel of experts for a discussion on a pre-determined topic, such as investing in uncertain times or financial literacy for young people.
The Town Hall Meeting format gives participants the satisfaction of interacting, rather than just listening. Today, people want information from an authoritative source, presented in a fun and dynamic way — and on their terms (e.g., in person, live in a virtual setting, or recorded and available 24/7 online).
Other ideas include a historical open house tour, a gathering at the grand opening of a local business, a movie night, a Valentine's Day lunch for single clients, a financial book club, a behind the scenes tour of a museum, theater, or sports stadium, a lesson from a golf pro, or a cooking class or scrapbooking class. You might also gather clients and prospects to assemble care packages for military or offer budgeting for college-bound students.
The bottom line is if you create an event that is unique and compelling, people will not only take notice and participate, they will tell others about their experience – and you. If your event is interesting enough, you might be able to create some buzz with the local media.
At the end of the day, establishing a face-to face presence in one's community is an essential element of networking success. Hopefully these fresh ideas on how to craft your positioning statement, host a memorable event and articulate your value as a financial advisor today provide helpful guidance on how to expand your reach as a financial advisor.
This post was authored by Marie Swift and originally appeared here on GuideVine.