Financial advisors have a need to connect with high net worth potential clients, and email marketing can be a non-intrusive and effective way to do just that. This article is chalk full of (what should be) mandatory email marketing advice for financial advisors.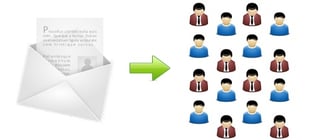 There are a lot of reasons that email marketing makes sense for so many businesses today.
Here are just a few:
1. It's inexpensive, easy to use, and quick. You can send out an email newsletter and get responses within minutes.
2. If done properly, email marketing is more effective than any other marketing channel today. Strategic targeting and usage will enhance your business and your revenues.
Basic Email Marketing:
Start with a great list. This means you know the people on the list, have met them or spoken with them. If you do not have email addresses for each of your clients saved in your database, you should make a concerted effort to collect them all for easiest communication.
If you don't already have an email list, start putting one together by encouraging those you meet at association functions, networking parties, trade shows, and on your website and blog(you do have one, don't you?) to give you their email address, and their permission to send them email.
Offer enticements to your clients and potential clients in the form of a tip sheet, or articles about issues of importance, etc. in exchange for their email addresses.
Be sure they understand that you will be sending them email. It helps if you tell them the frequency of the emails you might send. No one likes to be bombarded with sales pitches, but a newsletter once or twice a month is usually well received.
Don't spam anyone! Know your jurisdictions spam guidelines, and follow them.
What do your prospects want from you? Do some probing and find out which frustrations or trends affecting your prospect's lives and financial portfolios is causing them the most problems, and address those needs in your marketing pieces. Many people have seen large losses in their retirement accounts, and are looking for answers to how to make up for those losses and still be able to retire at an early age.
Offer them something they can't refuse. Perhaps you can offer to look at their current portfolio and show them how to get it back on track.
No snazzy effects. Within the financial services industry, flashy graphics and music are not so important. What is of value to potential clients is what you can do for them, so be certain that the content of your emails and your related website address those issues.
Segment your list. Often dividing your list and sending different messages to different segments is the right way to reach the exact people you are interested in contacting. Certainly, different retirement strategies pertain to different age groups within your client base.
Coordinate with other channels. If you use direct mail, follow up emails can give that communication a decided lift. Likewise, following up an email newsletter or brochure with a phone call will often result in more appointments.
P.S. Email marketing experts say to consider including a P.S. at the end of your communication. Use it to reinforce your offer or link to further information and your website's sign-up form.
Put together an email newsletter or other informational email for your clients and potential clients and test its effectiveness today. You will likely be pleasantly surprised at the number of responses you get.
Need a website? Contact us through this link for a product tour, anytime.