Every once in a while we like to brag... just a little bit. We haven't showcased any of our own websites lately and, boy, have we saved some great ones to show off. Not only do we receive quite a few inquiries about what great financial services web designs look like, we are proud to offer a little sneak peek at something we are world champions at: building excellent websites for financial advisors.

Here are 10 excellent examples of what great websites look like:
#10: Highlander Financial Group
Highlander Financial Group's website displays clean lines and a very organized display. It's clear that Highlander wants their visitors to know that they are dedicated to customers. This website does a really great job of directing viewers towards the next step. They provide clear calls to action on the right hand side of the page; "Book a Meeting," "Tell a Friend," and "Request a Quote," let viewers take action without feeling the pressure to act now.
#9: Northwest Financial Services
NorthWest Financial Services wanted their site to be user-friendly. This homepage passes the test. The easy-to-find navigation bar at the top of the page allows users to know where they are at all times while the search query on the right-hand side of the page allows web visitors to easily find something that may not be displayed on the homepage.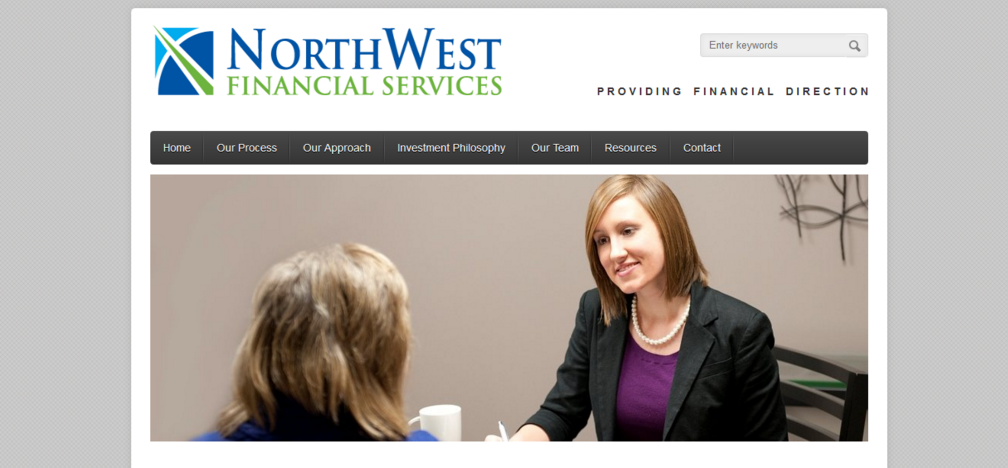 A rolling gallery of eye-catching photography, easy-to-find navigation and the Twitter social share button in the upper right-hand corner all together makes for an excellent website. The color combinations on this site really help accentuate a message of authority and understanding. And, of course, the message is clear: this is a professional firm that is ready to help clients "protect, save and grow."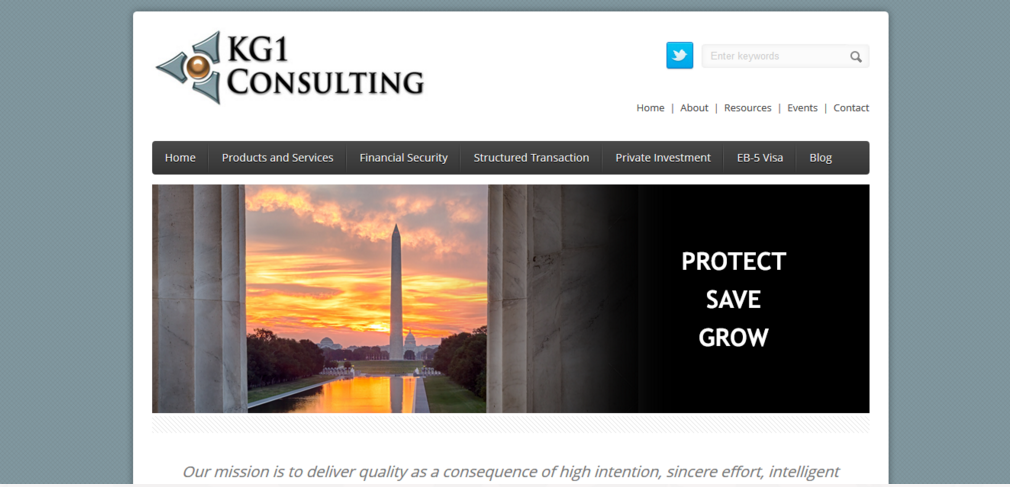 #7: Johanson Financial Advisors
Experience counts and Johanson Financial Advisors wants visitors to their website know they've got what it takes. The site displays rolling contact information in the upper right-hand corner so visitors can always just pick up the phone and call. A client login provides current clients to access their account information from anywhere. Johanson has really got it going on with social media - this firm does an excellent job of being available to their clients anytime, anywhere. This website acts as the perfect hub, rounding out and bringing many of their marketing pieces together in one centralized location.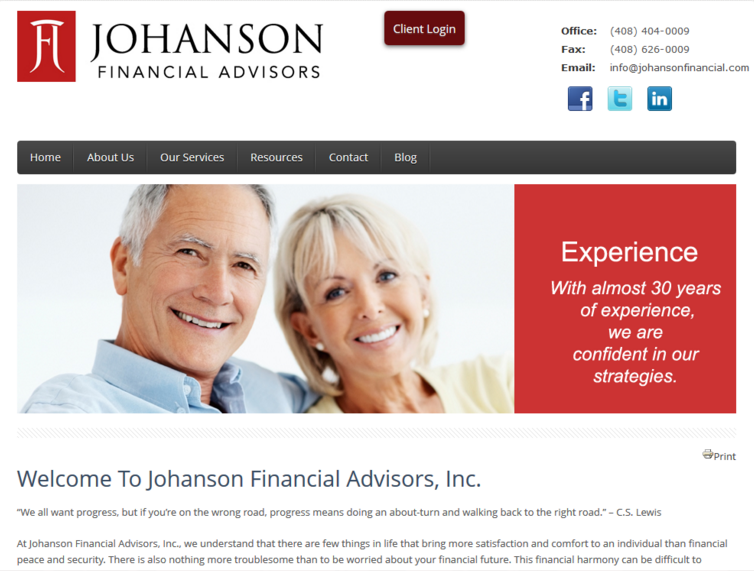 Weingarten Associates LLC really pulls at the heartstrings of it's web visitors with the centralized message: "Is your financial advisor making a difference in your life?" This compelling question urges visitors to stop and think. Did you notice the "Blog" tab in the navigation pane? By blogging regularly, this firm is constantly driving traffic to their website by creating fresh content. The clean interface and inviting color combinations only makes it that much more appealing.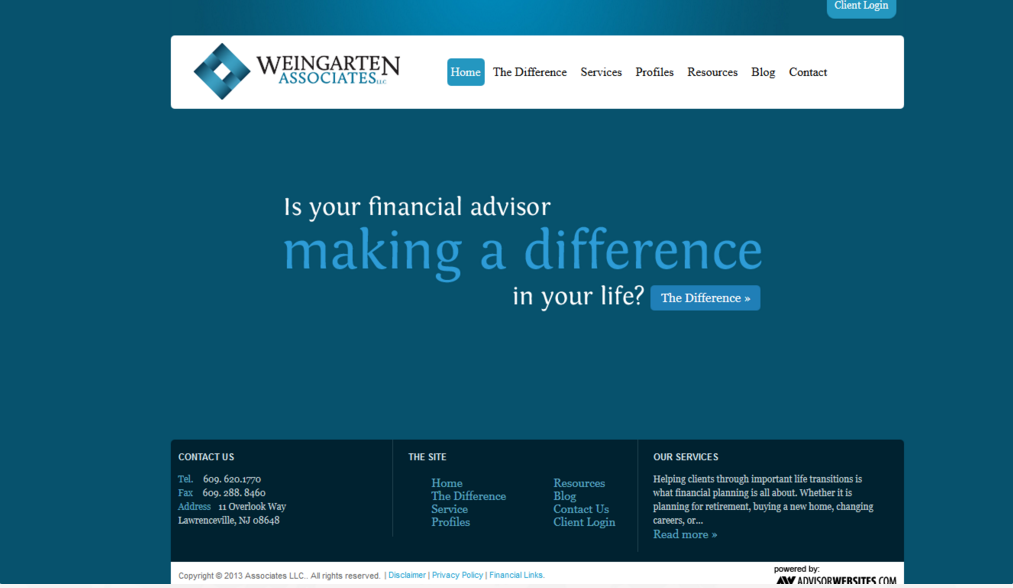 Sterling Wealth Advisors calming hues and clean lines send a message of ease and trust to web viewers. Again, the navigation pane is easy to find and use at the top of the page and a search query makes it simple for users to look for information that's not displayed front and center. Prominently displaying the company's contact information makes it easy for web visitors to get in touch whether they're calling from home or a mobile device on the go.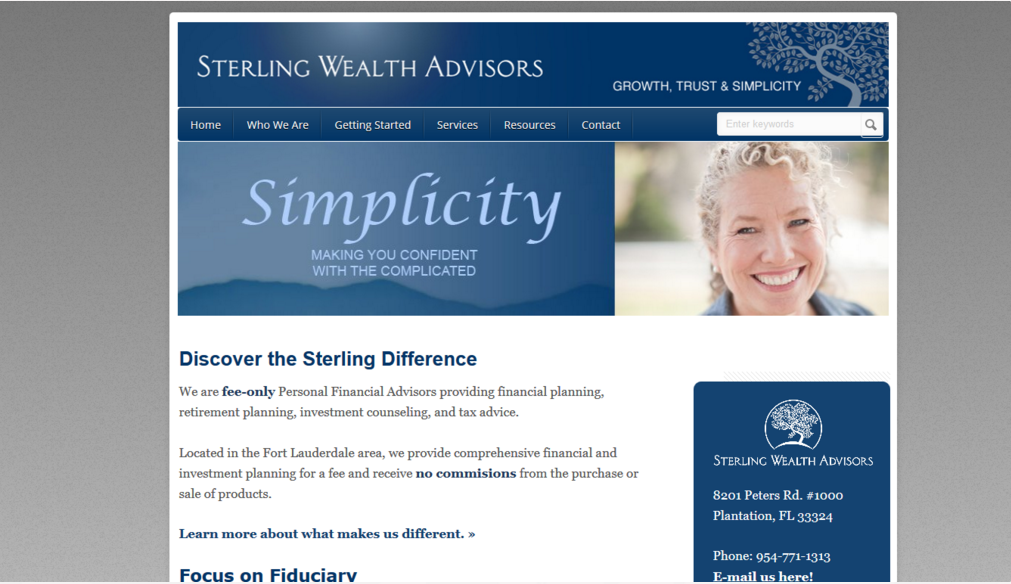 There is something so authentic and inviting about the photograph displayed on Bluestone Wealth Advisors' homepage - I just love it! This company has segmented their web visitors into two catagories: Individuals and Business Owners. This is a great way to present web visitors with different information based on their needs. Bluestone's website is just the right mix of appealing and inviting.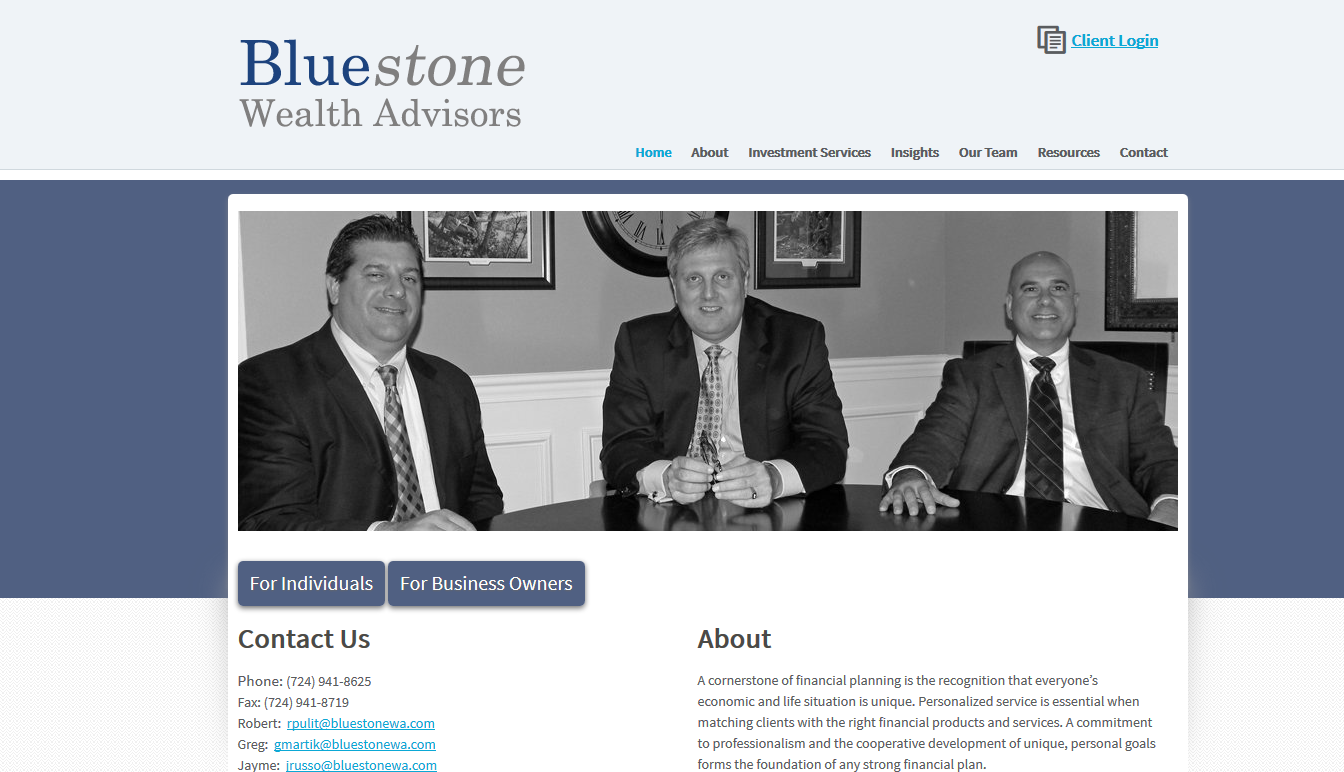 #3: LookWhistle Financial Group
This website has a bolder feel than most of the others we've showcased. LookWhistle Financial Group needed an easy-to-use website in order to engage clients and prospects. Our production team took a creative edge when this site was designed - the color scheme reflects the company's classic logo, as well as entices web viewers to continue into the site. Again, the navigation pane is easy to find and built for ease of use.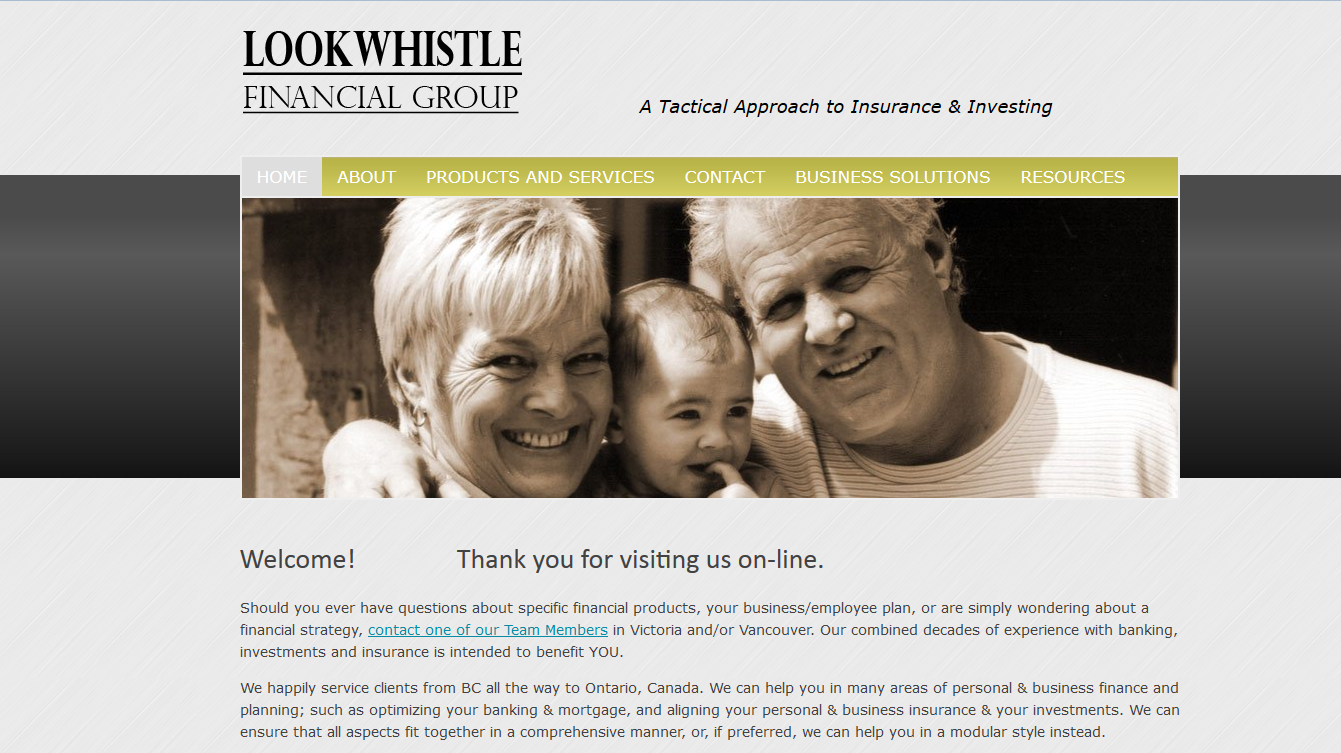 EasternPlanning Inc. wanted to give their clients full-access to their accounts online. The Client Login allows users to do just that. On the bottom half of the screenshot, you'll notice there are four blocks on content that attract the readers' eyes. The first is a call to action inviting online users to a free consultation, while the other three provide readers with information that could affect them in the near future. Each of these focal points offer valuable information to clients, which should be the main attraction of any website.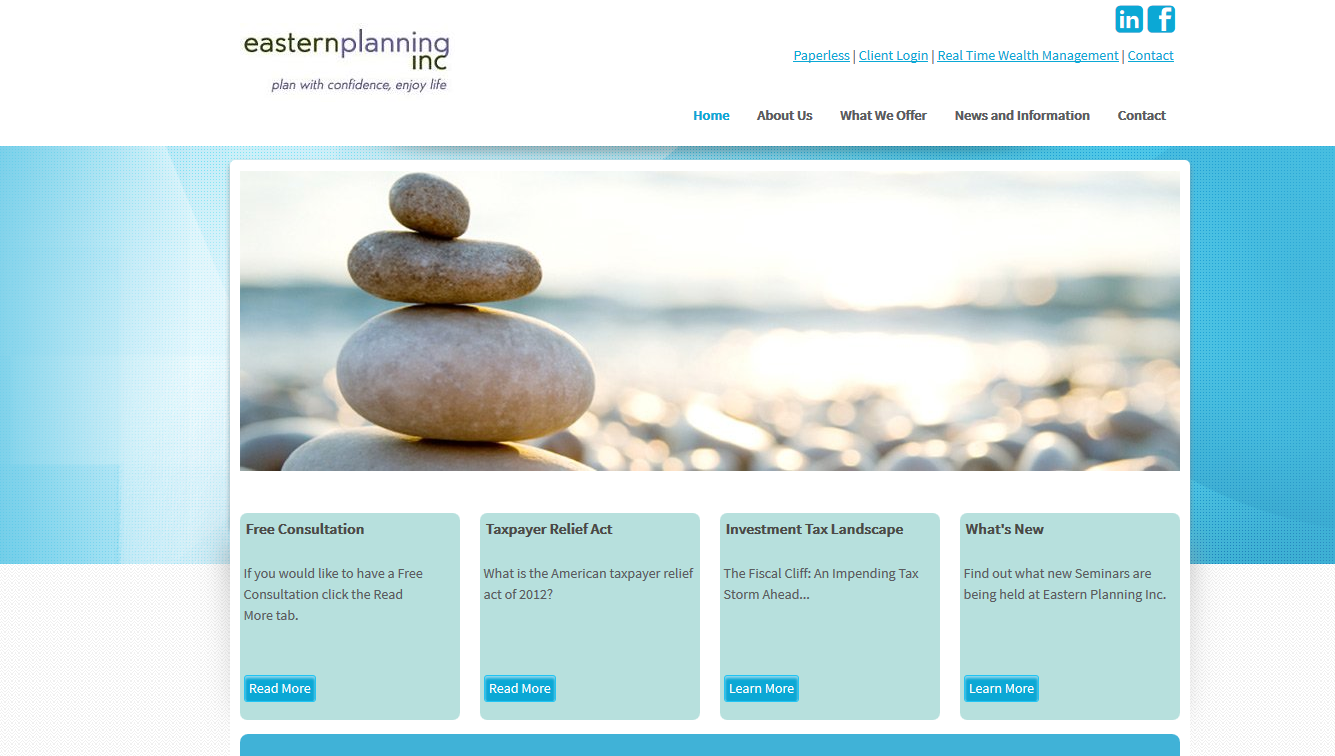 #1: Alex Bentley - Baldwin Partners Group LLC
Alex Bentley, of Baldwin Partners Group, LLC, wanted a clear and compelling site to engage his current clients, in addition to attracting new prospects. This clean and organized design comes with a personal touch - Mr. Bentley's own photo and signature act as kind of a personal branding for the site. New clients and prospects love to see original photos of the people they will be working with. Throughout his site, you'll find clear calls to action encouraging web visitors to make the next move. This website also provides an excellent example of how blogging can really improve web traffic. You should check out Alex Bentley's blog here - he posts compelling articles frequently - something we should all aim to do well.