Keeping your audience up-to-date and posting timely content and messaging to your website or blog is always important, but perhaps even more so during a time of significant change and uncertainty such as the current coronavirus pandemic. As financial advisors, you play a pivotal role in your clients' lives during times like these, so make sure the information you're putting out is appropriate and relevant.
To assist you in doing so, we've created 7 FREE BLOG ARTICLE TEMPLATES you can utilize to provide helpful content. Remember that these are templates only and should be edited by you before posting to ensure that they're relevant to your audience, geographic location, and update to reflect whatever the current situation may be.
This free resource contains the following articles:
Building A Portfolio That Can Handle Market Volatility Amid The Coronavirus
How To Create An Emergency Savings Fund In The Wake Of COVID-19 (US & CANADIAN Versions available)
Managing Emotions and Expectations During COVID-19 Market Uncertainty
Dealing With COVID-19: Four Ways to Minimize Financial Anxiety
Is Your Portfolio Embracing The Coronavirus Market Volatility?
Coronavirus Lessons: Why Diversifying Your Portfolio Is Important
When and How to De-Risk Your Investment Portfolio
VIEW & DOWNLOAD FREE ARTICLE TEMPLATES HERE
---
HOW TO VIEW & DOWNLOAD THE ARTICLE TEMPLATES
Once you click on the download link above; you will be taken to a Google Drive folder. To view any of the articles, simply double-click on the file name and a preview will open up, as per below. You may choose to select and copy right from here and paste directly into your blog or a Word document and edit.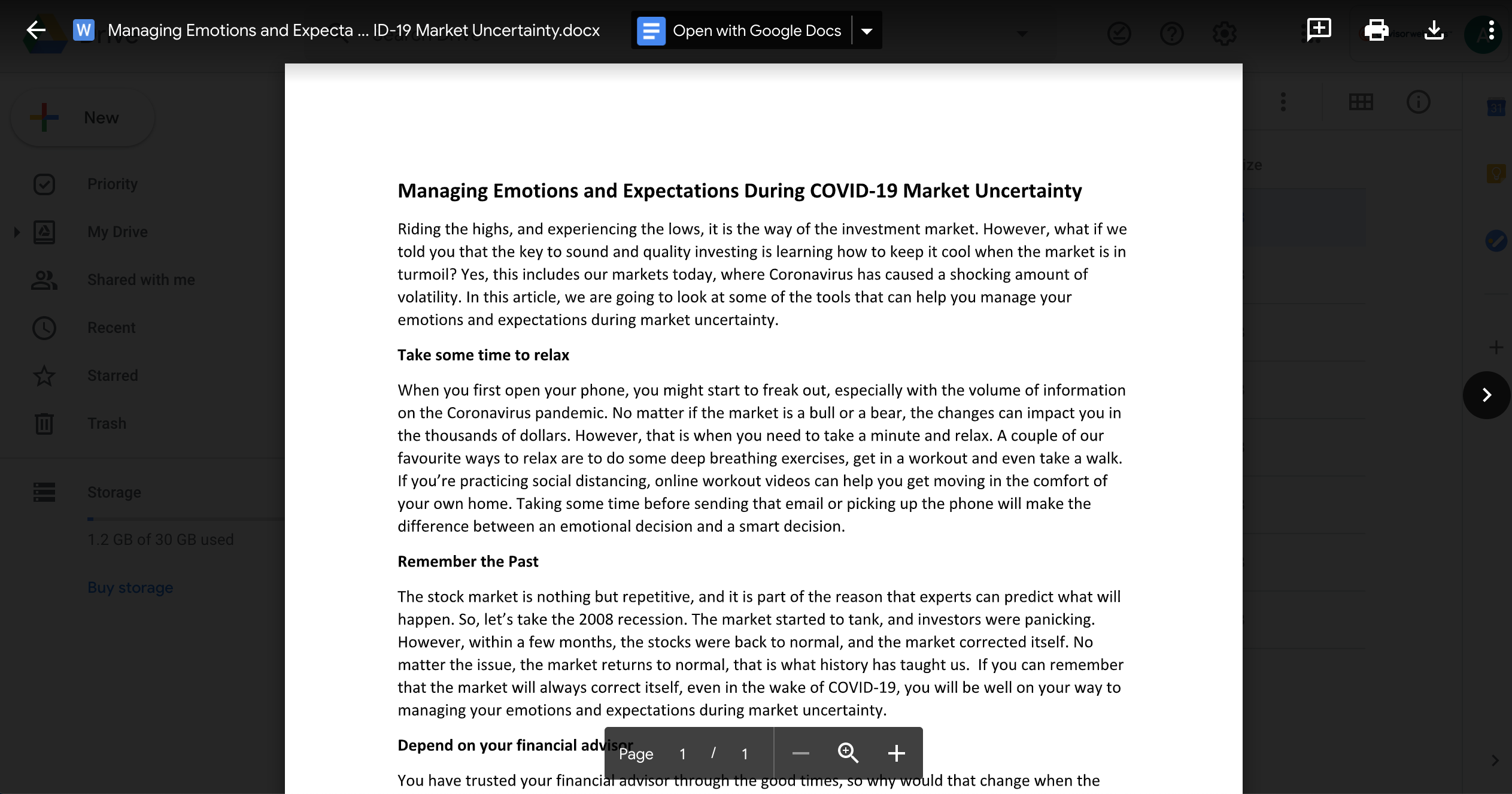 You may choose to download all 5 articles (in Word format) at once by clicking on the down-pointing arrow next to the file folder name and selecting "DOWNLOAD", refer to screenshot below.
Note that it will download as a zipped folder to your computer, which you will then have to expand to reveal all .docx word files within it.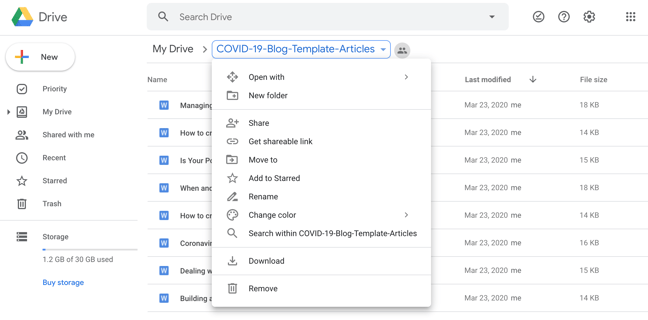 If you wish to download only one or two of the articles, click anywhere next to the filename (blue highlight in screenshot below). Then click on the three dots in the top right hand corner and select "DOWNLOAD".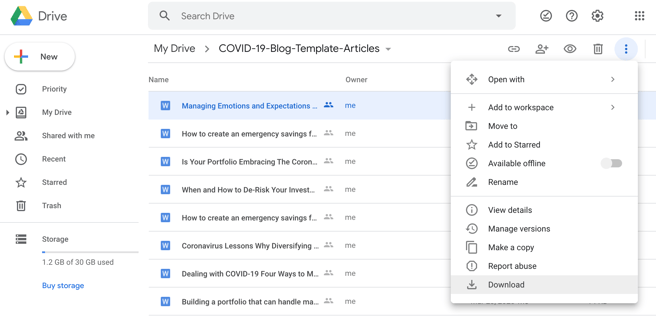 NOTE: There is one duplicate article as there is a USA and a CANADIAN version of the messaging within in. Ensure you're selecting the right one for your audience!
If you're a current client of Advisor Websites and would like help with posting any of these articles to your blog, don't hesitate to contact us and we'll do it all for you! Give us a call at 1-866-638-0273 or book a time here: advisorwebsites.com/website-help and we'll call you at your convenience! We are Available Monday - Friday, 10:30am to 8pm EST.
---
WHO ARE WE?
At Advisor Websites we help financial advisors grow their business and enhance their digital marketing strategies with their own personalized website. Our platform offers a selection of effective and proven frameworks that are personalized to reflect your business and brand.
For a personalized one:one demo & to see our platform in action: