Do you use email marketing to reach your target audience?
There's a reason why email marketing is still recommended as part of any digital marketing strategy.
In fact, for every $1 spent, it offers an ROI of $36.
Especially as a financial advisor, email is one of the best forms of communication with prospects and existing clients.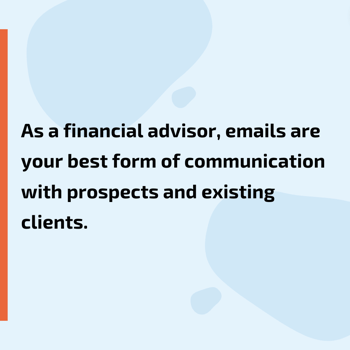 Email marketing can provide a more personalized marketing approach when compared to social media and PPC marketing.
With these six simple email marketing best practices, you can start running successful email campaigns and converting new clients for your business.
Six Best Email Marketing Practices To Boost ROI For Financial Advisors
1. Create A Rock-Solid Value Proposition
One of the most essential parts of an email marketing campaign is the value proposition or what makes you different from your competitors.
A good value proposition should be specific and actionable to show potential clients why they should choose you over other advisors.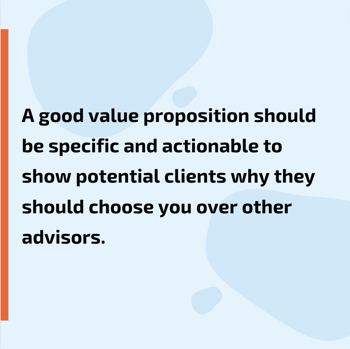 Consider how you can help clients reach their goals when writing a value proposition.
If you're helping them save money on taxes or manage their investments more effectively, ensure that's clear in your emails.
A strong value proposition:
Is clear and concise about the offer




Speaks directly to the needs, wants, and desires of your target audience

Is always up-to-date, relevant, and in consideration of the latest industry trends



Here are some basic examples of value propositions:
"We offer a complete suite of financial services." (A broad category)

"We simplify the complicated world of investing." (A specific benefit)
If you want to see results, take it one step further by personalizing it to speak directly to your ideal client:
"We help you prepare for retirement so that you can confidently enjoy your free time."
2. Invest In An Email Marketing Tool
Handling a small list of 10-30 subscribers manually might work for small teams.
But manual operation can become disastrous when you're handling a large number of subscribers or looking to scale your email marketing efforts.
It would be best to have an email marketing tool that automates your workflows, including your welcome sequences, opt-ins, opt-outs, sales sequences, third-party platform integrations, etc.
Spend some time finding a tool that works best for you and your team while remaining compliant.
3. Work On Your Content Strategy
As a financial advisor, email marketing allows you to connect with clients on a personal level and help them through every step of their financial journey.
One of the best ways to use email is by showing off your personality, not just as a person but as an expert in your field.
The idea is to generate curiosity in your prospects' minds by creating thoughtful content.
The best way to do that is by writing about what's relevant and urgent in finance.
For example, if the last date to file taxes is approaching next month—you can provide tips and uncover hidden concerns that urge them to take action faster.
Think about the different factors that contribute to making you great at your job:
Your background

Your experiences

Your interests

Your beliefs and values
You can factor in all these traits and talk about them in your content to inspire and educate your subscribers.
As an advisor, you can share what makes you unique with your audience.
You can share the following:
Stories about growing up or photos from previous vacations

Insights into which stocks you're watching closely this week

Information about how often you exercise at home and your life in general

Updates from recent seminars attended by executives at top companies around town

Your take on a financial book you read recently and why you recommend it (or don't!)

Share BTS (behind the scenes) from your business



Moreover, it's essential to make your emails personalized to stand out from the crowd.
You can do this by:
Tailoring the subject line to each recipient by using their name, title, or location.

Writing a message in the body of the email that uses their name or some other personalization.

Sending personalized messages even after the first correspondence—in your email signature line and anywhere else you mention the recipient's name.

Also, personalization works wonders when you segment your email list based on the recipient's profession, interests, background, or job profile—it helps you create more targeted messaging.
If you're looking for an email marketing strategy with pre-approved and pre-written content, check out Snappy Kraken.
Bonus Tips For Writing Emails
The email structure shouldn't be a bunch of paragraphs. Construct short paragraphs and shorter sentences to make the email more readable.

Pick a theme. One week may be about taxes, and the next about budgeting. This keeps the readers on their toes and excited about what they can expect next week.

Use numbers in subject lines. Try phrases like "pay off your debt 2x faster with this one tip" to improve your open rates.

Make it conversational. Just because you're talking about a serious subject doesn't mean it needs to be boring. Jazz it up using GIFs, images, videos, and personal anecdotes.
4. Segment Your Email List
Once you have your contacts list, it's time to engage them.
You can do this by creating different emails specifically tailored to each individual on your list.
Segmenting lets you personalize the message and ensure it's relevant for everyone on your list.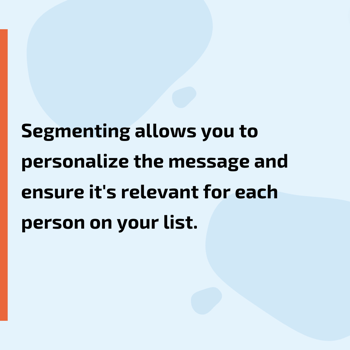 This will increase the chances of subscribers opening and reading your email.
Which ultimately leads to more engagement and better results from your email marketing campaigns.
You can segment people based on location, age, gender, preferences, or interests.
For example, you can segment based on their line of work (like a business coach, entrepreneur, CEO, etc.).
Segmenting is something you can effectively manage via an email marketing tool.
You can choose what type of information to send out based on specific conditions, like location or interests, or select groups of subscribers who subscribe via different channels (like social media).
Sometimes you will need to attach images or PDF files meant for separate listings. For these purposes, Smallpdf.com is a great and reliable choice.
5. Run a Special Onboarding Series

They say first impressions last for a long time—this is also true in email marketing.
How you make your subscribers feel in the first few interactions sets the tone for how your relationship will be.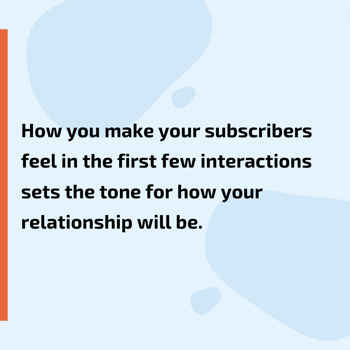 Ensure they get a proper welcome from you as soon as they subscribe to your mailing list.
Introduce yourself and your business, and discuss how you help your clients.

Take them on a journey through a 5-email sequence where you break the ice, build a conversation with them, and continue to engage with them.

Help them start their finance journey by sharing a highly targeted mini-training or any other free resource you have.

Highlight a special offer or discount your ideal client would be interested in claiming.
6. Run Thorough Tests To Analyze The Success Of Your Strategy
Email marketing is all about improving as you go.
The best way to improve is to frequently test your subject lines, email copy, and CTAs.
The goal should be to maximize open rates, clicks (and subsequent conversions), engagement, and relevance of your emails.
Determine what kind of emails have a higher open rate

Analyze what made subscribers engage with an email

Discover what type of CTAs get the most replies
And don't forget about mobile responsiveness.
Due to the high adoption rate of smartphones and tablets, you will want to ensure your emails look just as great on mobile as they do on desktop.
If your emails aren't displaying correctly on mobile devices, you'll lose out on potential leads or current clients who may have otherwise engaged with your brand.
Key Takeaways for Financial Advisors
Email marketing takes time and effort to develop an audience and create a strong relationship with your subscribers.
If done right, the payoff can be huge.
It's the perfect tool for financial advisors to get their message out at a relatively lower cost than traditional marketing tactics.
Don't forget these main takeaways:
Put time into finding your target market. What are their pain points and fears? What do they want? How can you help them?

Create an email list with quality content

to help your readers solve problems or learn something new.
Try these tactics and pivot your strategies as you go along. If consistently practiced, these methods will help bring in clients for your financial advisory business and boost your ROI.
Author Bio

Deepali is an engineer-turned-freelance writer for B2B SaaS, writing actionable long-form content for marketing, cybersecurity, and HR-tech companies. When she's not writing, she's engrossed in a cozy murder mystery novel with a cup of hot chocolate!