Video marketing started to see a steady increase in popularity far before the coronavirus pandemic. Businesses that reported using video within their marketing strategy increased from 61% in 2016 to 85% in 2020, and coronavirus has only escalated this fact. Businesses are relying on video more than ever to keep in touch with their audiences as social distancing restrictions have come into effect.
Video is a popular marketing tool for many reasons, including its ability to increase engagement and website SEO (Search Engine Optimization). More importantly, for businesses that offer personalized services, like most financial service industry, video adds a personal touch to communication beyond an emotionless email or newsletter.

Especially as clients are faced with rapid market changes, a simple email that may read cold and sound like a blanket standard response, may not be enough reassurance through these times. We've spoken to many advisors who've taken advantage of video, and video conferencing to communicate with their clients and prospects through this time - all of which, have experienced great success and positive feedback!

The process of creating videos for your client communication doesn't have to be rocket science. Here's everything you need to consider, including tips to help make filming easier:


Tip #1: Keep Your Message Short & Sweet

It's unnecessary for your video to be a massive production, in fact, the ideal video for marketing content is 2 minutes or less. This rule of thumb is based on users' attention spans, however, today we find ourselves in more of a unique circumstance during this pandemic.

Your clients are already being bombarded with COVID-19 updates multiple times a day, and truthfully, the market is still volatile and likely to change. Video updates through this time should be condensed to only 'need to know' information, and include a reassuring message of your commitment to each one of them.

Tip #2: Write a Script

Writing a script can be a helpful place to start, especially if you're not used to speaking in front of a camera. This step depends on your preference and whether you're affiliated with a broker-dealer. After speaking to other advisors who've used video within their client communications, many of them found writing scripts beforehand helped them condense their message and speak more confidently in front of the camera. If you're associated with a broker-dealer, don't forget to submit your script to your compliance team before you begin to film! This can potentially save you a ton of time in filming and editing later on.
Tip #3: Choose Your Location Wisely

Another unique outcome of coronavirus is that a large number of people have transitioned to home offices, which has essentially erased any stigma about joining a virtual meeting form your dining room table, kitchen, outdoor patio, etc. Since virtually everyone is stuck at home, the location of your video isn't as crucial. Use your best judgment to choose the best setting available, while keeping in mind two more important elements; acoustics and lighting!

There is no point in sharing a video if your audience isn't able to see or hear the clip. Choose a space that has little echo and lots of natural light facing you. A large mistake many beginners make is sitting in front of a window, although the view may be beautiful, most of the time back lighting can cause a 'silhouette' effect. Filming outdoors without a mic can also cause various audio problems. A safe bet is to film indoors, facing or close to a window with a lot of natural light.

Tip #4: Keep It Simple When Choosing Your Equipment!

If you have a smartphone or laptop, you've got all the necessary equipment to film a high-quality video. Majority of our clients have either used their iPhone or laptop to film video updates for their clients and there are various free software systems you can use to make this process easier.

Smartphone:
Using your smartphone is one of the easiest ways to film an update! Keep it as simple as propping your phone up on a stack of books or a steady object and hit record.

Another perk of filming on your phone, is that you can quickly edit your video from within your camera roll if you want to crop or make colour adjustments. (On iPhone, select your video and click 'edit' in the top right corner of your screen).

Laptop:
If you own a laptop that has a built in webcam, we recommend this method of filming. Firstly, because you may find the video is higher quality and a better ratio for your website and secondly, there is no need to transfer your video to a computer if you'd like to make a few extra edits to your video or submit it to your compliance team.
Psst! Here's a bonus tip: If you're recording from your computer, move your typed out script directly under the camera and shrink the text size as small as possible. This will make it less obvious that you're reading from a script, and create the appearance that you're looking directly into the camera.
Most laptops come with video software preloaded. If you're using a Mac, Photo Booth is a super easy way to film a video using your laptops built in camera and audio. Here's Apple's user guide for the Photo Booth - it's only 3 steps!
Regardless what type of PC you have, Loom is a stand-out tool for video marketing. They are a free cloud based software that specialize in video messaging for the workplace. Loom allows you to share your entire screen when filming, your camera or a specific window. You can quickly record, edit and share from one platform. Here is a look at how user friendly the platform is: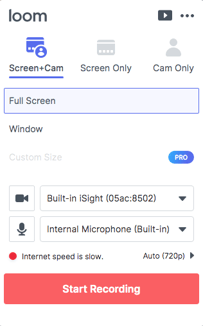 If you're experienced with video editing, or you're interested in adding branding to your video, we've listed some of the best editing software systems for the job below!
BONUS: Editing Your Videos
We want to reiterate that it's not necessary to heavily edit your videos and is best to keep things simple! However, if you're looking to step up your game and add your company logo or other transitions to your videos, here are some editing software suggestions for post-production.


If you're a Mac owner, iMovie is a free option you most likely already have available to you. Another free program which we recommend for both PC and Mac owners is DaVinci Resolve 16. They offer both a free version of their software and a premium version. The free version is a great option to get your feet wet in editing. Once you've picked up the basic skills of cutting, overlays, titles, and exporting, the skills are pretty transferable among most software programs. Once you've progressed your skills and you're ready to make an investment in more advanced editing software, Adobe Premiere Pro CC and Final Cut Pro are great options to look into.


If you're a beginner to editing, don't worry it's a skill that is easy enough to learn. There are an abundant amount of tutorials and learning resources online - many of which are completely free! YouTube will be your best friend when starting out, most questions you have about which tools to use or how to import and export film can all be answered with a quick YouTube search that includes the name of your editing program. You'll find tailored training videos that you'll be able to follow along and in no time you'll be a pro!
Some quick tutorials to search before getting started:
Basic video editing tools; cutting tool (razor), pen (mark tool), delete (ripple delete), select (hand tool)

How to import video and soundtracks

How to create overlays and title slides

How to adjust the speed of your film

How to render and export your finished film
Tip #5: Embed Your Videos on Your Website

Once you've recorded your video, the next step is deciding where to make it available for your audience. There are many video hosting platforms to choose from, including Wistia, Vimeo, Vidyard, and YouTube. YouTube is the most popular video hosting platform (with over 300 hours of video upload every minute!) for a few reasons. The main one being that videos hosted on YouTube can significantly boost your SEO because Google's algorithm provides its users with a variety of video content in their search results. It also doesn't hurt that Google owns YouTube so it's more likely to push users to videos hosted on this platform.

Take a look at some of these popular video hosting platforms: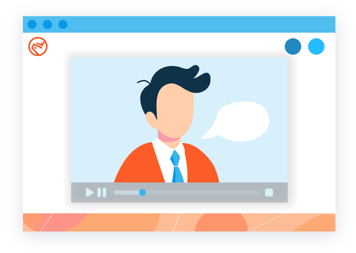 No matter what hosting platform you choose, don't forget to link your videos to your website to reap the benefits of SEO and higher conversion rates! If you're a client of ours, you can embed your videos using the 5 easy steps below, or give our support team a call at 1-866-638-0273 or schedule a time here. We're happy to assist with embedding a video for you!
The 5 easy steps to uploading a video on your Advisor Website's Blog:
Navigate to your 'My Content' tab on the left-hand column of your dashboard. Once you click 'My Content', you'll see 'blog' in the dropdown menu. Click here to open a new page.


A popup will appear after you click the blog tab, see screenshot. This is where you can edit your blog, which is the same process if you're wanting to upload an article. For videos, click the 'source' tab circled in red below. This is where you can embed the code of your video, which you will need to copy from whichever platform the video is hosted on.


Once that code is pasted into the text box, you can now add a featured image that will appear on your blog's feed. Even if you don't intend to share the post on your social media, we still recommend uploading a featured image and giving it a name that describes its content. This is an SEO best practice as images on your website will also be crawled by search engines, creating more opportunities for prospects to find you online.


There are a few additional SEO fields within your blog that are worth taking the time to fill out. We recommend filling out the fields for your meta description and title tags. Their purpose is to communicate with Google and another search engine, what each page offers. The more information there is to index, and the more specific and relevant your meta tags are, the more likely you are to rank higher on relevant search results.


Press 'Save and Publish'!
You can also refer to the following help article: How do I use embed code on my website?
If you're looking to produce more videos for your communication strategy, here are a few additional articles you may enjoy:
Happy Filming!
---
WHO ARE WE?
At Advisor Websites we help financial advisors grow their business and enhance their digital marketing strategies with their own personalized website. Our platform offers a selection of effective and proven frameworks that are personalized to reflect your business and brand.
For a personalized one:one demo & to see our platform in action: