Founded in 2003, Redtail Technology is a leading provider of web-based Client Relationship Management (CRM), compliant text messaging solutions (Redtail Speak), paperless office, and email archiving solutions in the financial services industry. Redtail is dedicated to helping advisors efficiently grow their firms by providing them with the core technologies that drive their day-to-day operations, while offering low cost and easy to implement applications and integrating with many of the industry's most widely used applications.
Increasing efficiencies to drive effectiveness and build client trust are table stakes in an increasingly competitive and technology-driven financial services industry. With Redtail's core solutions implemented in your practice, you'll be well-positioned to attack each and every day with the confidence that nothing in regard to your client management will slip through the cracks.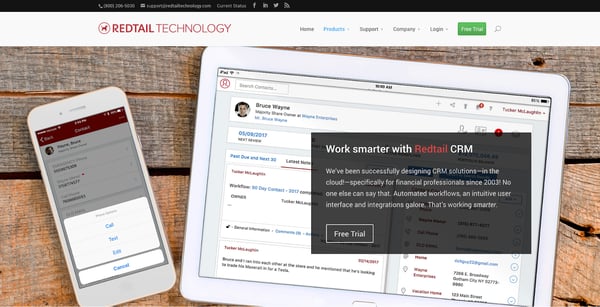 How will Redtail help make your office more efficient?
The automated office:

Workflows, Automations, Activities and Reminders keep your office on track and your clients and prospects feeling like they are in good hands.



"Know your client":

Track everything from allocation model preferences to BICE data to health stats in one place. Detailed tracking of your clients' data provides more inroads for relevant client "touches" and more documentation for compliance.



Categorize and tag client records:

For easy retrieval, bulk edits and/or niche-based marketing campaigns.



Reports:

Redtail CRM offers compliant operations reporting for your practice, and with a wide array of client and account reports at your fingertips, you'll quickly get at the information you need.



Custom exporting:

In addition to the modern reports available within Redtail, you can also create exports based on the data you need at any given time.



Seminar management:

Plan and manage your seminars and events from within Redtail CRM, with better seminar reporting than ever before.



Broadcast emails:

Send bulk messages and attachments to specific groups of clients or prospects.



Document management.

Upload, store, categorize and link electronic versions of documents to client accounts.



Cloud-based:

Also tailored specifically for financial professionals for over 15 years.



Free one-on-one phone and email support:

As well as free database conversions.



Tablet-friendly:

Plus free smartphone app for Redtail CRM



Seamless integration:

With top names like Morningstar, Albridge Solutions, MoneyGuidePro, Laser App Software, Riskalyze and Advisor Websites.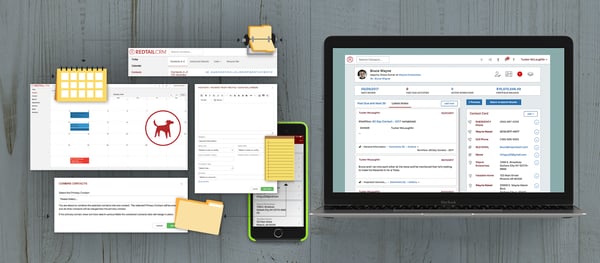 Why do you need Redtail Speak for client communication?
In October of 2017, Redtail announced Redtail Speak, a compliance-friendly, real-time communication platform for financial advisors. The first of its kind, Speak is embedded directly in Redtail CRM and enables advisors to communicate with clients safely and securely via text messages, while remaining compliant with all federal rules and regulations. This includes adhering to FINRA's new regulatory notice that states that all text messaging conversations must be recorded. With Speak, every conversation, message and document is fully searchable and automatically archived, recorded daily and shared with the advisor's email surveillance provider, offering advisors a safe, compliance-approved way to communicate with their clients. As clients increasingly come to expect real-time communication, Speak's game changing software enables advisors to meet that demand.
Additionally, the solution empowers advisors to communicate directly with colleagues via chat, without ever leaving Redtail's CRM. This capability facilitates a more collaborative environment by providing team members with access to the same communication thread, eliminating bottlenecks. Ultimately, this decreases advisors' business costs, increases efficiencies and provides advisors with a higher-level of service as they get more time to focus on their clients.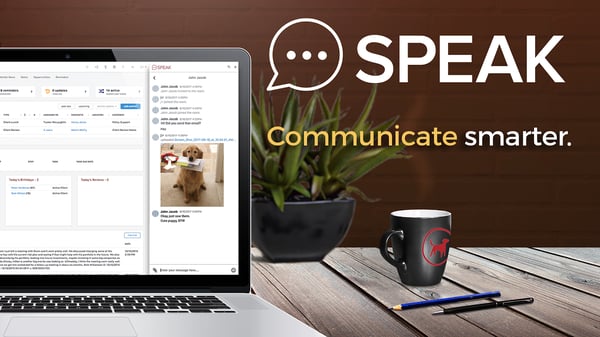 Recent studies tell us that 99% of texts get read and get a response within three minutes. According to Constant Contact's February 2018 numbers, emails, by contrast, are only opened an average of 17.62% of the time across all industries and, if they are responded to at all, it's highly unlikely to occur within that three-minute timeframe.
Texting is not just the default medium with the young either. Even those in the 55+ age bracket are texting at a rate of around 500 messages a month, which should prompt the resounding conclusion that the time is NOW to incorporate texting into your communications arsenal in a way that meets regulatory and compliance requirements!
If you don't have a compliant means of texting with your clients, you're going to increasingly find that you don't even have the ante to sit down at the table with them.
To learn more about Redtail Speak and how your office can meet clients' increasing expectation of real-time communication via texting with their advisor, see Redtail's video here.
Redtail is fully integrated with Advisor Websites
Redtail and Advisor Websites have been working together for quite some time, and together, the two platforms together help financial advisors capture online leads.
The Redtail-Advisor Websites integration enables financial professionals to create an unlimited number of customizable lead capture forms from their website, which automatically imports the contact information into their Redtail account. Advisor Websites takes care of making your practice look great online to draw in prospects and generate new leads, and Redtail takes care of capturing these new leads. You can save time by automating your lead capturing strategy and setting up workflows that trigger activities every time a web lead enters the system.
To integrate these two, all you need is an Advisor Websites account and a Redtail account. With this pairing, you're well on your way to having a high-performing website that works hard for you.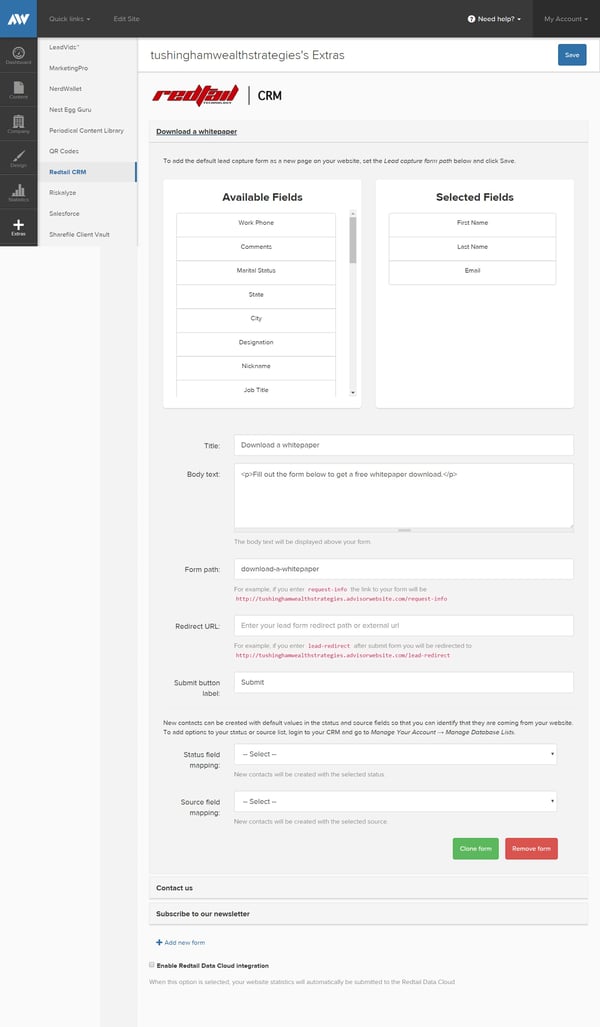 If you'd like to learn more about Redtail, you can visit their website here. Or, one of their Sales team members will always be happy to talk to you via phone (800.206.5030) or email (sales@redtailtechnology.com).