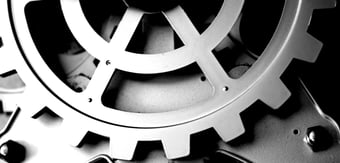 Just as you wouldn't recommend clients putting all their investment monies into one stock, we would not recommend marketing plans only contain one single source of traffic. How much risk would that be?
We see many companies come to us having built a business around a single traffic source and primarily that is either Google Adwords or Google SEO. I can see the benefits - it is easy to manage and if you understand SEO, it can be a good way to drive traffic. But what if:
A new player enters the market and pushes up pay per click costs to a point where you can't compete or the volume dries up?

Google changes it algorhythm (which I believe it does from time to time) and suddenly your site goes from page one to page one hundred?
There are many risks associated with a single source strategy.
Spread the risk
I want to give you a more rounded approach that can take in traffic from a number of sources, a diversified portfolio if you will. You will still be able to manage it and track it from one location, but it will mean you have some protection if one of your strategies suddenly stops working.
So what other strategies / sources of traffic are there?
Well to be honest, there are literally hundreds and more than I can realistically fit in to this article but I want to give you a few ideas that may be just start the process of opening you up to more traffic sources.
1. Website Owners
There will be plenty of other sites in your geographic area or in the same places your customers hang out - local news websites, other businesses.
Why not see if you can get a link from them, or offer them some useful content for their website?

For a local news or magazine website, why not offer to write a monthly blog?

Maybe you specialise in small business owners - why not work with business websites? Etc
This stuff can be free to do, it just takes a bit of time researching and effort in writing, but that gets easier. Or you can outsource it. You may have noticed I have not mentioned SEO here. I am talking about providing brand awareness and traffic. Any SEO benefit is a bonus but not the goal.
2. Referral Schemes
From the simple content option you can actually take this one step further. You can provide these sites with their own section where you fulfil enquiries for them and pay revenue for any transacted business or enquiry.
You only have to look at some of the big sites (http://finance.yahoo.com or http://dailyfinance.com) to see their investment or finance channels are powered by someone else. Why can't you offer this locally or at a niche you specialise in? Why would they say no? You are offering to power a new section with unique content, and fulfil orders and pay them commissions. For some sites, this is a dream come true.
3. Pay Per Click Advertising
There are a large number of sites outside of Google Adwords where you can buy traffic. Here are a few examples:
Yahoo Ads covers Bing Ads (http://advertising.yahoo.com)

AOL Ads (http://advertising.aol.com)

Facebook Ads (http://www.facebook.com/ads)

LinkedIn Ads (http://www.linkedin.com/ads)

Twitter Ads (http://ads.twitter.com)

Stumbleupon Discovery (https://www.stumbleupon.com/pd)
In summary
And we have not even mentioned social media, content marketing, video, display, retargeting, email marketing or lead generation. There are literally thousands of places to get traffic. Start today working on adding new traffic sources to your business. Track them in your Analytics - if you need help setting that up watch this video on creating reports in Google Analytics.
In this way, you can build up a large bank of referral traffic from a large number of sources; track which ones work for your business; and then either put more effort into those or drop them and find another one. Just like a stock portfolio you should always be tracking, testing and researching.
Good Luck
About the Author
Jason Hulott is Director of SpeedieConsulting, the internet marketing specialists. Visit the site now for more useful tips and articles aimed at Insurance and Finance Brokers who wish to use the Internet to take control of their revenue generation online. Connect with him on Facebook or Twitter.