About a week and a half ago, American Century Investments published a study called Financial Professionals Social Media Adoption. This is the second annual report under the name , which allow us to easily see how the numbers have changed in the last year.
The number of financial advisors, brokers, and RIA's that participated in the survey was 303, with an average of 14 years experience in the industry. Although 1 year isn't generally considered a long time between studies, when it comes to social media, one year can represent a complete transformation.
The following chart shows the percentage of Financial Professionals who have a social media profile, and with which website.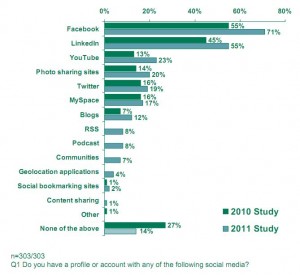 As you can see, within one year, Facebook usage among Financial Professionals grew by 16%, while LinkedIn usage grew by 10%. With FINRA's Regulatory Notice 10-06 being released last year, I think it's safe to assume that once some guidelines (however vague they may be), were introduced, Financial Professionals decided to try out social media.
The report also states that 86% of Financial Professionals participating in the 2011 survey participate in social media whether for work or personal use, versus 73% in the 2010 study, representing a 13% growth in only a year.
Although Facebook is often viewed as the social media Juggernaut, it's actually LinkedIn that has received the most attention for business purposes. This may seem obvious for people who are familiar with the differences between the two (Facebook geared towards sharing amongst friends/family, while LinkedIn is geared towards sharing amongst co-workers/colleagues), but what it really shows, is the willingness of Financial Professionals to get involved. LinkedIn provides a place for Financial Professionals to join groups and interact with one another, which in turn could benefit them from a business development perspective, any Financial Professionals are starting to realize that.
The study contains a handful of other interesting statistics and charts, and can be downloaded from American Century Investments here.