Facebook has long been a way for individuals to connect and share information. Now, companies are discovering the benefits of maintaining a business Facebook page to generate new customers and strengthen relationships with current ones. In doing so, fostering a positive Facebook presence can do wonders for a company's online business reputation.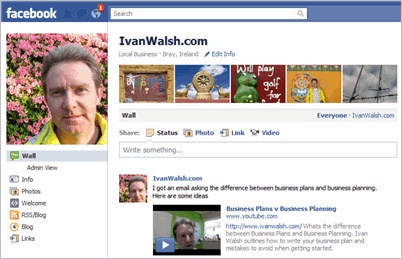 Here are five suggestions to maximize the advantages of your business's Facebook page:
1. Make sure your business's page is 100% professional. Yes, you're an interesting, well-rounded person. And while it's okay to peel back the layers of your character on your personal Facebook page to display all of your positive qualities, these revelations are not appropriate on your business page. Your writing style will reveal enough of your charm to people who visit your business page on Facebook. Talking too much about yourself, your family, your individual preferences, and your personal life is more likely to turn people off than endear them to you - at least among people who are interested in your business.
2. Multiple business pages on Facebook are encouraged - if you can maintain them. If your business has more than one distinct service or target audience, it's perfectly fine to set up multiple Facebook pages. There are two caveats to this strategy. First, these pages must be sufficiently different from one another in their content and focus. Otherwise, followers will only keep up with one of them and ignore the others, and updating these pages will become more of a burden to you than an asset. Second, only create as many Facebook pages as you can maintain over the long-term. People hate it when they begin following a Facebook page only to see content dry up after a few weeks.
3. Don't forget to use images. Research shows that images generate as much (if not more) interest from search engines as text posts do. So do what you can to include an image every time you post. Furthermore, try to think of ways to structure Facebook content around images. Post a video or picture and ask for feedback. Display a humorous or cute photo that is more likely to be shared with followers' friends. Most importantly, be sure to tag or caption your photos with keywords or your business's name to boost your search engine rankings.
4. Promote your business in nontraditional ways. Sometimes, it's easy to neglect this aspect of a Facebook page when you're concerned with your bottom line. But if it's positive or noteworthy and involves your business, then it should be on your Facebook page. Highlight your business's charitable giving and/or volunteerism. Link to trade groups, community organizations, and awards that pertain to your business. And talk up the successes and accomplishments of your employees (with their permission, of course).
5. Be vigilant about negativity. Nothing can sink your business more quickly than several (or even one) negative comments. So it's imperative that you address any such content quickly and appropriately. Adopt the same approach as the Hippocratic Oath for doctors: first, do no harm. That means don't lash out or respond angrily to criticism that is posted on a Facebook page; it will only make your business look bad. Instead, take the high road, explain your position, and offer to "make it right" if you can. If necessary, keep in mind that you have the power to delete comments made on your business's page.
Author: Chris Martin is a freelance writer who writes for numerous websites and is also a ghostwriter for several blogs. In addition, he is an accomplished voice actor and an experienced sportscaster. Martin has also worked as a radio DJ, a traffic reporter, and a public address announcer for sporting events.
Photo credits: Sean MacEntee, IvanWalsh.com.