The Advisor Websites' team recently launched a totally custom website for Vela Welath Management Inc., a boutique firm comprised of individuals who are passionate and driven to help you achieve your vision for financial success. The branding and design was done by Free Agency Creative and our team took care of the web development and incorporating the look and feel on our technology platform.
Please take a couple of minutes to browse Vela's website: www.velawealth.com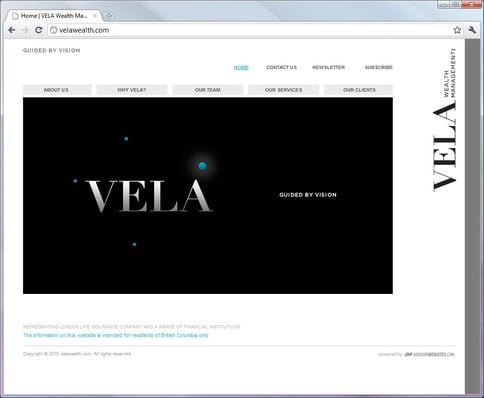 I thought it would be interesting to interview Jason Boudreau, Vela's Director, and get his feedback on his brand new website:
What was the idea behind your re-branding and why you chose our services?
When I first started with Freedom 55 back in 2007, I made the decision that when the timing was right, I was going to self-brand my practice. After a long creative branding process (with Free Agency Creative from Oct. 2009-April 2010) Vela Wealth Management Inc. was born. I know who I want to market myself and my firm to and how I want to do it. Being self-branded allows me full autonomy in these areas. Also, I am a creative person and want to make sure that the brand that everyone associates with us is reflective of not only the services we provide, but the people we are and the values we live and do business by.
How was the process of transferring your branding on our platform?
The process was a lot easier than I had expected. Once the communication and revisions were worked out between my branding firm and the developers, and the bugs had been worked out with respect to the different web browsers, the result was a beautiful website that we are all very proud of.
How well this site has been received by your clients so far?
The site has been received VERY well. It brings together all of the pieces of our brand into one concise format and really allows those who visit to site to get a true feeling of not only the work we do for our clients, but also who the people are that make it all happen.
| | |
| --- | --- |
| | |
| Biography page | Services page |