Our blogger this week is Roger Wohlner.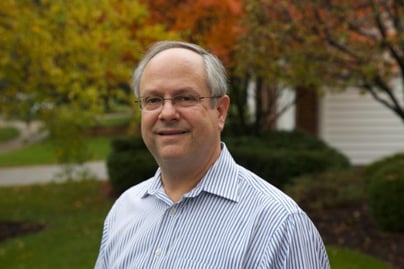 Roger Wohlner is a freelance financial writer, an independent financial advisor and the publisher of leading finance blog The Chicago Financial Planner. Roger uses his experience to communicate complex financial concepts to write for a number of financial sites, financial services firms, and financial advisors both as a ghostwriter and under his own byline.
Website: thechicagofinancialplanner.com Twitter: @rwohlner
I got to chat with Roger to hear his insights on how he got started blogging, the value it has had to his career, and his tips to other financial advisors thinking of starting their own blog.
How long have you worked in the financial services industry?
I've been in the industry since 1998, almost twenty years!
When did you first start blogging?
I started blogging in 2009, the same year that I became active on Twitter and LinkedIn. I had a client introduce me to LinkedIn and then I eventually found Twitter. A few months later I discovered WordPress and I just started writing!
Why did you start blogging?
I've always enjoyed writing; it's something that has come naturally to me since high school. I didn't realize that I had a talent for writing at the time, if I knew I would've studied harder in school!
I saw some of my contacts on Twitter and LinkedIn doing blogs and it seemed like a good idea. But I didn't really have a purpose or intent at the time I started writing.

Over the next couple of years I became a contributor to the Equifax Finance Blog and to US News writing about personal finance and investing topics. This was great for exposure and really got my name out there.
How has blogging impacted your professional career?
At first it became a way to build name recognition. Over time it has led to actual leads. A comment that resonated from several prospects when we spoke on the phone was "…I feel like I already know you based on reading your blog."
Thankfully the writing business has flourished and I'm now on track to make a very significant portion of my income from writing.
My first serious paid gig was for Investopedia where I now have some 270 articles published. I also write for Investor Junkie, another finance blog and Go Banking Rates. I've had two advisor profiles published by Morningstar Magazine and just submitted my third.
Most of my writing these days is ghost writing for financial services firms and other financial advisors. In the latter case I try to use my experience as an advisor to help these busy advisors do the writing that they often don't have the time to do. The goal is always to help amplify the advisor's voice to their target audience, whether it's to existing clients or new prospects.

Over time blogging and writing led me to the decision in mid-2015 to focus my efforts on building the professional freelance financial writing service side of my business. I scaled back my practice and now work with a few long-tenured, larger clients. I referred some smaller clients to other advisors and made sure they were taken care of. Last year I did a few one-time financial reviews for some new clients but I'm not looking to add new business unless it is a perfect fit both ways.
I'm also looking at options for my site such as building some sort of membership feature and possibly designing some courses. I'm looking for ways to generate passive income and help my core readers, Baby Boomers, who are in or approaching retirement.
How often do you post a blog?
Over the past year, I've been focusing on revising and republishing older posts on my blog. For example, I did one back in 2009 called Why Should I Care if My Financial Advisor is a Fiduciary? I revised it last year in April after the final DOL Fiduciary rules were announced.

Initially, I tried to add a new post every week to ten days.
What is the best ways for coming up with blog topics?
In my case it's been a combination of current events and experiences I've had serving the needs of clients, both individuals and retirement plan sponsors. If you've solved a problem or dealt with an issue for a client it's probably a good topic.
In the case of current events, how does this impact your reader? For example, with the DOL Fiduciary rules what is the potential impact on the reader? What should they look for? What questions should they ask their broker who now tells them they are working in their best interests? (Hint: what were you doing in the past?)

How do you find the time to be a financial advisor and a blogger?
The better question in today's environment is: how does a financial advisor, who wants to grow their business and get their message out, not make time for blogging? If writing isn't your thing, hire help.

Whether that is a freelance writer or having someone on your staff focus on blogs, clients and prospects want to hear your voice. Content marketing is here to stay; if you aren't doing anything in this space you are missing opportunities to grow your business.
Did you make any mistakes when you first started blogging?
Read some of the older posts on my blog and you will have your answer. As a writer, I cringe when I read some of them. I now try to go back and find evergreen topics, update them, and then republish them.
The biggest mistake was trying to be too technical and forgetting that people read finance blogs to find answers to their problems. Make it about them, not about you.

If you are writing for individuals who are trying to figure out how to accumulate money for retirement, tell them why they need to do this and how to go about doing it. Keep it simple, interesting and engaging. If your audience is retirement plan sponsors or other financial advisors your approach might be a little different.
What is the best way to promote your blog?
I've had success via Twitter and LinkedIn. Despite this success on social media, nothing beats Google. As I've published more posts I've built up a record on search engines and the vast majority of my traffic comes from Google.
If you could give your younger blogger-self one piece of advice, what would it be?
Be yourself and let your unique personality come through!
What KPI do you look at to measure success?
Honestly, I don't pay as much attention to this as I should. I mostly look at my page views and sources of traffic on Google Analytics.
How long did it take you to start seeing positive results from blogging?
It was relatively quick, definitely within the first year!