Creating a Google Adwords campaign can be an exercise in deep, hypoxic frustration for first-time users and experienced marketers alike. When you open the interface, you're faced with a handful of options from the genie-like Google assistant – never mind that these options are almost all optimized to get you to spend like a drunken sailor during fleet week.
As a business owner, the only option in successful digital marketing is to stick and move. Get a quick win, do something worthwhile to further your business, and get on to the next task. There's no quicker path to getting in front of your target audience online than pay-per-click advertising. It's a digital marketing fundamental.

"Success is neither magical nor mysterious. Success is the natural consequence of consistently applying the basic fundamentals." –Jim Rohn
Well, here's the good news: Creating an Adwords campaign can be done quickly if you know where to look in the confusing menu structure and what to avoid. Navigate the seas of the greatest PPC platform alongside me for a few minutes and we'll deftly bypass some of the more frustrating eddies and whirlpools of inefficient marketing toward something that works for you.
Enter your billing information
Get to the point, eh? Why put in the payment information before anything else? By this time, you've arrived at an important step in the setup process, payment information, Google will give you a notification letting you know they can't run your campaign until this step is done. By getting this part out of the way first, you'll minimize hassle and save time.
Figure out who you're going to target
I like to start with zip codes first. Why not a larger group of people first like county or city? The most important reason is that you can find a smorgasbord of demographic information freely available on the world wide web that will help you narrow your audience down to the appropriate level, bringing information like household income, age, pets, population density to bear on your online ads.
You should carefully consider whether the individuals in your target area fit your ideal client profile. Selling financial services to urban millennials? You could spend a colossal amount of money by typing a city name into Adwords only to learn that Google auto-expanded your city to include a bunch of rural outlying areas where your target customer just doesn't live. Zip code targeting guards against this potentially expensive travesty.
Create your expanded text ads (ETAs)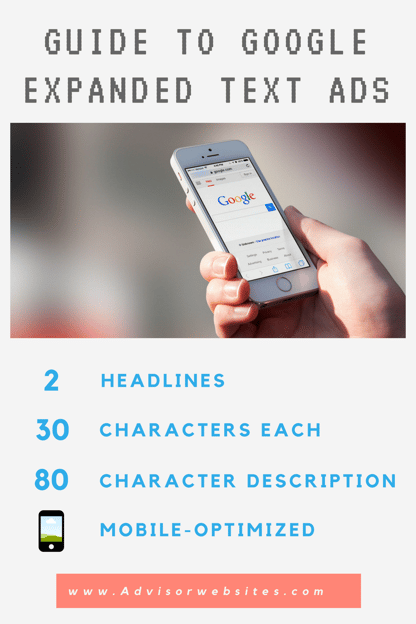 These new-fangled text ads from Google give you two headlines instead of one and an 80-character description. There are a few strange formatting elements to the ETAs that you should be aware of too which I won't go into here. Just know, to hedge against most of these issues, put your main punchy copy into the first headline. If you're used to the old version, you'll now have a little more space to write, which is a good thing.
When writing your ads, start with two ads per ad group, which will get you up and running in the shortest amount of time but will also allow for you to quickly see which ad is performing well and adjust smartly keep your campaigns performing at a high level.
Some tips to ad writing in Google Adwords include being specific in your ad copy with facts and figures, appealing to your prospects' emotional side and considering the "What's in it For Me (WIIFM) elements in your product or service to make sure your ads strike the right chord.
Choose Financial Advisor-Friendly Keywords
Google includes a comprehensive keyword planning tool in the Adwords platform. You can look for very specific terms or more general words and add them directly to your ad groups inside of Adwords. Quick tip: instead of adding 300-400 of your best keyword ideas, get granular and only choose 50-100 keywords max that align with your advisory services. You can always add more later but it's kind of a pain to delete underperforming words over time with such a big list weighing down your account. Launch Google Keyword Planner.
Want to get a more effective keyword list going? Try using a keyword planning tool from SEM Rush or SpyFu, which will allow you to estimate search traffic and measure competition and cost-per-click.

Cut a Key Money Waster!
If you're like me, you hate throwing money away to a bad cause. Frivolous spending is great when on a tropical vacation, when it comes to your digital marketing spend, better to ensure your money is working efficiently 24/7.
The biggest money waster other than targeting the wrong location comes down to the keyword level, which are designed to match a phrase your potential customer is typing in to Google Adwords. Many business owners stick a whetted finger into the air, create their target keyword list and call it a day.
What happens over time is that you will log into your Adwords account one day, run a search term report and see that the search terms people typed in are much different than the words you initially set out to target.
To combat this, set your keyword match types appropriately. Instead of using Broad Match keywords in the beginning, start with Broad Match Modifier keywords. Instead of typing in Financial Advisor Seattle, add a plus sign in front of each word like this: +financial +advisor +Seattle This simple change will reduce off-topic searches and ultimately save money. Learn more about keyword match types.
Once your keywords are entered, you're ready to launch your shiny, new Google Adwords campaign. Commence raking in leads and customers. Want to support a new initiative or service offering? You'll have the chops to support that with paid search. Congrats!