Getting noticed when marketing your services online can be a challenge for any industry, including the financial sector. With over 218,000 personal financial advisors in the U.S. and more than 250,000 in Canada it's easy to get lost in the shuffle, especially if you don't have a content marketing strategy in place. Quite literally, there are thousands of financial advisors just like you who are vying for that high ranking on Google in a world where location and proximity no longer matter.
Google ranks a website based on the content available on the site itself. This content can vary widely with each medium having its own drawcard. What type of content should you be including in your marketing strategy that will get you noticed online and generate new leads?
We've pulled together a list of the best content marketing examples for financial advisors. Let's first look into creating blog content.
Blogs
There have been discussions around whether a blog is still a useful and relevant form of content, however, we argue that writing blogs is important for anyone with an online presence. By consistently posting blogs on your website, you're not only able to educate your clients about your spectrum of expertise, but it will help with search engine optimization (SEO) of your website.
SEO is the practice of creating valuable and relevant content, with targeted keywords in order to improve your website ranking on Google's search engine results pages (SERPs). It's important to always consider who your core demographic is when creating blogs to ensure that your content is informative and engaging.
Want to learn more about SEO? Check out this article!
For example, Rebecca Mennen tailors her blog articles to her core demographic. She provides information and education in her blogs that is aligned with her mission to 'address economic inequality by providing financial education, resources, tools and services that cater to women who desire to become empowered around money'.
By creating a monthly content plan for her audience, the website has an increased opportunity to be pulled for certain keywords searched for in google and climb up google search rankings.
But does the act of just producing blogs automatically mean you're going to attract more users?
No.
In order to experience success with blogging, it's important to keep content current, as well as updated. Google will automatically start to file old content further down the search engine result pages (SERPs) so it's always a good idea to refresh old articles.
Blogs not only need to be relevant, but they also need to be interesting. The longer users stay and engage with your article, the more likely you will receive a better ranking, as this indicates that your information is valuable.
Another added benefit of blogging and SEO is the ability to link to other webpages. You can reference trustworthy sources in your articles, and build relationships to have your articles linked to from others.
What other content can financial advisors use?
Worksheets
Before any financial advice can be administered, you often put pen to paper (or fingers to a keyboard) to outline the parameters of your client's goals. These can be investment, retirement, or savings, but at the end of the day, you need to provide them with a defined plan.
Worksheets are a part of any financial advisor's arsenal, but offering them as a freebie can help attract clients. Worksheets can vary wildly depending on who your client demographic is. For example, Optimal Divorce Outcomes provide a variety of worksheets such as, 'What Are My Priorities?', 'Getting Organized' and more.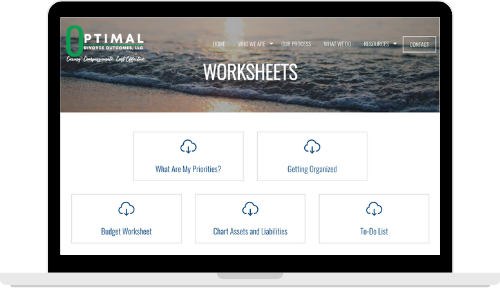 These worksheets support potential clients in problem-solving some of their pain points while also building trust around you and your services. In terms of Optimal Divorce Outcomes, they've published 5 different worksheets that help prospects and clients through the complicated and emotional process of divorce.
By incentivizing users to log onto your website for valuable worksheets, they are also educated about your business and ethos, building trust even before that first conversation.
This is just another great way content marketing provides value.
Gated Content
While it's necessary to encourage potential clients to explore your website, you'll also want to implement some form of lead generation while they're online.
Gated content requires the user to submit information to access the desired asset. In the previous example, the provided worksheets could be gated and require some form of information exchange in order to access them. This information depends on your needs, but most forms include the user's name and email address.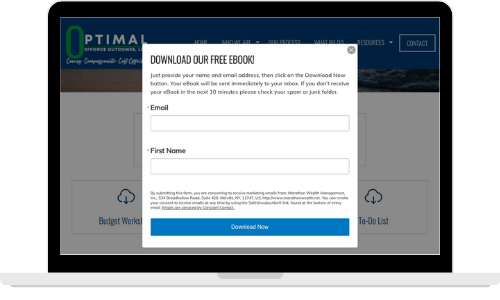 This is inbound marketing content, as the audience comes to you for information. There are a number of strategies to experiment with when providing gated content. These include eBooks, worksheets, webinars, newsletters, and demos to services.
Remember to keep the forms to your gated content simple. If a prospect feels overwhelmed by the amount of information they have to provide, it's likely they will leave your website in search of their solutions elsewhere.
The next content example we are going to suggest is interactive.
Financial Calculators
In the financial sector, the bottom line for many clients is how much can they invest, save or spend. With many factors contributing to and affecting these figures, providing a financial calculator to your prospects can help get them started or keep them coming back to your website.
Access to these online financial calculators can be guarded as a gated content strategy (as mentioned above) or open for all to use. Cadillac Wealth Advisors has gone with the latter and provided their prospects and clients with access to an expansive resource library of financial calculators.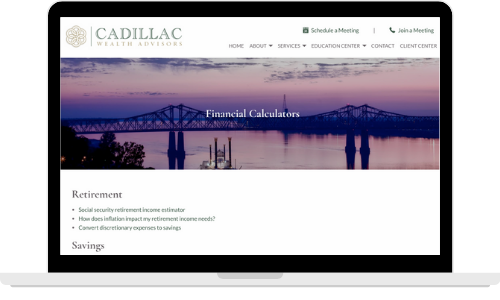 Providing this type of content also benefits your website SEO the same way that blogs can, as others will more readily provide backlinks (other businesses linking to your website) to such a valuable resource. It also helps to reduce the bounce rate on your website which may improve your website ranking on Google.
The last bit of content that you can utilize is the biggest one of all.
Video
According to Zenith's Online Video Forecasts, the average person spent 100 minutes each day watching online videos in 2021, which means that you have more opportunities than ever to get in front of your target audience by publishing video content.
By creating videos, you can present your wealth of knowledge in an exciting variety of executions. This can include simple introductions, webinar recordings, customer testimonials, animated videos, and recorded interviews. It's easy and engaging for your ideal client to digest and beneficial for those who don't have the time or energy to read through a blog article or download a worksheet.
Take UMAFS for example, they provide a variety of high quality videos that educate and inform their ideal client.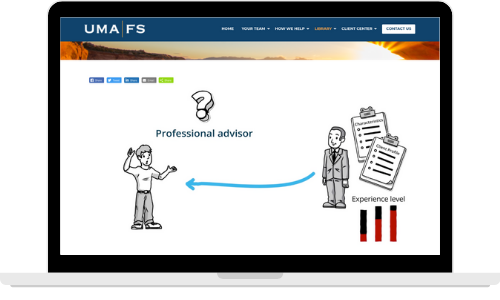 Keep in mind, videos can be expensive and time-consuming to produce depending on the scale of the final product you want. That's why we recommend starting simple and experimenting with shorter video lengths (15-30 seconds) until you have a better understanding of what your target audience prefers.
Which Content Marketing Strategy Is Best For You?
Before you create any form of content it's necessary to outline your target audience. You cannot create content if you don't know who you are creating it for. For example, if you're aiming for a younger, more tech-savvy demographic, maybe you will experiment with video first.
Take into consideration your time and resources. If you're planning on producing this content by yourself, you will need to consider how much time you have available for research, creation, publishing, promotion and more.
Be sure to clearly outline what your optimal outcomes are from creating and publishing various forms of content marketing pieces and then work towards those goals.
Remember, as you experiment with different forms of content marketing you will need to regularly review your data. Once you've determined which strategy is most successful for attaining your goals, that's where you will continue to direct your time, energy and resources.