Humans are hard-wired for making snap judgments. The truth is, people are judging your financial advisor website design within milliseconds of landing on the homepage. In fact:
2.6 seconds - the time it takes for a user's eyes to find the area that most influences their first impression.1


5.59 seconds - the average time spent looking at written content on a website.1


5.94 seconds - the average time spent looking at a website's main image link.1
Here's another way to look at it; Would you turn up to a meeting with a prospective client wearing shorts and flip-flops?

You could be the best financial advisor in the world, but if you don't present yourself correctly the first time a prospect makes interaction with your business, you may never get a second chance.

A well-designed website can make or break a financial services business. Design that displays professionalism and your target niche is key to capturing more clients because it indicates you're the best advisor for their needs and are willing to invest in design elements that communicate credibility.
#1 Clear, Upfront Value Proposition


"Price is what you pay. Value is what you get." - Warren Buffet
What do you do? Who do you do it for? Why are you the best choice?

These are the questions that, when answered succinctly, make up your value proposition. Your value proposition will then determine whether prospects will decide to stick around or hit the back button on their browser.

Take this example from one of our client's websites - their value is clearly communicated in just a few short sentences on the home page, concisely describing what prospects can expect to gain when using their services upfront. It's clear Bridgeway's niche and target audience is people who've suffered injuries from an accident and are looking for legal funding assistance.

Having your value proposition and clear messaging tailored to your target audience also helps your website function as a magnet for leads through Search Engine Optimization. We'll cover more of this in #6!
#2 User-Friendly: Clean & Logical
The best websites are designed with both aesthetics and ease of use in mind. Think of Apple here - their timeless, sleek designs are consistently met with a user-friendly interface so simple a child could maneuver around.

Your clients face enough complexity in their finances as it is - keep their journey on your website as simple as it gets to cut down on the number of decisions they need to make.

Here's an example of a simple navigation bar that helps people to quickly find what they need in as a few clicks as possible:

https://www.rjfinancialpartners.com/
#3 Call-To-Action (CTA): Make It Easy To Get In Touch
You've done everything you can to make your website as user-friendly and intuitive as possible, and you've got content that educates and nurtures your leads. Once they trust you enough to give them financial advice for their hard-earned money, you need to tell them what to do next.

This is where the use of a Call-To-Action comes in. A CTA encourages your customer to take a specific action and serves as the final piece of the puzzle to convert website visitors into clients. They usually come in the form of clickable buttons or links in eye-catching colours that tell your prospect to "CLICK HERE!".

Placing clear CTAs throughout your website will make it easy for your users to contact you along different points of their buying journey. If you want to read more about what makes a great CTA, check out this blog "Lead Generation for Financial Advisors: Using Call To Actions on your Website"

Here's an example of clear CTAs from our very own homepage!
Make your CTA buttons stand out with contrasting colors
#4 Deliver Value First With Client-Focused Content
Clients rarely care for your financial services unless they believe you have the ability to help them - meaning their specific needs. It's less about boasting what you can do and more about showcasing how you're the best advisor for their individual needs and situation.

Delivering valuable content that addresses your target audience's needs is what takes a website from just beautiful to highly efficient in converting leads into new business. By tailoring your content to your prospect's needs you're building your inbound marketing strategy, which builds trust and helps draw your ideal customer to your website and business.

This is an opportunity to display your thought leadership - you can build credibility and trust by educating your prospects through any medium you communicate on, be it financial blogs, newsletters, podcasts, and more.

No matter what medium you choose (a variety of formats is best practice) think of your website as the central hub for all your digital marketing. All content you created should be hosted or linked back to your website.


Did You Know? Advisor Websites Content Library equips you with ready-to-use articles, videos, and images for your content marketing strategy. Easily customize the articles in your own voice and revise to target your ideal client base before publishing.
Schedule a demo to see it in action.
#5 Create A Lead Magnet

Example of a lead magnet
Advice from blog articles should be the only thing that's 'free' on your website.
Templates, ebooks, and mini-courses need to be exchanged for the price of a name and email address. These are known as 'lead magnets' and are considered your best content. They should only be accessed once someone has signed up for your newsletter and given you their contact info.
No matter which new platform pops up, the fact remains: email is still king when it comes to the highest conversion rates. 2
Did you know your email automation can be fully integrated with your website and easy to launch? Advisors are using Campaigns to nurture their website visitors into clients.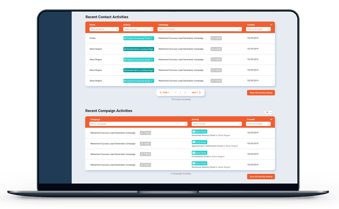 A lead magnet can help convert by starting a relationship and getting the visitor more invested in your financial advice.
Nurturing and following up with your leads is crucial to landing clients for financial advisory services. Despite this, many people in the industry fail to do so. It doesn't have to be a complicated process. You could start by sending emails to your list about:
What you're working on/What's new at your firm

Recent successes

Most frequently asked questions you receive

Industry updates
#6 SEO-friendly
If finding your website is like finding a needle in a haystack, then it doesn't matter how awesome it is. This is why Search Engine Optimization is a critical element in your website design.
SEO best practices are always changing, the best way to stay ahead of it all is through constant monitoring and making changes as necessary within your site's content in order for optimization results to be met with success.
Here are some things to take note of when building a search engine optimized website:
Make navigation easy

Pick a mobile responsive template

Ensure fast site speed

Avoid heavy media files
1 https://cxl.com/blog/10-useful-findings-about-how-people-view-websites/
2 https://marketinginsidergroup.com/content-marketing/email-marketing-conversion-rate-comparison/
---
WHO ARE WE?
At Advisor Websites we help financial advisors grow their business and enhance their digital marketing strategies with their own personalized website. Our platform offers a selection of effective and proven frameworks that are personalized to reflect your business and brand.