There's no denying it... online video is one of the most persuasive and compelling types of content these days. At least 85% of viewers report they are more likely to purchase a product or service after watching a video and just by having video on your advisor website, it's 50x more likely to show up on the first page of Google's search results.
On that note, Advisor Websites is thrilled to announce that we'll be presenting a brand new, action-packed webinar with our friend and trusted financial technology expert, Bill Winterberg!!
Join us as we present a comprehensive and simplified explanation designed to help you begin creating and sharing video content online.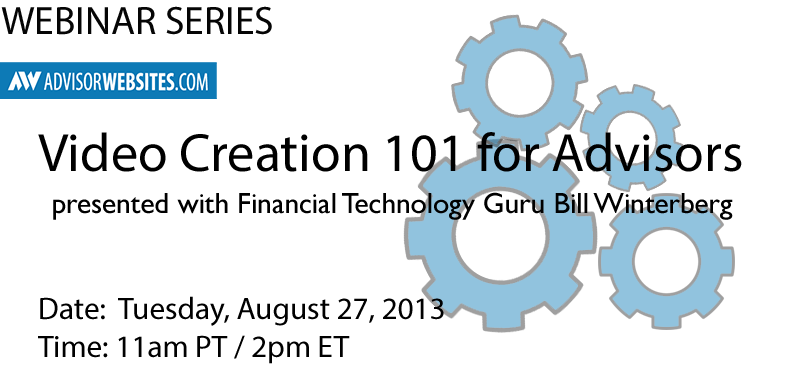 Take your web strategy to the next level by incorporating video on your website. It's not as difficult as it seems... join the webinar and we'll show you exactly what you (yes, you - production crew not required!) can do to start connecting with your audience online with video content!
We are thrilled to have an opportunity to present this webinar with THE financial technology expert, Bill Winterberg.
Bill is known industry-wide for his expertise in the latest financial tech world - he performs regular reviews of up-and-coming tech trends, new tools and platforms. Bill also writes for the financial planning community as a technology contributor to Journal of Financial Planning and Morningstar Advisor. Learn more about Bill Winterberg here.
Join us as we share our fresh take on video content for advisors. We'll present step by step instructions on how to implement ideas to put video to work on your website today!
Join this webinar and learn:
Why video is important to your web strategy
5 ideas you can put to work today

How to embed video on your website
Generating leads through video content
Creating social buzz around your video content
Video blogging
Tracking and measuring video viewership and efforts
Want to join our webinar? We'd love to have you. Go ahead and RSVP - we'll save you a seat!