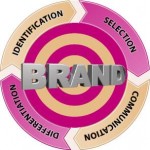 Branding is one of the most common marketing concepts, but also one of the most misunderstood. Logos and communication extracts are the most visible part of it, but they only are the tip of the iceberg.
All in all, why should you care? Because your brand is an asset... which brings money!
To understand how you can actually grow your business with your brand, let's get back to the basics…
WHAT IS A BRAND?
A brand is a set of associations toward a person, a product, a service or an organisation.
These associations can be shapped by your firm (thanks to communication, marketing or customer service for example) or by the outside world (reviews, experiences feedbacks).
Cut it out, a brand is like a living person, and each and every one of them are different.
What makes it stand out, is all up to you…"
Where does it come from? – The story behind the brand creation (ex : Steve Jobs and Steve Wozniak, a hippie and a tech nerd, created Apple in April 1st 1976 in Jobs parents' garage), its founder vision (ex : bringing personal computers to all household), and values (ex : simplicity and innovation).
Where does it go ? – The problem your brand want to solve, the way you want to solve it (ex : leveraging the power of a computer with the simplest user operating system as possible) and your mission (ex : bring knowledge to all people).
Who is he/she? – Its « voice », tone, attitude and what makes its personality (ex : Apple « Think Different » campaign and its Ridley Scott « 1984 » commercial set the firm as irreverent, free thinking and human against the all-dominating and robotic, impersonal IBM).
Besides these 3 simple personality traits, a successful brand has to be relevant (whether the firm's offering actually matches the client's need), clear ( ex : FEDEX – "When it absolutely, positively has to be there overnight" – a clear, plain and straightforward presentation of the firm's main benefit) and consistent (be sure to maintain a certain level of quality, not only in your offerings, but in all aspects of the client's relation with your firm. Ex : customer service, packaging, pricing etc).
Now that we have clarified the main aspects of branding, one simple question remains…
WHY SHOULD YOU CARE?
Branding is often seen as a concern for big companies. According to the market research agency Millward Brown, Google is now the most valued brand with $158.8bn, followed by Apple ($147.9bn) and Microsoft ($107.5bn).
But a lot of business owners, independant Financial Advisors, Wealth Managers, Banks and other Financial Services Providers are far from being as big as these world players. Is that a reason not to focus on developing your brand? Clearly, the answer is no.
Living in a highly competitive environment, you want to differentiate yourself from your competitors. Within a competition group with similar or quasi similar offerings solving a particular need, you want to point out how different you are and, most of all, why you are the best for the job! In this case, differentiation will not come from your products and services offerings, but from other aspects of your business : its customer care, its advisers' expertise and personalities, its objectives and vision.
Successful web entrepreneurs are more likely to work with Private Banks or Wealth Managers who understand their business environment, know its specificities and help similar clients profile for the next venture than a Financial Service Provider with similar offerings and impersonal relations with all their clients."
YOUR BRAND IS YOUR LOYALTY PROGRAM
The more chances you give for your clients to connect with your brand, the more attached they will be, the harder it is to go away; just like with a person.
Think about it, why do you always buy the same sport's shoe brand when you can have it cheaper and of a similar quality elsewhere? Simply put, because you like the brand! You like what it evokes and how you represent yourself with it.
Your client's attachment and engagement to your brand is one of the main reasons why they will not go for the competition, no matter the price.
STRONGER BRAND = PREMIUM PRICE
Yes, you read properly! Charge a premium.
Why so? Because not only do you sell a Financial Service or a solution for a HNWI to increase its wealth or protect his assets, each of your competitors does it as well...
You sell an experience. That experience goes way beyond your ability to perform your due tasks. It goes with what most of people consider pointless, and what indeed makes the whole difference, the extra details.
The way your secretary replies on the phone, your advisers' reaction toward a sudden change in the law, your firm's dedication to do charity or to help small entrepreneurs to develop, the simple « happy birthday » call you make to your clients… all of these are very simple examples of what can make your firm's experience, and what makes the difference.
Remember why Apple products are so succesful? Because more than anybody else, Steve Jobs made details unfortgettable. Make your firm unfortgettable."
This post was authored by Samuel Mignot and originally appeared here on The Finance Marketing Blog.