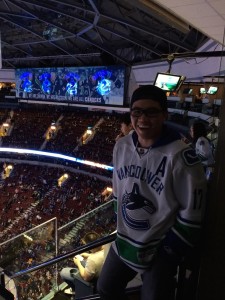 Name: Chris Li
Nickname: I've been called 'that guy who emails us a lot' a few times before!
Position: Product Manager
Why do you like working at Advisor Websites?
I'm always pushed to new challenges and learning something new everyday.
What do you do for fun?
Sports, sports, sports. Watching football, Canucks, Whitecaps... playing volleyball, ice hockey...
What's your favourite movie?
The Nightmare Before Christmas.
Anything interesting on your desk at work?
A mini Lego Batmobile.
Hardest 'Would You Rather' you've had to answer:
Would you rather kick a ball with a toothpick under your toenail or slap a golf tee into your belly button?
Any secret talent?
I play the drums and guitar!
Cartoon you watch as an adult, and why:
The Simpsons. What do you mean why? For education...
Favourite food stuffs:
Chicken wings.
Top tip for advisors:
First and second impressions are crucial; if you've wowed a potential client, they'll likely go and look you up before making a decision. When they do, you want your website to wow them just as much as you did.