Stay ahead of the times, not behind.
Tracking activities and operations can be a challenge for many financial advisors. Clients are continuously being placed into the customer funnel where there is an abundance of data that needs to be properly and accurately tracked and maintained.
Advisors have to push through to ensure that they can be heard amongst all of the available information out there. Firms are looking to solve the ongoing issue of collecting client data. And well, guess what? The day and age where advisors needed to manually input client data is just about coming to an end. Instead, we need to realize that our time is precious. It's time we start optimizing on it and honing in on our available resources. With that being said, PreciseFP may be your answer to solving these key issues.
Now, queue the big questions.
Who should you reach out to generate more leads?
What offers can you provide that creates client gratification?
When is the best time to post your forms online?
Where should these forms be accessible?
Why aren't you getting the results you are looking for?
And lastly, the big one...
6. How can you educate clients and prospects in the most effective manner?
What is PreciseFP?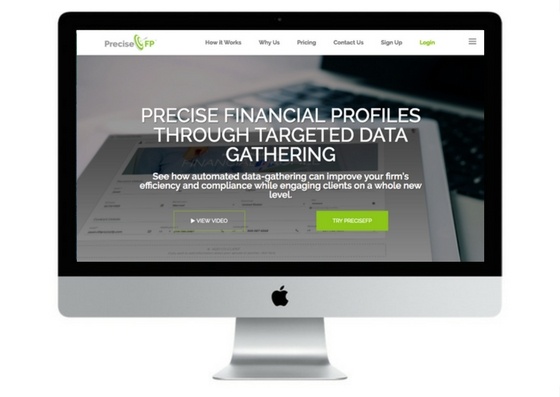 PreciseFP and their passion with a purpose.
Now this is where PreciseFP can come into play for your company! According to Redtail Technology, "PreciseFP is the leading client profile builder and forms tool used by financial advisors." They are a team of financial and technology professionals that help achieve greater levels of compliance. Their platform is based on a central hub for client data-gathering and profile building where clients and prospects can become immediately engaged through their integrated software system. Often times, achieving levels of compliance can be tricky in order to pass regulatory scrutiny. PreciseFP is continuously motivated by their passion for improving customer data-gathering and efficiency. What they offer is a solution to neatly organize content in a timeline that engages clients on a whole new level. And what's really neat is that they focus on deep client engagement while ensuring they are meeting clients' wants, needs, and desires. What they strive to uphold is the ability to build a safe and secure data storage account for each and every client.
Why You Need It?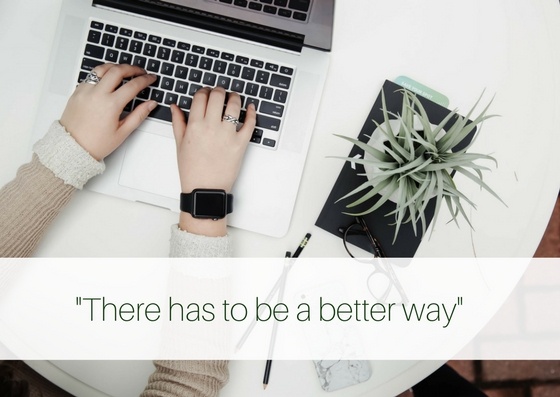 Simplicity, Recognizability, and Efficiency.
So now you may be asking yourself, "why does my company needs this?" And the answer PreciseFP states in their motto is quite simple - because "there has to be a better way." The company recognizes that most financial advisory firms are wanting to increase their lead-to-client conversion rate. Therefore, their platform is masterfully built to gather, process and generate the information needed to keep client data up-to-date. The tools they offer can enable your company to stay hungry, and competitive. Many financial planners have said the platforms that PreciseFP offer are advantageous as they save them both time and money.
What are their Features?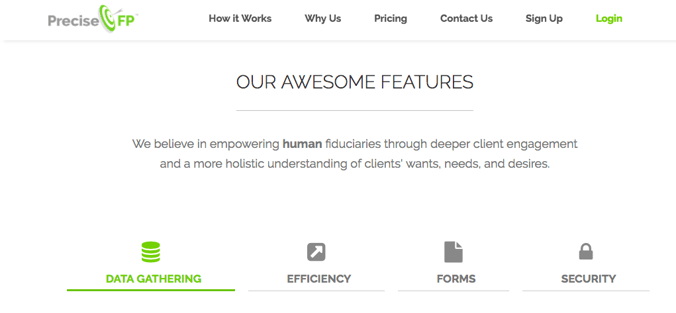 Focusing in on the fine-tuned features.
PreciseFP focuses on providing 4 key pillars for their users: data gathering, efficiency, forms and security. Now let's dive into each of them!
1. Data Gathering
As a data-gathering hubspace, Precise FP ensures the ability to seamlessly upload and store documents. This allows a user-friendly interface for clients who are seeking a simple way to attach supporting documents. Furthermore, if information needs to be continuously edited or changed, this data can also be easily tracked through a revision history section. Therefore, these customizable forms are entirely built to speak to your client's changing and ever growing needs.
2. Efficiency
The second feature that they center around is efficiency. This allows their client's forms to be easily organized and accessible. The site also offers unique publishing features to forms that fine-tune lead generation opportunities, are pre-filled, and track real-time progress tracking.
3. Forms
Another feature is a forms library. The forms included are customizable, fully integrated and engaging for prospective clients. Here, you can create your own professional forms that are built for financial advisors by financial advisors. The forms can also be tailored to use across various platforms such as a mobile phone, tablet or desktop.
4. Security
Lastly, and most importantly is their security feature. This is done through data encryption, customizable encryption layers for specific fields, two factor authentication and full activity tracking.
How to Implement to Your Website?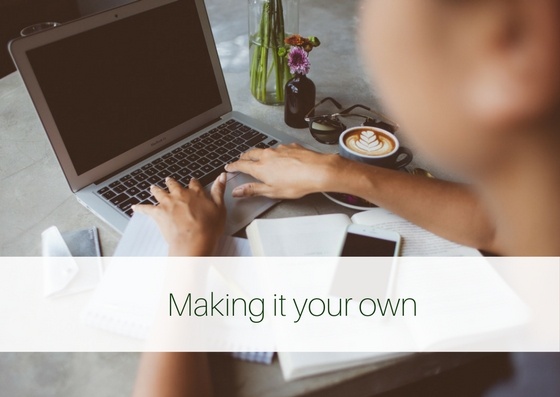 Making it your own.
You now may be wondering how to implement PreciseFP in your website. When it comes to every tool, it's important to take into account the process of integration within your firm's practices.
Here are 6 simple steps for you to follow:
Select a client or prospect form
Send a form to your client for them to fill
Receive and review the completed form
Share client data with other applications
Circle back for a hassle-free yearly review
And what's even more exciting is that forms can even include videos, images and/or custom text. So whether you are looking to establish precise financial profiles or improving your data-gathering opportunities, it may be the time to serve your clients in the most effective manner with PreciseFP.
For more information, please be sure to check out our March Webinar where we partnered with Courtney Peek on the Importance of Prospecting for Your Business with @PreciseFP:
Advisor Websites looks forward to providing you with more services that can help your website thrive and continue to connect with your clients. Be sure to book a demo with one of our advisors today to learn more about how to build your website with us!