No matter how long you've been a financial advisor, you probably know that communicating with clients and prospects is key to maintaining and growing your business. Constant communication means you'll stay top-of-mind for those considering using your services and you'll remain a trusted advisor for your current clients.
Despite being an important part of your business, communicating with clients and prospects on a regular basis can be time-consuming and difficult to keep track of. Email newsletters are a tool you can use to easily reach out to your clients and prospects without spending too much time or effort writing email after email to individuals. Even more helpful is email newsletter automation—when email sequences are automatically sent to clients and prospects after a triggering action, like filling out an interest form on your website. Here are some of the ways automated newsletters can help your financial advisor business.
Set It and Forget It
An automated financial advisor newsletter provides the benefit of not having to think about sending an email every time a new prospect reaches out to you. Nurturing new prospects with regular communication is an important part of growing your business because:
Your name and brand will be easily remembered
You'll build trust among your prospects
You'll be top-of-mind when prospects are ready to hire a financial advisor
Find out how you can get automated email newsletters that are fully integrated with your website & ready to launch! Learn more here.
With an automated email campaign, anyone who fills out a form on your website will get a series of emails at regular intervals that contain relevant and helpful content, as well as your contact information. This way, you won't have to think twice about a new prospect, and before you know it they'll be reaching out to you to inquire about your services.
Helpful Insights for Prospects
One of the biggest benefits of automated email campaigns is the ability to quickly and easily share relevant content with your prospects and clients. Knowledge-sharing is a great way to build a trusting relationship with a prospective client, and also a great way to make sure your current clients stay up-to-date on the most important information when it comes to managing their finances.
By sharing helpful insights, you're making it clear to prospects that you're here to help with whatever they may need on their financial journeys. And with automation, you won't have to spend the time seeking out helpful content to share each time a prospect expresses interest in your services.
Easily Monitor Your Campaigns
Another benefit to using automation in your email marketing strategy is having the ability to monitor each of your campaigns. You'll be able to see engagement analytics for your prospects and clients, like the open rate for emails and which links prospects clicked on within the body of the email. These insights can help you determine:
How interested they are in your services
How often they use email as an avenue of communication
What information they find most relevant
What services they're looking for
Each of these insights can be helpful in setting yourself up for success with a complete financial advisor marketing campaign.
Did you know your email automation can be fully integrated with your website and easy to launch? Advisors are using Campaigns to nurture their website visitors into clients. See how it works here.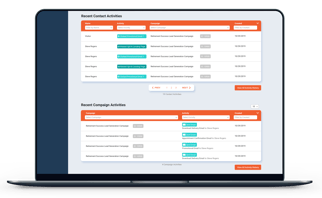 ---
WHO ARE WE?



At Advisor Websites we help financial advisors grow their business and enhance their digital marketing strategies with their own personalized website. Our platform offers a selection of effective and proven frameworks that are personalized to reflect your business and brand.