Advisor Websites would like to congratulate FundServ for winning the Wealth Professional Award for the Outstanding Service Provider of the Year. The 3rd annual Wealth Professional Awards is known for the most important night of the year for Financial Advisors in Canada. It is the biggest and the most prestigious showcase of excellence in the wealth management industry, recognizing leading organizations across 20 different award categories.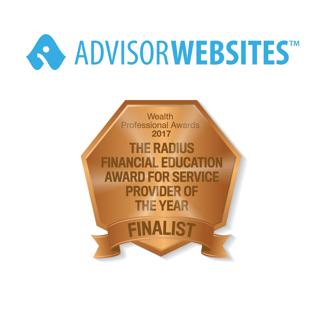 Advisor Websites was nominated as a finalist in the "Outstanding Service Provider of the Year" and we placed as the 1st Runner Up for the award. We would also like to congratulate the following companies who were also nominated this year:
Advicent
Blue ID
Broadridge Financial Services
Canadian Securities Institute
EquiSoft
Foran Financial Institute
FundServ
Iress Market Technology
Kronos Technologies
Maximizer CRM Wealth Manager
NexJ Systems Inc.
Qtrade Financial Group
Sticky Advisor
At Advisor Websites, we help financial advisors stay up-to-date in the digital landscape by providing only the best-in-class technologies complementing their businesses. Our product, Force, allows financial advisors access to tools that are no longer considered a luxury, including a lightning-fast website builder, content library with scheduling and social posting options, lead manager among many other immensely useful features.
You think it's TOO good to be true? Maybe you should check it out for yourself! Sign up for our 14-day trial now!