The New Planning Paradigm
The dynamics of the advisor-client relationship have changed dramatically in recent years. Consumers today are increasingly sophisticated about personal finance and are comfortable with technology. They are no longer impressed by book-length "financial plans" spit out from advisor-facing software. Instead, they want to be educated and engaged in the planning process…Enter Nest Egg Guru.
Nest Egg Guru is a maker of affordable, a la carte, client engagement software for financial advisor websites. The first suite of three 100% client-facing applications consists of the flagship retirement spending app along with a college savings app, and a retirement savings app. Each of these apps is designed to answer your clients' most worrisome question – "If things go badly in markets will we still be able to meet our objectives?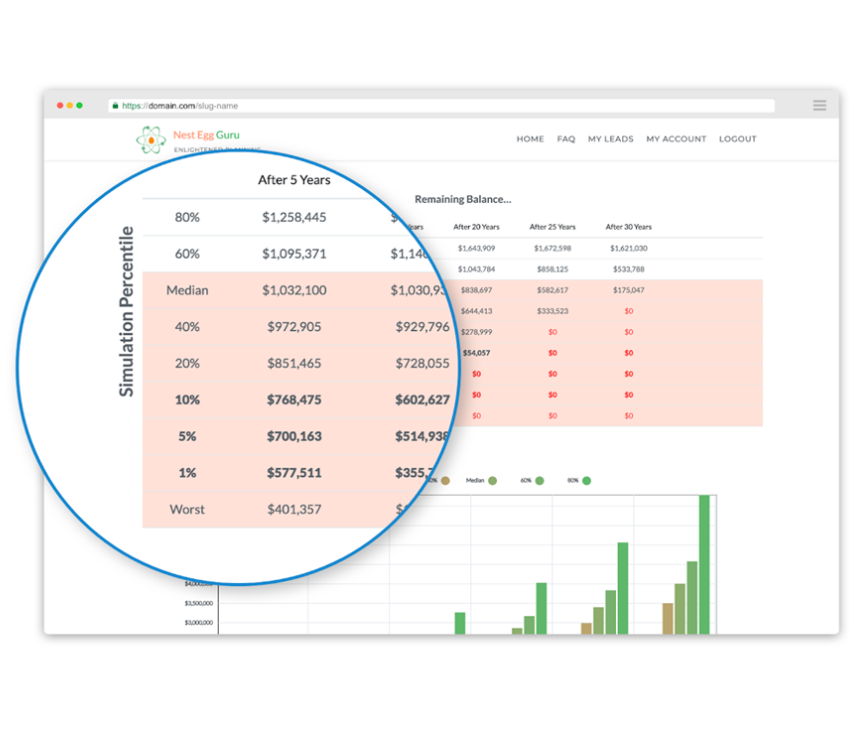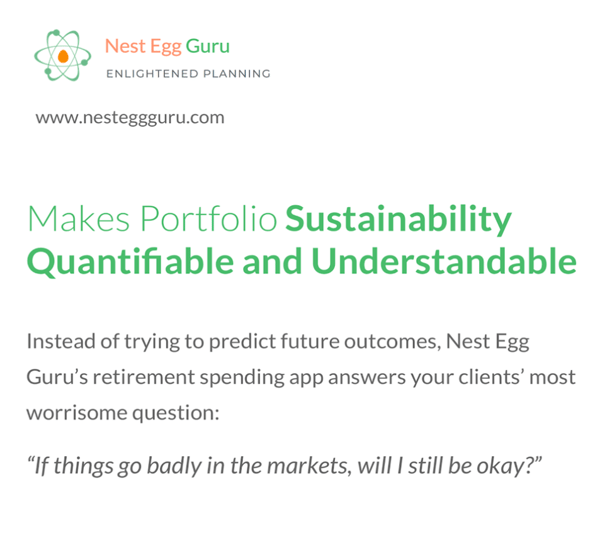 The applications pair an intuitive, user-friendly design with a powerful and unique simulation engine that makes it easy for users to test how changing different variables that are within their control may impact their results. Instead of producing a single report or printout, Nest Egg Guru's programs are designed to be run over and over again at a single session to help your clients gain an understanding of the relative impact each variable has on potential outcomes.
Here are our top 5 software features of Nest Egg Guru:
Client Friendly Input Design -

less than 1 minute to enter the input data
Unique Functionality -

each of the three apps has key features that are not found in popular Monte Carlo software
Powerful Simulation Engine

- 5,000 bootstrapping simulations in less than 5 seconds
Clear, Quantifiable Results

- with emphasis on realistic down-market ranges
Affordable Pricing

- $300 per year*
* Save $100 off first-year subscription with promo code from Advisor Websites.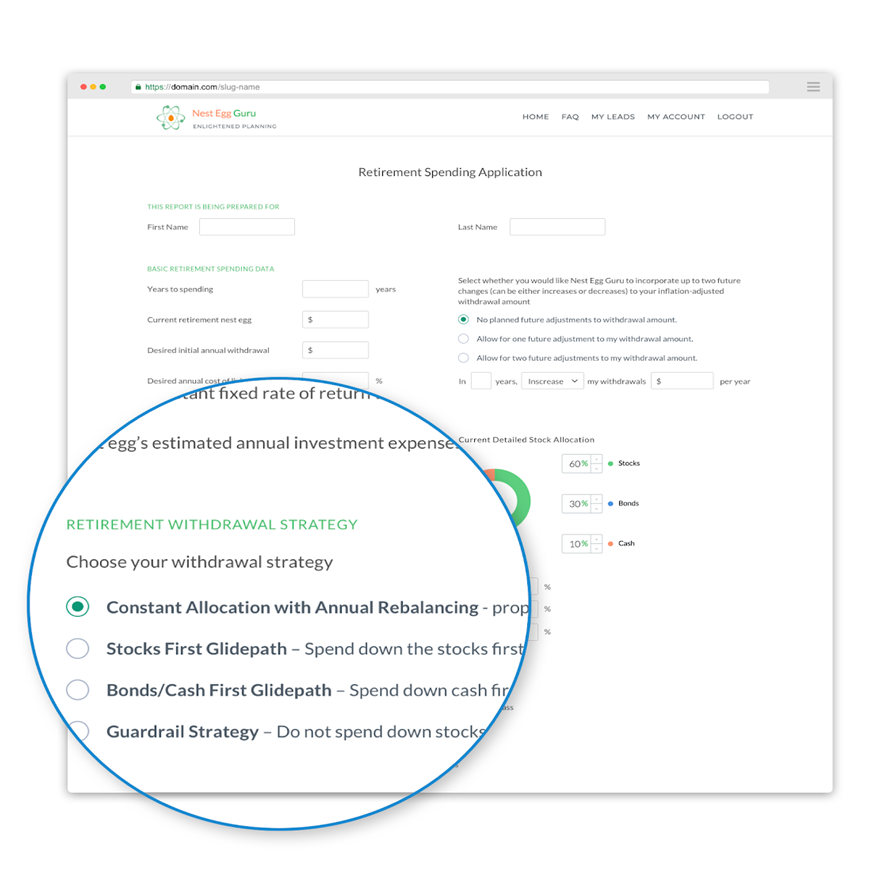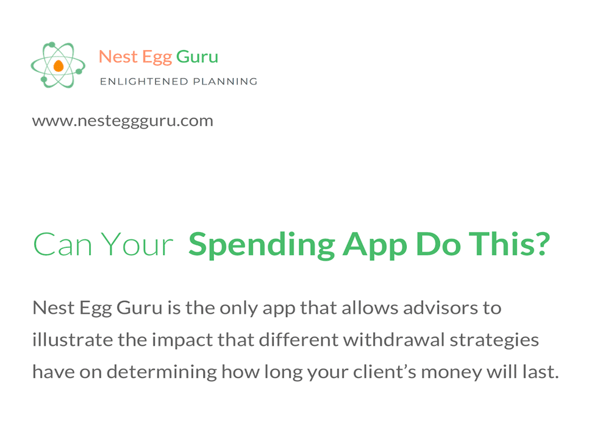 Search Engine Optimization (SEO) and Lead Generation
If you are an existing Advisor Websites subscriber, then you already know how important website design is for attracting new clients and for maintaining great client relationships. Advisor Websites produces cutting-edge, modern websites that are responsive and designed to attract and retain traffic. The more visitors who find your site and stay on it, the better your SEO will become. Calls-to-action (CTAs) for blog posts, newsletter subscriptions or booking an appointment, are all common tools that Advisor Websites encourages financial advisors to incorporate into their website designs.
Nest Egg Guru has a symbiotic relationship with Advisor Websites. Embedding Nest Egg Guru into the home pages of financial advisor websites as a CTA (in the example below) encourages visitors to stay on the website to run the app. Further, when financial advisors run the apps with clients, these extended sessions can also go a long way toward improving SEO. Nest Egg Guru also has an optional lead generation feature that may be turned on or off at any time. When it is turned on, the first time a new user runs the application, it will prompt him/her to provide first and last name along with an email address.

We hope this introduction to the benefits of incorporating client engagement software into financial advisor websites has been informative. You are already off to a great start if you are working with Advisor Websites, but if you would like to learn more about Nest Egg Guru, please feel free to CONTACT US.
---
J.R. Robinson is a co-founder of Nest Egg Guru and is also the owner of Financial Planning Hawaii. Papers he has co-authored on retirement income sustainability have appeared in multiple academic journals and have won "Best Paper Awards." His most recent contribution, The Determinants of Retirement Income Sustainability and Their Relative Impacts, was published in Journal of Financial Planning in April 2017.