The Future of Financial Advisor Websites is Here!
We are pleased to introduce Simple Setup … our FREE do-it-yourself website builder!
Simple Setup has officially launched allowing you to breeze through the on-boarding process and launching a new website for free with the help of our easy Setup Guide.Let us walk you through the Simple Setup process, step-by-step. Even better, follow along with us HERE and have a new website by the end of this blog! (Have we mentioned the best part yet? Your first 14 days are free!)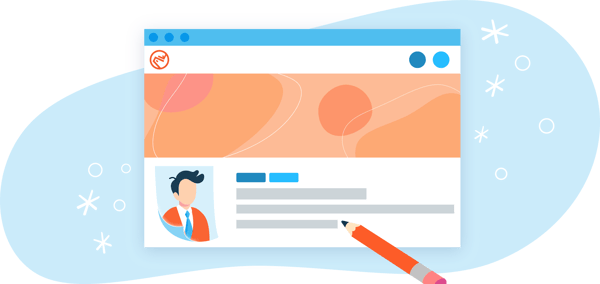 To start the process, you'll be asked to provide your basic business information, including your company name, address, and contact details. You'll have the ability to upload your logo, select a website framework that you like (which you will personalize and fill out within the Setup Guide), and confirm if you're associated with a broker-dealer.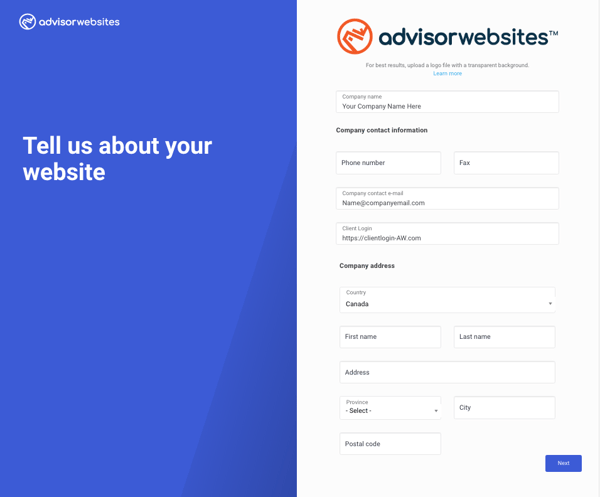 Once this preliminary step is completed you will receive an email with a link and your login credentials (within 2-3 business days) providing you with access to your dashboard. When you log in for the first time the final confirmation and account initialization step will take several minutes. Once that's all done, you will be prompted with the Setup Guide and a series of pop-ups to follow along with. You're now on your way to setting up your new website!.

Here's what you can expect next:
Welcome to Simple Setup!
To ensure that your website setup goes as smoothly as possible, follow the interactive Setup Guide created by our Customer Success Team, and fill in as much info as you want and need for your site. As you work through each item on the list, a green checkmark will appear to confirm it's completed.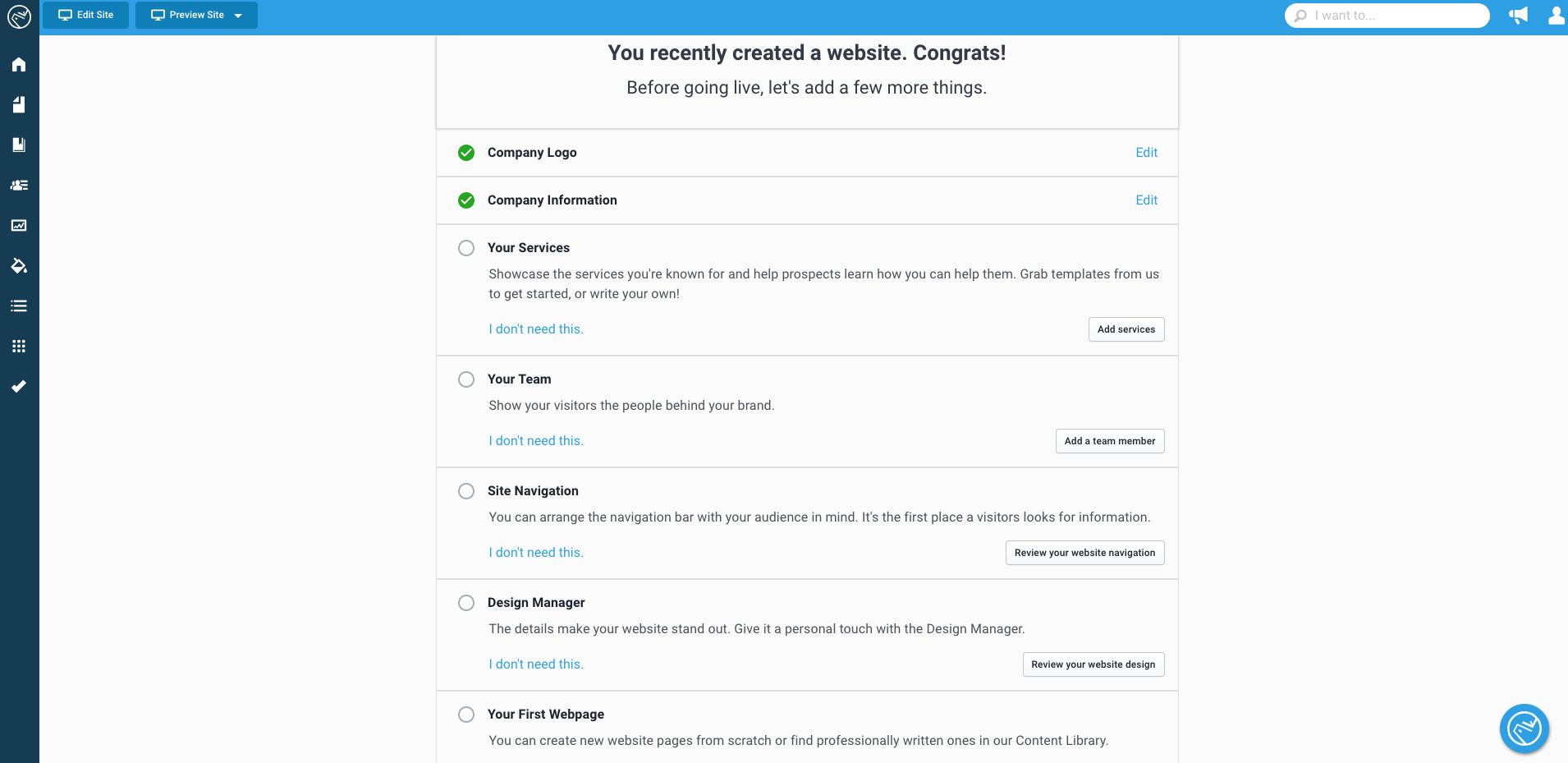 Your Business Information Is Important
First things first, your business details! These are the elements of your website that will help establish your brand presence within your website. This includes your company logo, services, team members, company values, advising philosophies, and more. (Does your logo or content need a refresh? Check out our Content Refresh & Logo Design add-ons here.)
As you get started and click thru these items within the Simple Setup Guide, a callout will appear from Parker Thompson, our VP of Customer Success! Each callout seamlessly guides you through the process of creating your website, to ensure no time is wasted learning the layout of your dashboard.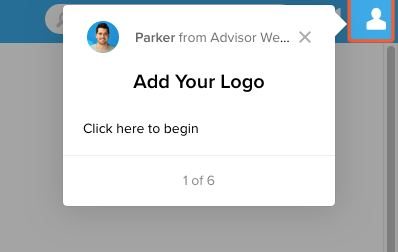 Note: Along the way, if you'd prefer not to add any of these items, you're able to select "I don't need this" to dismiss accordingly.
Once you've checked 'yes' or 'no' on this form, click 'Next' to move onto the next step.
The Details Make Your Website Stand Out
You've already chosen your website framework design, but now it's time for the fun part; personalizing it to your business and brand! This stage of the creation process is where you make your website stand out from the competition.
An important step in ensuring your website is tailored to your target market is to pay attention to the items in your navigation. Click on Site Navigation and you'll be guided to the Navigation menu where you'll be able to re-order, modify, and add menu items specific to your business or niche.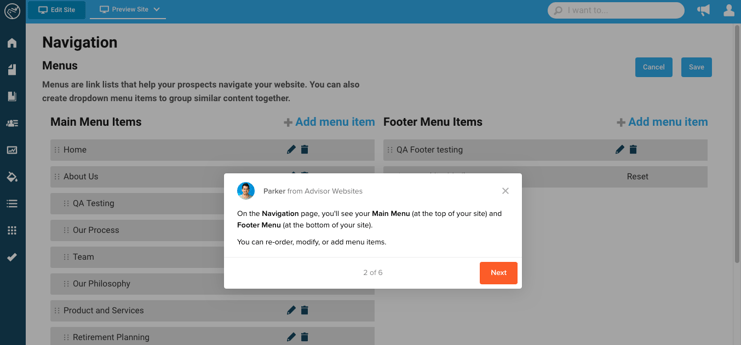 Arrange the main menu and footer menu items with your clients in mind and help guide them to the information they're looking for.
Click Design Manager within the Simple Setup Guide and here is what you'll see: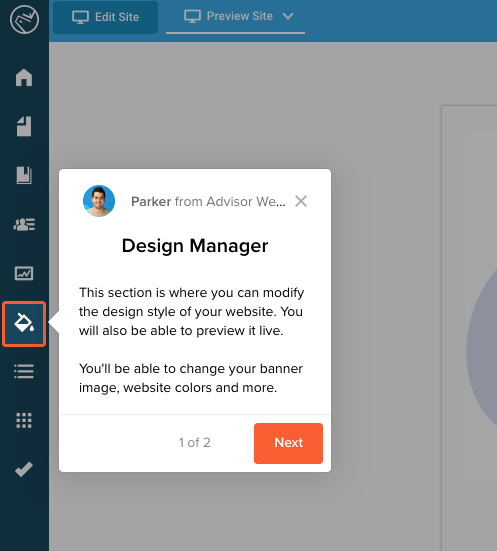 The Design Manager is where you can modify the design style of your website including your banner image(s), website colors, font, and more. You will also be able to preview it live! Just click the top drop-down that says 'Preview Site' in the blue menu bar of this page.
Note: If at any point in your Simple Setup process you'd like to upgrade to Assisted Setup, to set your website up one-on-one with our Website Specialists click here for pricing and to get in touch!
Your Content Strategy Has Never Been Easier
Regularly posting unique content is one of the most important efforts you can make to help rank your website at the top of Google searches and gain visibility with prospects and leads. Your website has built-in tools like our Content Library, Content Scheduler, and Automated Social Media Sharing that make staying on top of your content strategy a breeze.
Before going live, become familiar with these tools by navigating through them within the Setup Guide.
Here is a sneak peek of this feature once you select Content Schedule in your guide:

Note: Don't skip this step! All of our Expansion and Tycoon plans have access to hundreds of pre-written articles, videos and images that you're able to use as your own or edit to better suit your business.
A Live Website Works For You The Moment It Launches!
Congratulations! Once you've made it to the final step of the Simple Setup Journey, it's time to connect your domain name and publish your new website!
Note that you will need to purchase your domain name from a third-party provider before we can configure it to your website design. Our recommendation for the domain name provider is GoDaddy registrar.
Once you've purchased your domain URL, click on 'Connect Your Domain', under Live Domain in your Setup Guide to be guided through the process.

If any questions arise throughout the process, email Setup@advisorwebsites.com to get in contact with our Customer Success Team. We're always happy to help!
That's it! Happy building! :)