How to Attract Business During COVID-19
COVID-19 has brought about unprecedented times and a lot of uncertainty, but one thing that remains is the need to attract new clients to your business.
As someone who knows and understands the cycle of stocks and investments, you're well informed to know that now is a great time to invest. But this isn't something that everyone knows. However, this may not be the intuitive move for every investor!
Your potential clients are looking for assistance and reassurance during this time, as they want to make sure they are financially fit for the next downturn.
So how do you convey your messaging and attract new clients? Here are our three most important components in attracting new business not just during COVID-19, but any time!
Be A Thought Leader
This is relevant at all times, not just during a crisis. When you position yourself as a thought leader, you instill confidence and trust with your current and potential clients. You demonstrate that you know what you are doing. We encourage you to treat this time with caution and sensitivity, whilst conveying the message that now is also a great opportunity.
You can be a thought leader by;
Hosting an online seminar or information night.
Sending email updates to your database containing relevant news.
Publishing relevant blog articles to your website.
Using data to backup your claims (i.e. graph of stocks over the last 100 years to demonstrate the recovery process).
The two main things to focus on when working on establishing yourself as a thought leader is to provide value and build trust with your audience.
Digital Presence

When people are unable to leave their homes and you're unable to conduct face-to-face meetings, your digital presence is more important than ever. People need to be able to find you, learn what you do, build trust in your business and most importantly, contact you!
What to do on your Website:
Is your website up-to-date with your full service offering?
Is your contact information up-to-date (including digital meeting options)?
Does your website imagery reflect your brand?
Can you be found in a Google search (SEO)? If you need assistance with SEO, please contact us.
Have you updated your website with coronavirus messaging?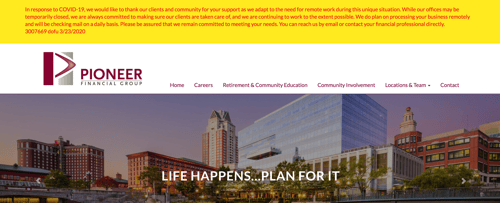 Do you have forms on your website to capture leads?
Does your website contain blog articles relevant to the current economic situation? Here are seven templates you can use for COVID-19 related blog articles.
Are you using gated resources? A gated resource is when someone has to fill out a form to see the resource, i.e. enter your details to be sent an ebook.
What to do on Social Media:
Do you have a social media presence?
Are you engaging with your audience?
Are you posting regularly? We recommend at 2-4 times per week.
Do you provide the opportunity for people to contact you directly?
Are you using LinkedIn Sales Navigator to prospect new clients? Watch our webinar replay with Social Advisors to find out more.
Have you audited your social media channels to see which ones are working (or not working) for your business?
If you're maintaining your website and social media channels, you're giving your business the best opportunity to thrive during this time.
For more ideas, check out our COVID-19 Communication Checklist for Financial Advisors.
Please note; always work within your compliance regulations when posting on social media.
Communication

Communicate. Communicate. Communicate. We cannot stress the importance of communication enough. One of the most common reasons clients switch financial advisors is due to poor communication.
Here are some simple ideas you can implement into your business to help you achieve excellent communication with potential clients from the start.
When a lead comes through via your website or social media, respond within 1 hour. This shows that you are on top of your business and prioritize your clients.
After a meeting or phone conversation, send a follow up email by the end of the business day with a recap of the conversation and any action items.
Always follow through on what you say you're going to do.
Increase the number of emails and calls during a downturn and make yourself fully available if they want to chat.
Show your face. You can do this via meetings (Zoom, Google Hangouts and Microsoft Teams are highly recommended), or by providing video updates (Loom is an easy way to record yourself and your screen). Find out more about video marketing here.
LISTEN! Don't just communicate your message, but actually listen to your client's specific needs and address them.
Stay on top of current news. Keep yourself informed so you're able to provide the best information to your client and answer their questions.
Demonstrate sympathy and provide comfort and reassurance. Everyone's a little bit stressed at the moment about the future, so alleviate concerns where possible.
For further information, check out our recent article about how to communicate with clients during a crisis.
We what to hear how COVID-19 is affecting your practice and day-to-day activities. Tell us your experience at marketing@advisorwebsites.com, we are in this together! Stay safe and social(ly distant).
---
WHO ARE WE?
At Advisor Websites we help financial advisors grow their business and enhance their digital marketing strategies with their own personalized website. Our platform offers a selection of effective and proven frameworks that are personalized to reflect your business and brand.
For a personalized one:one demo & to see our platform in action: